Midwest Bank hires new regional president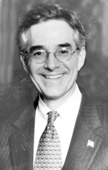 Ronald T. Barnes, a highly respected banker who worked 22 of his 27 years in St. Louis banking, is returning to St. Louis as regional president-commercial banking for locally-owned community bank Midwest BankCentre.
Following 20 years in executive positions with Mark Twain Bank in St. Louis, Barnes moved to Kansas City in 1998 as president and chief executive officer of Mercantile Bank. He has served as regional chairman of Firstar/U.S. Bank since 1999.
"I've seen both sides of banking and the value proposition of community banking is clearly attractive with its ability to offer much more friendly, personalized and high touch service," Barnes said. "I am delighted to return to my roots in community banking, where it's possible to balance the science of banking with the art of banking."