MFPD rescues parachutist dangling from KETC tower
Parachutist, alleged accomplice charged with trespassing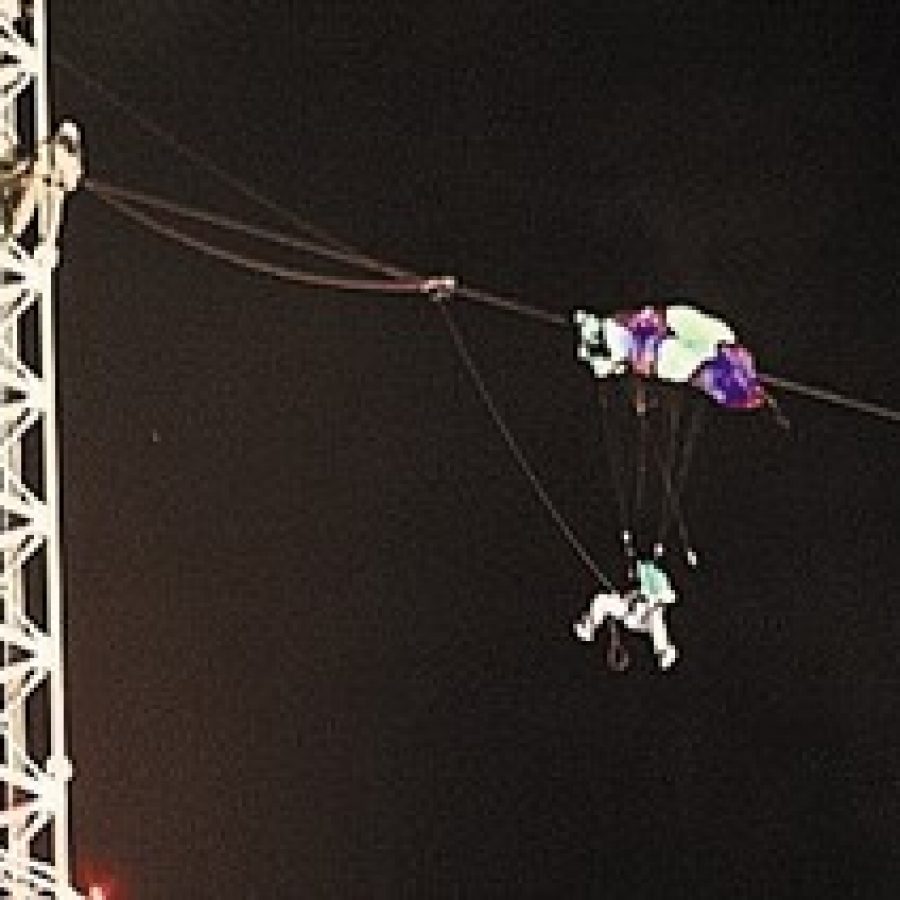 In the Mehlville Fire Protection District's second unusual Rescue-Squad operation in two weeks, firefighters rescued a man who, in a failed attempt at BASE jumping, became entangled in wires on a television broadcast tower Thursday night.
The rescue took more than two hours while Timothy Church, 27, of Chesterfield, dangled by his parachute that was tangled in a wire 150 feet off the ground at the KETC broadcast tower on Butler Hill Road. A team of more than 25 MFPD firefighters responded to the scene, climbed the tower and executed the rescue.
Church was charged Friday with misdemeanor trespassing for breaking into the private television tower compound, according to police. An alleged accomplice, Brandon Davis, 26, was also charged with trespassing after helping Church break into the tower, said St. Louis County Police Department spokesman Sgt. Brian Schellman.
MFPD Rope Team leader Capt. Ty Cardona was the lead climber for the rescue and climbed nearly 200 feet up the tower to set up for it, said MFPD Assistant Chief Dan LaFata. Once Cardona was in position on the tower above the parachutist, he "rigged a lowering system that worked flawlessly," LaFata added.
Church was lowered to the ground without any injuries, then was transported for evaluation to St. Anthony's Medical Center, which released him Friday, St. Anthony's spokesman Joe Poelker said. Davis was not admitted to the hospital.
BASE, or Building, Antenna, Span and Earth, jumping involves parachuting off a structure or a cliff. Church had already deployed his parachute in the BASE-jump attempt when he was caught in the wires. This is the first unsuccessful BASE-jumping attempt the Mehlville department has responded to, and Schellman said he was unaware of any other cases of BASE-jumping from towers in the county.
The Mehlville Rescue Squad members train frequently, which pays off when firefighters know exactly how to respond to such a rare event, MFPD Chief Brian Hendricks noted.
"We'd like to think that we're as prepared as anybody for things like this," Hendricks said. "These are low-frequency, high-risk events, and there's really no room for error. We've taken the position that we're going to be prepared."
The fire district, the largest in the state, has many specialized "target hazards" like television and cellular towers and the Meramec Energy Center in Oakville, so firefighters are able to train on those towers for events just like Church's failed BASE jump attempt, Hendricks noted.
"We're fortunate that we're able to train in a wide variety of different places," he said. "We spend a significant amount of time training, and we're fortunate that we're able to have the latest gear and technology that allows us to do rescues like this incredibly efficiently."
Earlier this year, MFPD firefighters conducted a similar tower rescue when a man was trapped in an elevator at Ameren's Meramec coal plant.
"We had a gentleman stuck in the elevator 160 feet in the air, so this isn't the first time that our team's been deployed for a rescue at that height," the chief noted. "With the amount of target hazards that we have, we have a full-time rescue squad, and it's just one of our focuses. We're fortunate that we just focus a lot of our attention on making sure that we know the ins and outs of structures."
The BASE-jumping rescue was the second unusual rescue the department responded to in two weeks. Last week, Mehlville firefighters responded to a train derailment on Baumgartner Road in Oakville. All the derailed cars were freight cars, and there were no injuries from that incident.