Memorial Day ceremonies planned Monday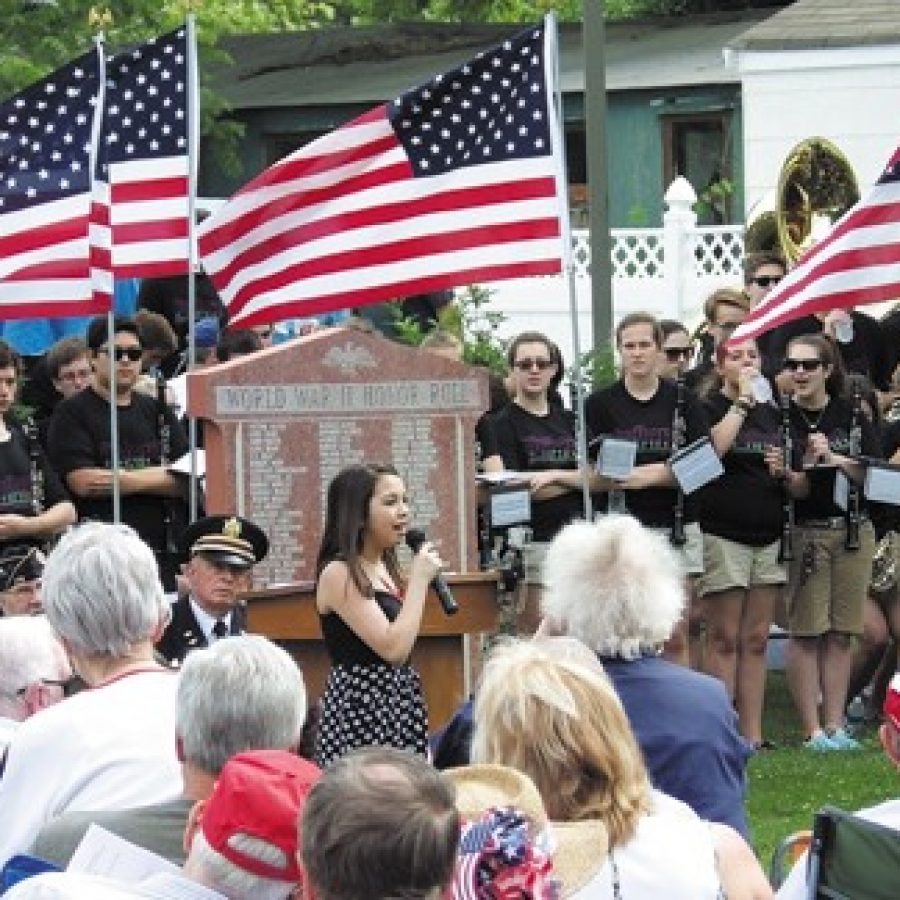 Memorial Day observances are planned Monday, May 29, at two south county sites — Jefferson Barracks National Cemetery and St. Lucas United Church of Christ.
The program will start at 10 a.m. at Jefferson Barracks National Cemetery, 2900 Sheridan Road. The keynote speaker will be Thomas W. Mundell, past state commander of the Veterans of Foreign Wars.
Beginning at 8 a.m., bus and tram transportation will be provided from the Sheridan Road Metro Station and the Jefferson Barracks Veterans Affairs Medical Center, 1 Jefferson Barracks Road.
The Sappington-Concord Historical Society will sponsor the biggest little annual Memorial Day observance in south county at 10 a.m. on the green at St. Lucas United Church of Christ, 11735 Denny Road. The green is the large, open lawn just east of the church along Denny Road.
The celebration is free and open to the public.
KSDK anchor Ryan Dean will give a special presentation on five local service members who served in World War II and Korea, including Pete Winter, Charlie Stockhausen, Evelyn Stolz, Norm Leigh and Morris Grattendick.
Retired Chief Warrant Officer 5 Randy Ottinger, a veteran helicopter pilot who served in Iraq, will be master of ceremonies, and representatives will be present from the Sunset Hills Police Department, the St. Louis County Police Department and the Mehlville Fire Protection District.
"Remembering those who have served our country has national significance and universal appeal," Sappington-Concord Historical Society President Stephen Hanpeter stated in a news release. "What makes this program special is its focus on local veterans for a local audience."
In addition, an American bald eagle will be on display from the World Bird Sanctuary, and 100 doves of peace will be released into the sky.
These birds are actually homing pigeons, and fly at impressive speeds up to 60 mph, according to Charlie Klipsch of the American Racing Pigeon Union.
"It is an honor to participate in this celebration and inform people about the role pigeons had in the military," Klipsch stated.
Boy Scout Troop 646 of St. Catherine Laboure Catholic Church will lead the Pledge of Allegiance, and entertainment will include "Taps" by the Moolah Drum Corps, a vocal performance by Lindbergh High School junior Rachel Nieters, and selections from members of the Lindbergh High School Spirit of St. Louis Marching Band, directed by David Wyss.
"Mr. Wyss and his band put on a program that varies from fun and entertaining to solemn and patriotic," Hanpeter stated in the release. "They are an example of the excellent education and leadership that Lindbergh Schools provides to our community."
Guests are encouraged to bring lawn chairs, and parking will be available on the east parking lot at St. Lucas — enter through the west parking lot entrance.
After the ceremony, a reception will take place in the auditorium at St. Lucas, where "Hometown Heroes" books will be available for sale.
For more information, visit
.