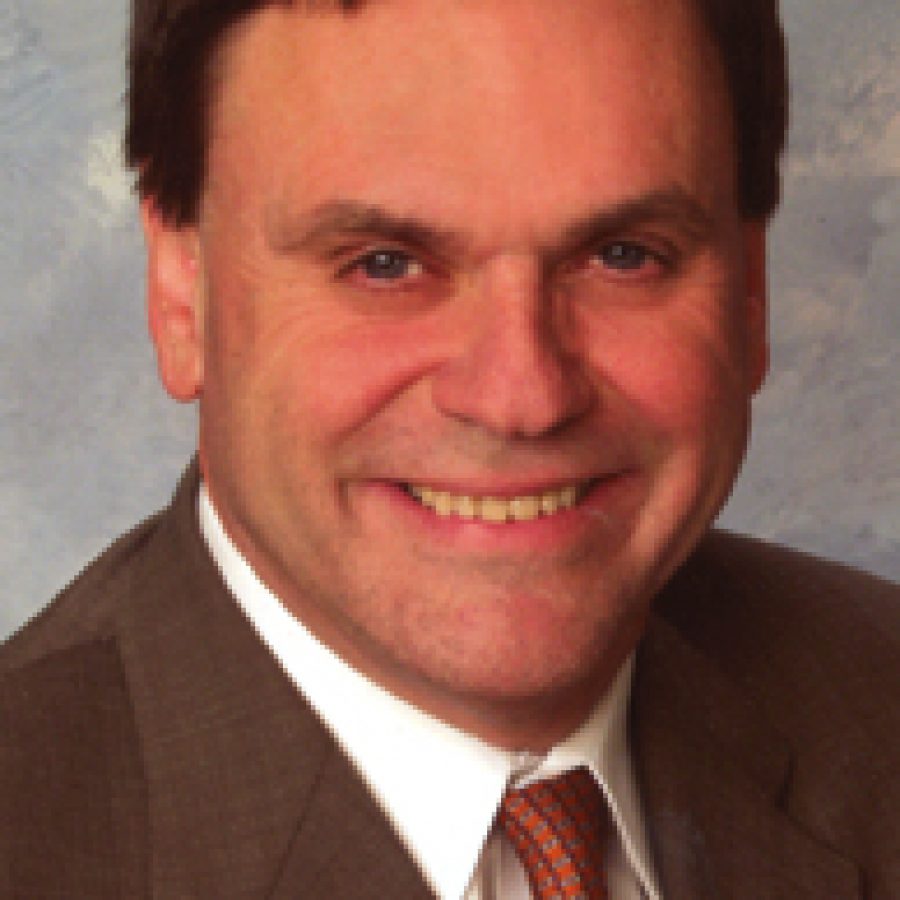 By MIKE ANTHONY
Executive Editor
The Mehlville School District's new early childhood center will be called the John Cary Early Childhood Center.
The Board of Education voted last week to name the early childhood center in honor of Cary, the school district's immediate past superintendent. Cary retired as Mehlville superintendent at the end of the 2002-2003 school year after serving in that post since July 1, 1996.
The board voted 5-1 to call the new building the John Cary Early Childhood Education Center after five proposed names were sub-mitted by a district-level screening committee.
Board member Tom Correnti was opposed, ted by the committee, and board Vice Pres-ident Matthew Chellis was absent from the Nov. 18 meeting.
Cary, who became an educator in 1971, spent roughly half his career in the Mehl-ville School District. He first came here in 1986 when he was named assistant superintendent of business affairs.
Three years later, Cary was named associate superintendent and the district's chief financial officer. He served in that position until the Board of Education voted unanimously in March 1996 to hire him as su-perintendent.
The new early childhood center is being constructed as part of the Proposition P districtwide building improvement program. Cary was superintendent in Novem-ber 2000 when voters approved Proposi-tion P, a nearly $68.4 million bond issue funded by a 49-cent tax-rate increase. The board voted Nov. 3 to approve a revised Proposition P budget totaling $88,927,440.
After a brief presentation about the five names submitted by the committee, board member Mike Heins said, "… I got to tell you when I first read this, I had a pretty good tear in my eye. It was well written and obviously you ladies did a good job. So thank you very much.
"I don't have any questions, but I do have a motion," he said, moving that the early childhood center be named the John Cary Early Childhood Center.
Board member Rita Diekemper seconded the motion.
After a brief discussion, Correnti said, "I don't like the way we're voting for the name. I think it should be a vote either by secret ballot …"
Board President Cindy Christopher said, "Which we can't do."
Correnti said, "We can't?"
Christopher said, "Right."
After further discussion, Correnti said, "It's not that I want to … I don't want to seem like I'm arguing against John Cary …"
Christopher asked Correnti if perhaps he wanted a further review of the naming pro-cess.
Correnti said, "I would like to — I don't feel comfortable with the way we're picking this name …"
Correnti said he understood that the committee narrowed down the names that were submitted to five "and as a board, we pick or we select one name that's going to go on this building."
Diekemper said, "Somebody's got to make the selection."
Correnti said, "And I understand … Right now the way it goes, Mike made a motion. It was seconded by Rita and a discussion came. No discussion. We vote and it would be voted and that's it, right?"
Heins said, "That's how we pretty much do everything."
Correnti said, "OK, I understand."
Christopher pointed out, "Or unless the motion would fail …"
Diekemper said, "Unless you because of your great oratory skill and debate ability persuaded everyone to …"
Board member Bill Schornheuser interjected, "But I don't think he's trying to — he's not trying to persuade us to change, I think what he's trying to do is …"
Correnti said, "I'd like to — I'd like to put my position, I'd like to put my vote toward somebody else or another name … So I would have to vote against this, but never be heard."
Heins noted, "Well, you could, you go ahead and say it right now — who that person is now … You can go ahead and say who that person is now if you'd like to."
Christopher said, "Now would be the time to voice your opinion …"
Heins noted that at the Nov. 3 meeting, Correnti had made a motion and he seconded it, "but then later on, after discussion, I was persuaded to vote against the motion that I made a second to. Well, Rita could do the same thing right now … According to Robert's Rules of Order, I cannot speak against my own motion, but I could vote against it."
Correnti said, "The thing is, is that these choices were presented after, I mean an arduous study of all the names, right? And these five names were presented with great care. Every name had a history behind it and why. In picking one over the other, there has to be a reason from seven — six of us. I don't like the way we did it originally. I will vote — I will probably vote against it.
"And I like, when I studied the names and felt moved and touched, I thought that Gladine Liner, if we looked at what she was accomplishing, how she molded and took care of kids as a counselor/teacher all the way up to her 82 years of age on earth — molded every child that she has come in touch with. But in arguing on behalf of that, I hate to even look like I'm saying anything in disparaging to Mr. Cary, which it would be …"
Heins interjected, "You know what, if John were sitting here right now, I don't think he would take it that way."
Christopher said, "… No, I don't think so either."
Correnti continued, "… And then that's why I'm saying, I mean we're talking about a lady who for as many years on earth as she has, had only one thing to do and that's to take care of the community — all the way through Feed My People, which no other way touches everybody in the community, whether they're Mehlville people and Feed My People is down in the Han-cock School District.
"Again, like you said, you know Mr. Cary. You all know Mr. Cary better than I do since I've had the pleasure of meeting him once or twice. But as far as my opinions, I see no finer name on a school building of an early childhood center than a lady who probably impacts or impacted more people as she (has) from the beginning straight through 'til now she's 82 years old," Correnti continued.
"The quote is incredible: 'People like Gladine are born, not trained. They work to improve their corner of the world, possess the courage to do the right thing, have strength to persevere and those around them (are enriched).' That's my oratory," he said.
Diekemper said, "I'm almost crying over here."
Correnti continued, "I mean, other than anything else, my position is that when the vote comes for it, I'll vote against it in hopes that we reconsider and choose Gladine Liner Early Childhood Center as the name that will embody what these teachers do and what these teachers will do after they retire. They'll never retire as a teacher. They'll only retire from the activity. They'll always be teachers straight to their 82nd year and hopefully they all do stay on earth for 82 years because they, every day, improve every corner of their world by the people they touch and they are probably the Gladine Liners of our generation now and in the future. That's all I got."
Christopher said, "That's a lot …"
Diekemper said, "… I just wanted to comment too that all these people and sometimes people forget this about administrators too, but they all started as teachers and so I think, you know, they maybe go in a different direction, but I find that in their hearts, they all stay teachers … at least the ones that I've seen here. So Jim Schibig, how could you ever, you know that they can't say anything disparaging, you couldn't because there's just no finer person in our community … but I think I would have to go with John Cary. This embodies what he did, not just to early childhood, but for our entire community."
After further discussion, Christopher asked, "Are we ready to take a vote tonight or do we need to bring this back … I don't want to press a vote."
Schornheuser said, "Well, I understand that, but I think from a timing situation, I can certainly think the administration, the district that the …"
Christopher interjected, "Well, it would make a nice clean package."
Schornhueser said, "Right …"
Heins asked, "Does anybody else need time?"
Correnti said, "Mr. Chellis may need time."
Heins said, "… If he really wanted to be here, he'd be here."
Christopher said, "… Well, we can do one of two things: We can vote on it tonight or we can table it. We have a motion on the floor."
Correnti said, "I say we vote on it."
The board then voted 5-1 with Correnti opposed.
Correnti said, "Can it be noted in the min-utes that I like John Cary …"