Mehlville thespians offer 'The Diary of Anne Frank'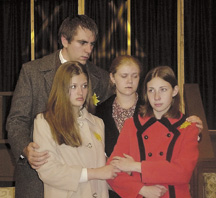 The Mehlville Senior High School Drama Center has been turned into a secret hiding place for teenager Anne Frank and seven others as the school's Theatre Arts Department presents "The Diary of Anne Frank."
Audience members will be taken back to 1942 for a dramatic look at the Holocaust and one group's struggle to survive as seen through the eyes of a young girl.
Senior Molly Merseal and sophomore Jessica Markovich will take turns portraying Anne Frank, the teenager who chronicled her family's two-year ordeal of fleeing their home in Germany and hiding from the Nazis in an attic in Amsterdam.
Sophomore Kyle Allen plays Peter Van Daan, the object of Anne's desire, and senior Alex Moore stars as Otto Frank, her father.
Anne's mother, Edith Frank, is played by senior Krista Steely and her sister Margot Frank is played by senior Kristen Henry.
Also hiding in the attic are Hermann Van Daan, played by senior Joel Thornton; Petronella Van Daan, played by senior Emily Immer; and Mr. Dussell, portrayed by senior Theron Seckington.
Additional cast members include senior Jennifer Young as Miep Gies, senior Terry Balke as Mr. Kraler and senior Jon Plot-kin, sophomore Kyle Brinker and sophomore Josh Taggart as a trio of Nazis. The student director for the play is senior Steph-anie Kessler.
The Mehlville Theatre Arts Department will perform "The Diary of Anne Frank" at 7:30 p.m. daily from today, May 8, through Saturday, May 10, at the school's Drama Center, 3200 Lemay Ferry Road.
Tickets cost $5 in advance or $6 at the door.
For additional information about the production, call 467-6132.