Mehlville tames Marquette Mustangs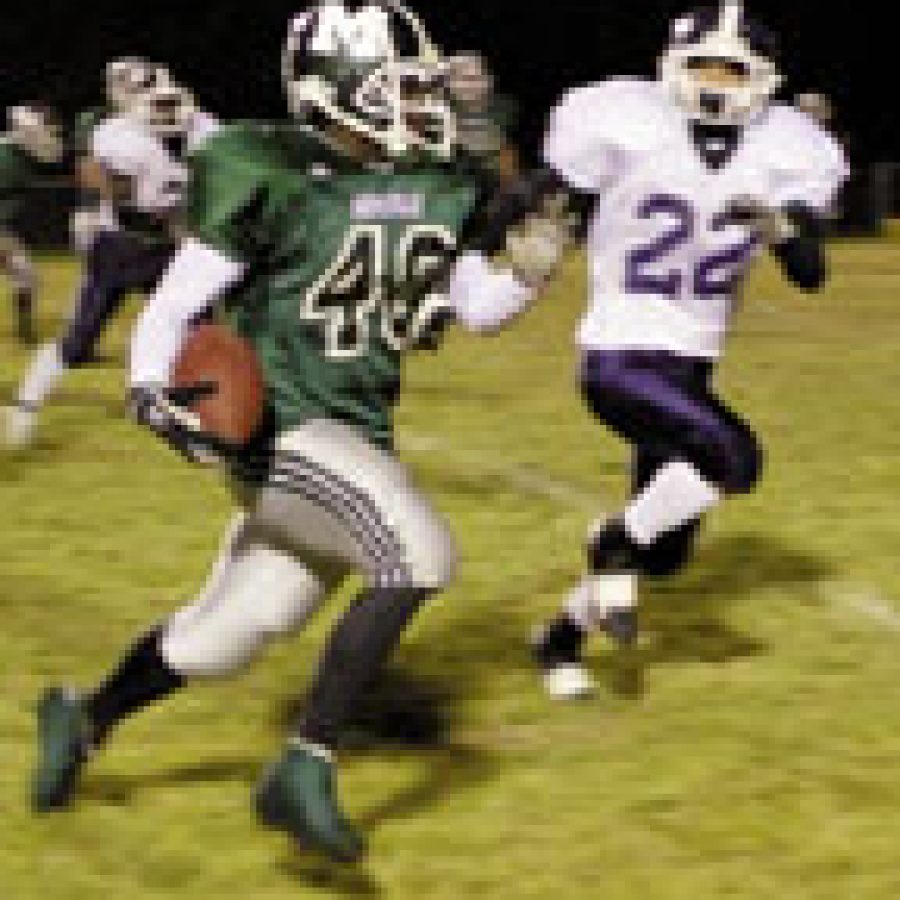 One never would know from the final score that things weren't exactly right last weekend for the Mehlville Senior High School football team in its 41-12 win over the Marquette Mustangs.
But, according to Coach Gary Heyde, the Panthers were a bit off on the offensive side of the ball.
"We weren't clicking like normal on offense, but our defense played really good," Heyde told the Call. "In the first half, our defense really stopped them."
The Panthers' defense was indeed strong in the first half, helping 4-1 Mehlville jump out to a 21-0 lead on touchdown runs by Rickey Giles and Tommy Gayfield.
Giles, who ran for 58 yards in the game, also caught a 10-yard touchdown pass from quarterback Ronald Roberts in the first half and a 35-yard touchdown pass in the third quarter.
It was the effort of the defense, though, that made the difference.
"Our defense had been making some mistakes coming in," Heyde said. "We felt if we could get the defense squared away we could have a really good defensive unit."
Little doubt exists that the Mehlville defense stepped it up, as the Panthers held Marquette (3-2) to only 52 yards rushing in the game. On the other side, Mehlville ran for 199 yards — and it could have been an even bigger discrepancy without some of the mistakes made by the Panthers.
"Five offensive turnovers, 11 penalties," said Heyde, summing up the mistakes Mehlville made. "That's way too many."
If Mehlville plans to continue its winning ways, the Panthers will have to pull things together in time for their next opponent — the Kirkwood Pioneers.
"We've got to get it together," Heyde admitted. "Kirkwood is going to be a good test for us. It's going to be a challenge."
Mehlville will meet Kirkwood at 7 p.m. Friday at Kirkwood High School, 801 W. Essex Ave.