Mehlville students donate nearly $13,000 to Officer Snyder's family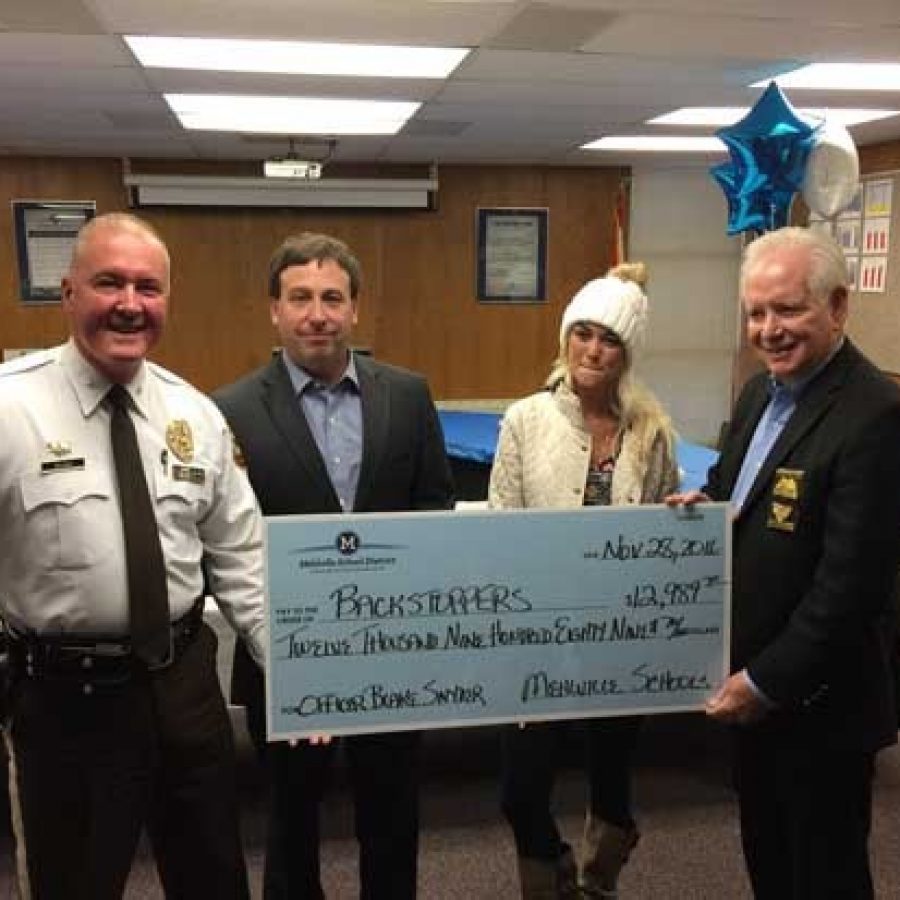 Donations poured in from students across the Mehlville School District in the wake of a St. Louis County police officer's death in the line of duty last month, and the students' generosity took center stage Monday at a formal presentation of more than $12,000 to the officer's widow.
Affton Southwest Precinct Officer Blake Snyder was shot and killed while responding to a domestic disturbance in Green Park on Oct. 6. Half of Green Park is in the Mehlville School District.
"I think it's just indicative of how giving of a community Mehlville is," Superintendent Chris Gaines told the Call about the students' donations. "I mean, when somebody's in need, for whatever the reason may be, it seems like people sure rise to the occasion."
Students from elementary and high school presented Elizabeth Snyder with the $12,989.70 check, care of the BackStoppers organization that financially helps families of fallen officers and firefighters.
"It really shows the character behind all of it and all of these students, how young and sweet they really are," she told reporters at the presentation. "It's really sweet that they're starting out by helping a family that they have no idea who it is."
Besides Gaines, on hand for the presentation were County Executive Steve Stenger, county police Chief Jon Belmar, former police Chief Ron Battelle, who heads BackStoppers, and former Mehlville Fire Protection District Chief Jim Silvernail, who volunteers with BackStoppers.
With the idea spearheaded by the Character Club at Oakville Elementary, the district's 10 elementary schools started the fundraising drive by holding PJ Days and Wear Blue Days in memory of Snyder. They collected more than $8,000.  The Mehlville High School student council collected $2,100 at the annual powder-puff football game. Various donations throughout the district brought the total to nearly $13,000.
In previous remarks at events in south county, including the renaming of Clydesdale Park as Officer Blake C. Snyder Memorial Park, Belmar has said he has never seen such an outpouring of support for law enforcement as what he has seen since Snyder's death.
"In 30 years of law enforcement and far too many funerals, I have never seen anything like what we saw," Belmar said. "That is a testament to the commitment of this community, and thank you for that."