Mehlville soccer team looks to be on a roll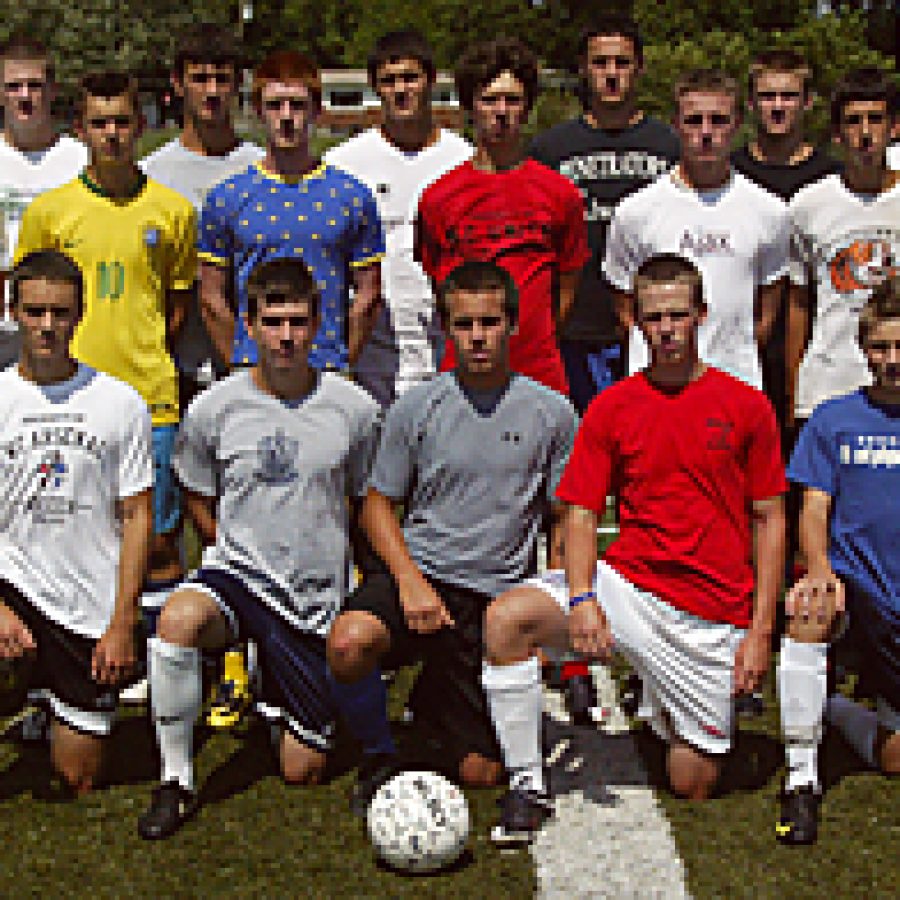 Ever since the Mehlville Senior High School boys' soccer team made it to the Class 3 semifinal game in 2007, the big question at the start of every season is whether the Panthers can make another magical run to the Final Four.
The Panthers were 16-9 overall last year with a 7-1 mark in Suburban West Conference play, which helped them tie for first place in the conference. But with 14 players returning from last season's squad, Mehlville head coach Tom Harper believes he has a talented group of athletes.
"It never hurts when you're bringing 14 people back on a team that was pretty successful last season," Harper said. "What we need to do now is find the guys to fill in around those 14 players returning. I think that this is going to be a fun group to watch."
Senior forward Adnan Gabeljic returns as the Panthers' leading scoring threat after making 14 goals and eight assists last year.
"Adnan's probably one of the best players in the area," Harper said. "He's the total package and I think that this year is going to be an even better year for him."
Another solid scoring threat is senior midfielder Zac Kittrell, who scored four goals and one assist last year.
"Zac is probably one of the strongest kids that I've coached," Harper said. "He has an eye for the ball and really knows how to attack the defense with the ball."
Senior Tyler Sucher will also provide some offensive firepower from the midfield after scoring three goals and six assists during the 2008 campaign.
"Tyler's one of those players that you like to have on the outside because he's lightning quick," Harper said. "He's been a real solid player for us and we're looking for him to up his production in terms of goals scored."
Shoring up the defense this season is senior Danny Murphy, who recorded one goal and one assist last season as a midfielder.
"We converted Danny from a wing midfielder to a wide back and he did a better job there than he did at midfield," Harper said. "We look for him to be the leader back there."
Junior Blake Westerman will take over the goalkeeper duties after posting a 4-2 record overall with a 0.85 goals-against average.
Mehlville Boys' Soccer
Aug. 31-Sept. 3 Mehlville Cup A 8 p.m.
Sept. 4-5 Mehlville Cup A TBA
Sept. 8 Fox A 6 p.m.
Sept. 10 St. Mary's A 4 p.m.
Sept. 14 Bishop DuBourg A 4 p.m.
Sept. 15 Northwest H 6 p.m.
Sept. 17 Jackson H 6:30 p.m.
Sept. 30 Marquette A 6:30 p.m.
Oct. 1 De Smet H 6 p.m.
Oct. 6 Kirkwood H 6 p.m.
Oct. 7 Seckman A 6 p.m.
Oct. 13 Parkway South H 6 p.m.
Oct. 14 Affton A 7:15 p.m.
Oct. 17 Oakville A 1 p.m.
Oct. 20 Lafayette A 6 p.m.
Oct. 22 Parkway North H 7 p.m.
Oct. 23 Lindbergh A 3:30 p.m.
Oct. 26 Webster Groves H 6 p.m.
Oct. 29 Vianney A 7 p.m.