Mehlville senior, Oakville senior earn honors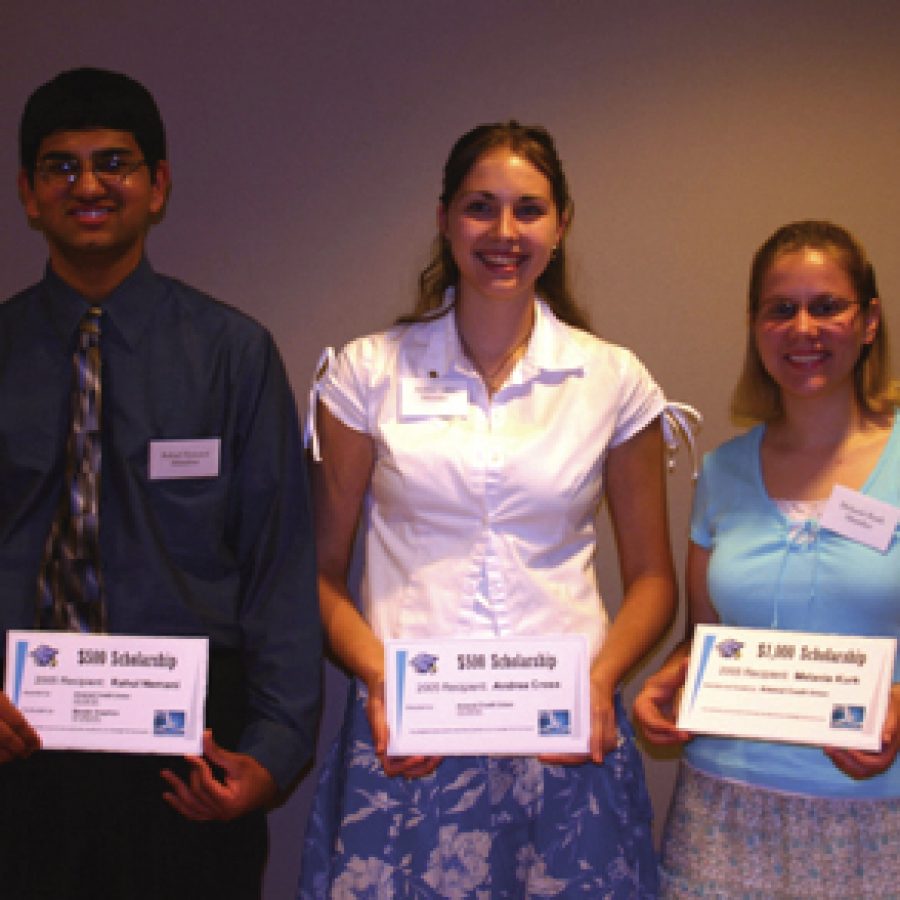 Mehlville School District students Andrea Cross and Rahul Nemani recently earned $500 college scholarships for successfully balancing academics, extracurricular act-ivities and community involvement.
Arsenal Credit Union presented the scholarships to winners of its ninth annual scholastic competition.
Cross, who will be a 2005 graduate of Oakville Senior High School, is a member of the National Honor Society, the Na-tional French Honor Society, the volleyball team and volleyball club. She will be a class valedictorian, according to a news re-lease.
In addition, she studies violin, is on the National Honor Roll and serves as vice president of the Science Olympiad and as co-president of the French club.
She also has volunteered at St. Louis County parks and with Team Activities for Special Kids and Basket of Hope.
Cross, the daughter of Brad and Cynthia Cross, plans to attend the Florida Institute of Technology to study marine biology.
"I hope to use my degree to help and volunteer at an animal rescue program," Cross stated in the news release. "I want to preserve our marine mammals for future generations."
Nemani, who will be a 2005 graduate of Mehlville Senior High School, is an active member of the National Honor Society as president and junior representative at Mehlville. He helped organize a holiday shoebox drive for St. Louis public school children that was recognized as one of the top 10 National Honor Society service projects last year.
Nemani also is a member of the Student Team Leadership Steering Committee, Teenage Health Consultants, the Executive Council and the French National Honor Society.
Nemani will attend the University of Michigan to study aerospace engineering.
"As an aerospace engineer, I want to design new passenger planes that will meet the transportation needs of the twenty-first century," he stated in the news release.
Nemani is the son of Rama and Ramana Nemani.
Scholarship awards also were given to Melanie Kurk of Imperial High School, $1,000, and Sarah Rouland of Belleville High School, $1,000.