Mehlville Senior High goalkeeper knows the value of never giving up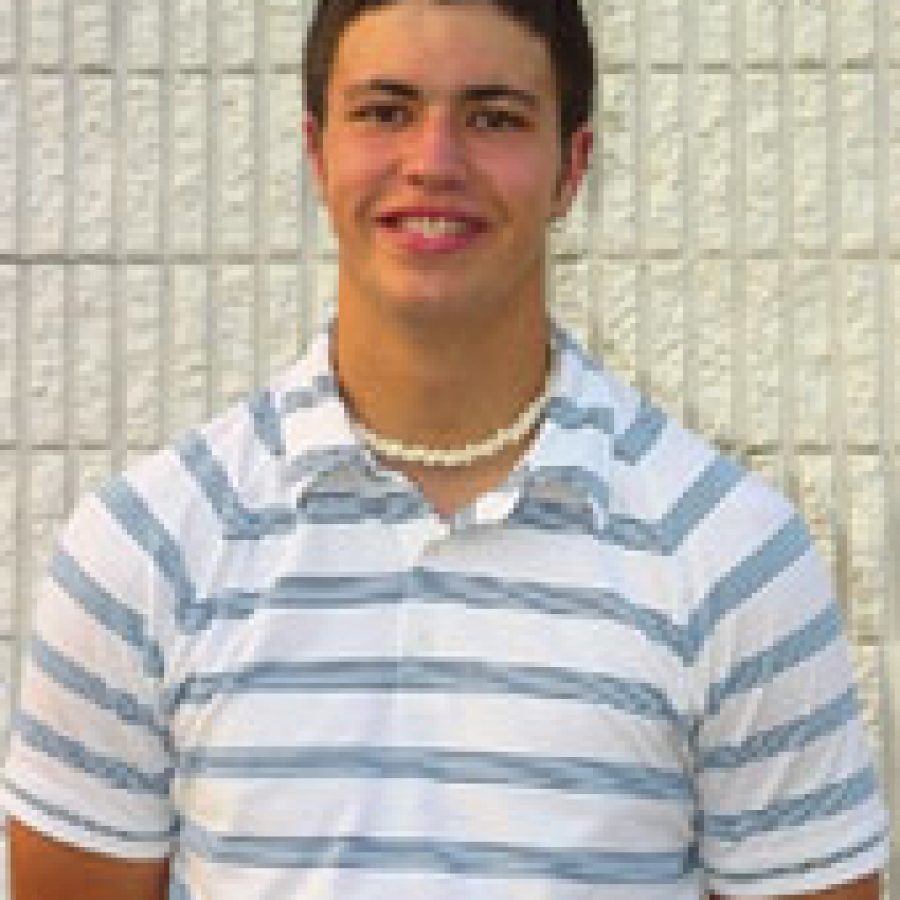 "Don't give up, don't ever give up."
That famous quote came from the late North Carolina State head basketball coach Jim Valvano at the first ESPY Awards in 1993 and it seems as if Jake Kittrell has lived his life under the same motto.
Kittrell, a senior goalkeeper for the Mehlville Senior High School boys' soccer team, has seen his fair share of adversity.
He tore the cartilage in his right knee as a fifth-grader during a baseball game, which resulted in five surgical procedures.
As a freshman at Mehlville, he underwent another two surgeries on his left knee that virtually removed most of the cartilage in the joint area.
To top it off, Kittrell suffers from Crohn's Disease, an inflammatory disease of the intestines, which is known to cause severe pain at times.
It's those forms of adversity that has propelled him to being one of the top goalkeepers in the area and earned Kittrell a scholarship at Culver-Stockton College to play soccer for the Wildcats.
"He uses it (the adversity) to his advantage to make him mentally tough," Mehlville head soccer coach Scott Jackson told the Call. "To be a goalkeeper, you've got to be half crazy and half mentally tough."
Kittrell became involved in the game of soccer when he was 2 years old after being placed on the field during an indoor soccer game.
"I didn't have much of a choice," Kittrell joked. "My uncle ran an indoor league and when I was 2, they (his parents Bill and Debbie) just threw me out there. I basically started crying because I didn't know what I was supposed to do.
He quickly caught on to the game and began the art of goalkeeping at the age of 8. Kittrell currently plays for the select club Giuliani SC.
Last season at Mehlville, Kittrell held a mark of 18-7-1 overall with a 1.07 goals-against average. He recorded 11 shutouts, placing him among the overall leaders in the metro area.
"Personally, I think that Jake was the best goalkeeper in the conference," Jackson said. "He's got a tremendous outlook and plays with confidence. He's good enough to take a .500 team and make them six or seven games better."
Kittrell may be just what Culver-Stockton is looking for after the Wildcats posted a record of 2-16-1 overall last season with a mark of 1-8 in the Heart of America Athletic Conference.
"Jake was a big-time player for us," Jackson said. "He was more than 50 percent responsible for our success this past season. He kept us in some games long enough for us to get things straightened out and get going."
An honor student with a 3.2 grade-point average, Kittrell is known to volunteer some of his spare time with special education and the Special Olympics. He plans to study elementary education at Culver-Stockton and possibly become a coach in the future.
"I love coaching more than I love playing," Kittrell revealed. "I like to teach anything. I just want to be one of the teachers that kids look back on and say that I was someone that taught them something about life."
Given his successful triumphs over adversity, Kittrell certainly will be able to teach his future students a lesson about never giving up both in sports and in life.