Mehlville School District teachers honored by the Lemay Chamber of Commerce as Outstanding Educators, from left, are: Karen Schmiel, Laura Shreve, Mike Szydlowski, Linda Woodrome and Mary Widitz.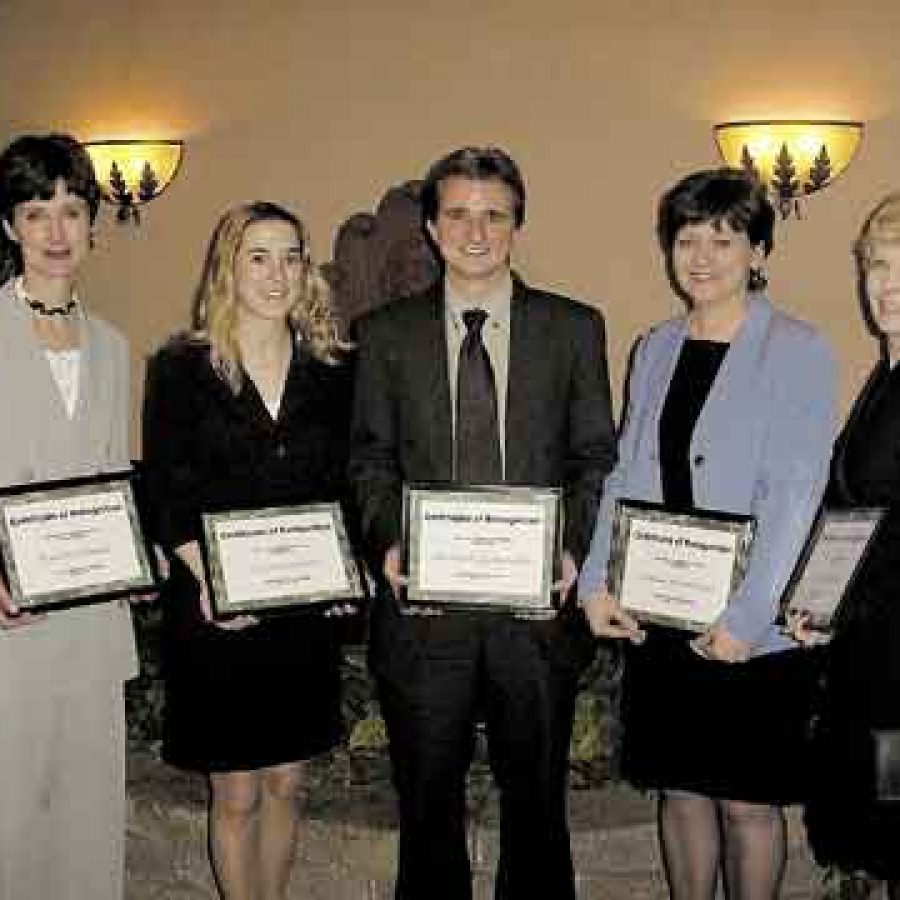 Five Mehlville educators among those honored by Lemay chamber
Educators are at the "head of the class" as far as the Lemay Chamber of Commerce is concerned.
And to prove it, the chamber officially recognized five Mehlville School District employees at its third annual Outstanding Educators Banquet conducted recently in south county.
Linda Woodrome of Beasley Elementary, Laura Shreve of Bierbaum Accelerated, Karen Schmiel of Margaret Buerkle Middle, Mary Widitz of Forder Elementary and Mike Szydlowski of Mehlville Senior High were among 15 educators honored by the chamber.
Each of the Mehlville educators had been nominated for the honor by his or her building principal, according to a Mehlville news release.
Jan Orlando, vice president of the Lemay Chamber of Commerce, served as mistress of ceremonies. She began the Outstanding Educators Banquet by observing a moment of silence for the late Nan Wyatt of KMOX radio, who had been scheduled to give the keynote address.
Midwest BankCentre's Robyn Kestler filled-in and entertained the crowd with several anecdotes about teachers. Sharing duties as awards presenters were Mehlville School District North Area Superintendent Jane Reed and the Rev. Kenneth Sievers.
Besides a much deserved "moment in the spotlight," all of the outstanding educators who were honored received a $100 gift certificate, a chamber plaque and a certificate of excellence from U.S. Rep. Richard Gephardt.