Mehlville School District honors volunteers, employees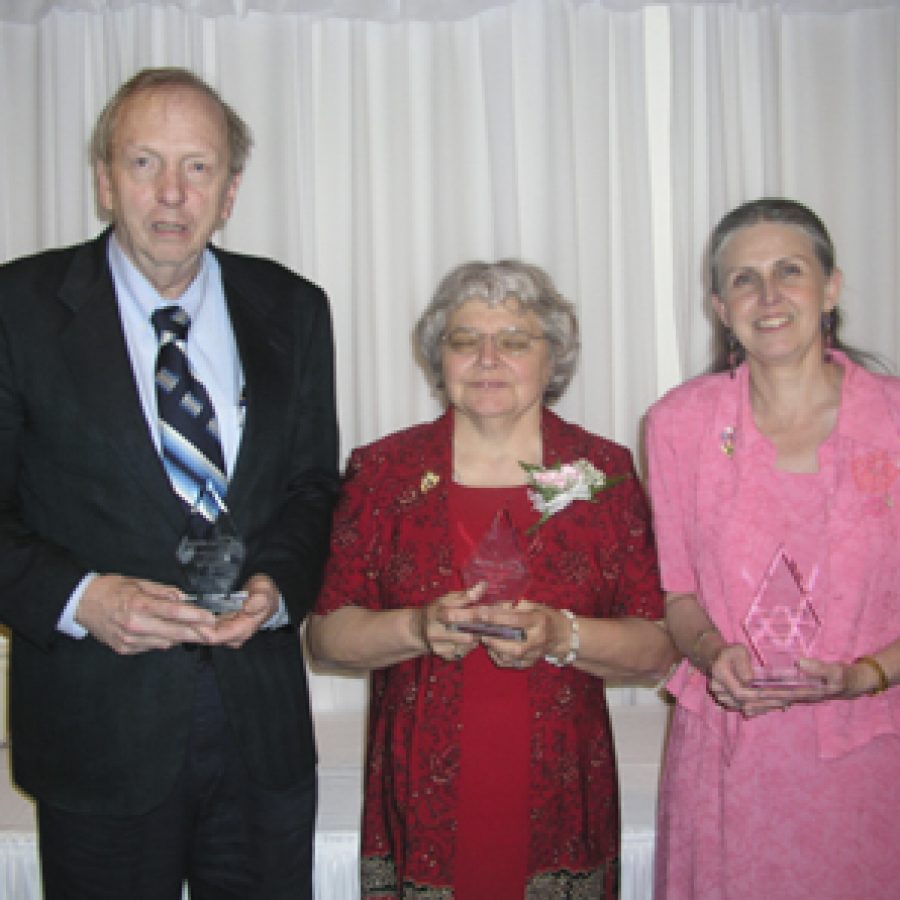 More than 125 awards recently were presented during the Mehlville School District's 26th annual Recognition Night.
Nearly 400 teachers, principals, classified staff members, administrators, Board of Education members and community volunteers attended the event that took place April 20 at the Genesis Banquet Center.
Recognized for a decade of dedication to Mehlville students were 10-year community volunteers Robin Israel, Mary Kopp, Martha and Larry Felton, Linda Poor and Diane and George Mues.
Distinguished Service Awards were presented to Bobbie Aldy, Rich Huddleston and Marea Kluth-Hoppe. Huddleston and Kluth-Hoppe are former Board of Education members.
Earning the title of Classified Employee of the Year were: Vicky Simorka (Beasley), Chris Scott (Bernard), Kathy Haley (Bier-baum), Wayne Auer (Blades), Rita Sciaroni (Buerkle), Bonnie Montgomery (Central Office), Paula Hesser (Forder), Kathy Hardin (Hagemann), Sue Ruzicka (Jefferson Barracks), Jane Steele (John Cary Early Childhood Center), Officer Charlie Rodriguez (Mehlville High), Dennis Bagy (Oakville Elementary), Sherry Dorste (Oakville Middle), Sandy Bovaconti (Oakville High), Sue Gould (Point), Lisa Vogelpohl (Rogers), Donna Brevard (SCOPE), Mark Lorenze (Trautwein), Lisa Stadler (Washington) and JoAnn Schremp (Wohlwend).
Taking home Teacher of the Year bragging rights were: Susan Schoenekase (Beasley), Vicki Kasparek (Bernard), Lisa Kertz (Bierbaum), Kay Cappos (Blades), Jennifer Szydlowski (Buerkle), Sherry Kaiser (Forder), Jim Scott (Hagemann), Mary Roedersheimer (John Cary Early Childhood Center), Angie Hendrick (Mehlville High), Mary Kaye Kernen (Oakville Elementary), Heide Plaster (Oakville Middle), John Souris (Oakville High), Suzie Ehrlichmann (Point), Donna Buehne (Rogers), John DeWalle (SCOPE), Karen Stuckmeyer (Trautwein), Wendy Gicante (Washington) and Jennifer Whitener (Wohlwend).
More than 30 employees celebrating a milestone in years of service to the district were presented a certificate and lapel pin.
Nineteen employees reached the 20-year mark, five celebrated a quarter of a century of service to the district, four were recognized for 30 years of service and five were honored for serving the district for 35 years.
In addition, 37 employees who previously had announced their plans to retire were honored. Each received an engraved clock.