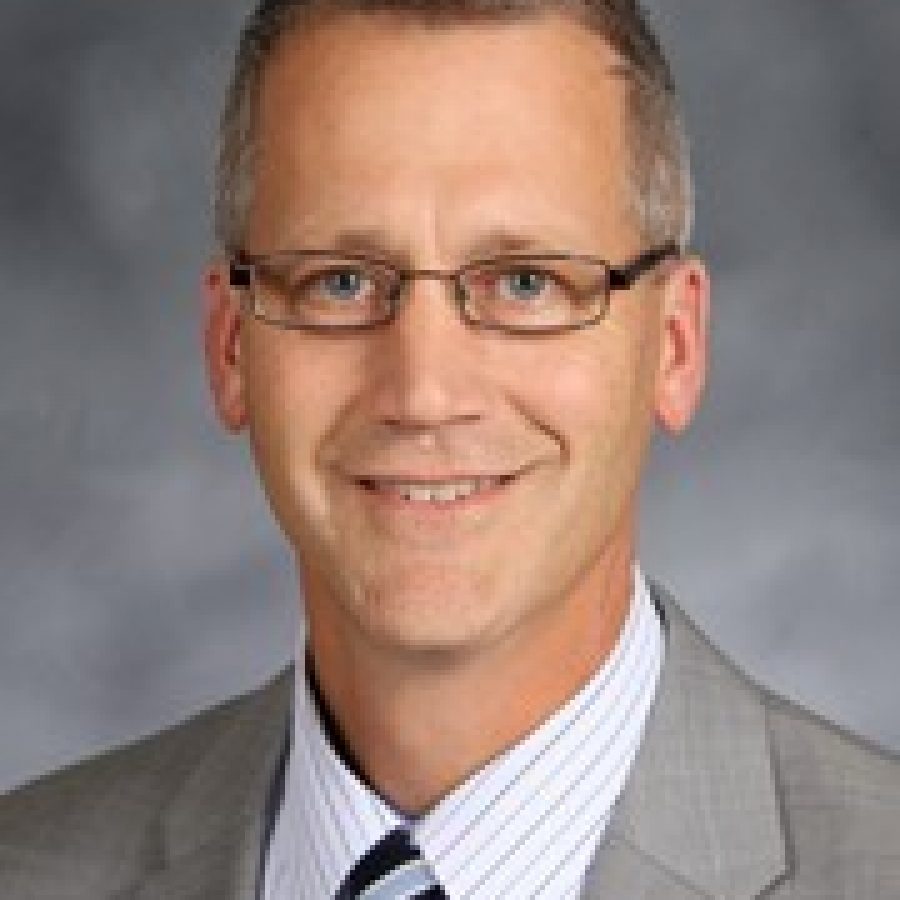 The Mehlville Board of Education approved a $110 million budget for the 2014-2015 school year that has a nearly $5 million deficit — part of a five-year plan to spend down reserves.
The board voted 6-1 last week to approve the budget, with Secretary Lori Trakas dissenting. The deficit spending is part of a plan the board outlined in 2011 to spend down reserves, which now sit at 23 percent but could go into the red by 2017 if current levels of spending higher than tax revenues continue.
"It hasn't been careless spending, and it hasn't been something we woke up one day and found ourselves in," Superintendent Eric Knost said, in his last meeting at Mehlville before leaving for the Rockwood School District. "This has been intentional to utilize money heavily on technology and on our facilities."
To free up operating funds in the budget and keep reserves at the board's preferred level of 13 percent to 18 percent, Knost offered some suggestions as part of the Forward Motion plan he brought to the board this spring, including his preferred recommendation of a $50 million bond issue that would raise the tax rate and fund a new auditorium at Oakville High School and new classrooms at three other schools, among other improvements.
Although Knost wanted the bond issue on the Aug. 5 ballot, the board postponed any action on the proposals until after interim Superintendent Norm Ridder, formerly superintendent at Springfield Public Schools, began his duties here Tuesday.
"We clearly discussed (in 2011) that there would be a point where that deficit spending would have to be accounted for, because you can't deficit spend forever. And that's what we're seeing coming at us in 2016," Knost said.
Trakas noted, however, that the board is now using its reserve fund to pay for recurring expenses like increases to salaries and benefits, rather than just one-time technology and facilities improvements.
"I think we'll blow our reserve in two years (at this rate)," she said. "People made hard choices to come up with that reserve level, and just to spend it in a few years I think is irresponsible."
The board heard some good news from Chief Financial Officer Marshall Crutcher about the immediate financial outlook from the fiscal year that ended June 30: an unexpected $750,000 in extra state payments means that the carryover deficit from the 2013-2014 year is only $400,000, not the $1.2 million Crutcher originally projected.
Lower-than-expected expenses could even turn fiscal 2014's deficit into a positive cash flow, Crutcher added.
The original budget adopted in June 2013 projected a deficit of $660,000.
Like he has in the past, Crutcher cautioned that the board has to make major financial decisions soon, since spending is outpacing the revenues the district is collecting.
Board member Larry Felton agreed the board has to look at how to balance the budget.
"We probably have about $2 million to play with, even looking at expenses next year," he said. "We have money there to look at moving next year … Next year, I think our goal ought to be to figure out how to balance this."
Vice President Venki Palamand made a motion to approve the administration's recommended budget and deficit spend an additional $60,000 for athletics and $30,000 for the Parents As Teachers program. The board approved Palamand's amendment 5-2, with Trakas and Kathleen Eardley opposed.
Eardley opposed the suggestion because she did not want to give money to Parents as Teachers and then have to take it away next year if the district did not have the extra funds.
"I again say it's irresponsible to keep spending down when we're looking at a $5 million deficit," Trakas said of the new $90,000 expense.
"Relatively speaking, it's small, and it's not a reoccurring expense," Palamand said. "It's amazing to me that a district could have a baseball team and not provide enough money to buy baseballs."
Palamand suggested dividing the $60,000 evenly between the high schools.
In remarks to the board at the beginning of the meeting, parent volunteer Bob Franey requested more money for the athletics teams at Mehlville High School, and Rogers Elementary parent Donnell Probst requested more money for schools so that parent-teacher organizations do not have to spend their time fundraising.
The money the district provides to fund the Mehlville baseball team is not enough to pay its $1,500 annual expense for baseballs, Franey noted, and parents raise money for extra coaches, balls, uniforms, bats, hats and other necessary expenses for the team.
"We are sorely lacking compared to neighboring districts right down the street," Franey said, citing the school's "outdated" weight room. "Our coaches and kids work very hard to be the best they can be, and we owe them a training facility."
Noting that the board does not dedicate much of its operating budget to facilities improvements, Crutcher suggested a guideline of 16 percent to 25 percent in reserves could be more appropriate and would give the board the flexibility to handle emergency purchases like roofs and HVAC or heating units without borrowing money.
In 2007, Mehlville's reserves dipped to 8 percent, and Knost — then deputy superintendent — and district administrators were able to build reserves by cutting millions of dollars from the district's budget.
The district's approved 2014-2015 budget projects total expenditures of $109,791,000 with anticipated revenue of $104,820,000 — a deficit of $4,971,000.
Based on a projected total cash balance of $30,366,313 on June 30, the 2014-2015 budget estimates a total balance of $25,395,313 on June 30, 2015.
Under state law, a school district is required to maintain a 3-percent balance in its operating funds or it is considered a "distressed" district.
The 2014-2015 budget projects an operating fund balance of $17,050,025 — 17.3 percent — on June 30, 2015. That balance includes food service, activities and athletics. Excluding those, a fund balance of $15,178,599 — 16.3 percent — is estimated on June 30, 2015.
For the 2013-2014 school year, Mehlville's operating fund balance was projected to be $21,693,035 — 22.8 percent — on June 30. That balance includes food service, activities and athletics. Excluding those, a fund balance of $19,330,599 — 21.6 percent — was projected on June 30.