Mehlville school board earns two MSBA awards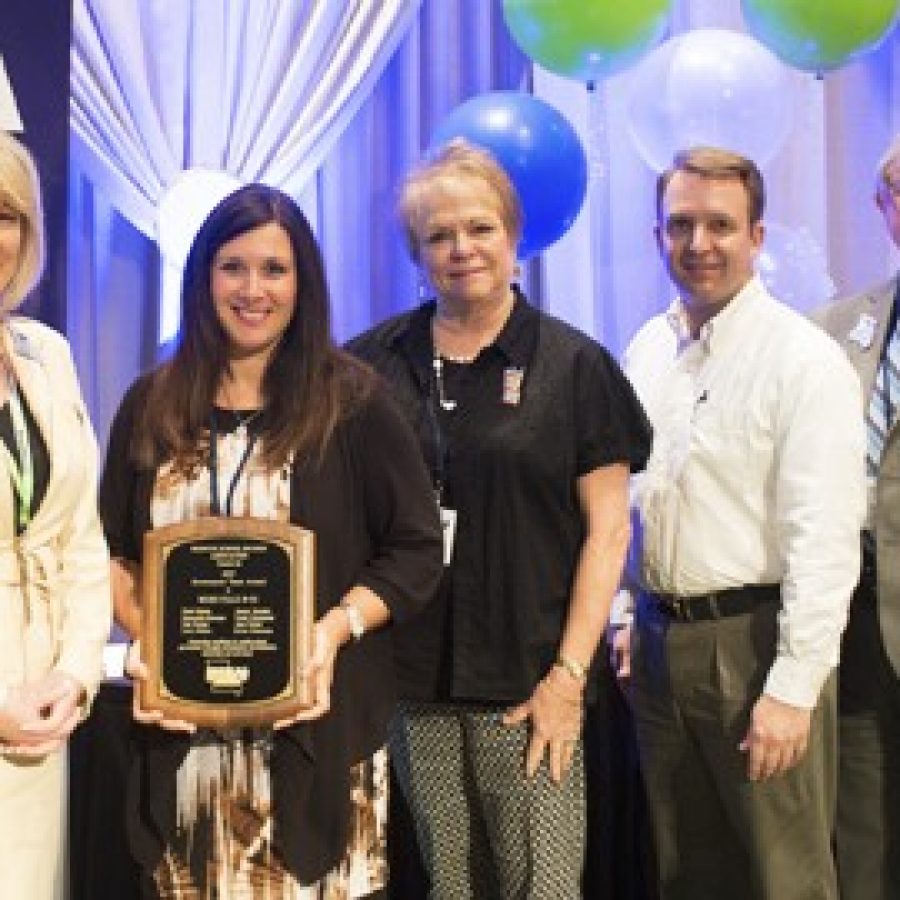 School boards in south county, including the Mehlville Board of Education, nearly swept the finance category of the Outstanding Board Awards at a statewide school board members' conference last week.
Of the four winners of the 2017 Outstanding Board of Education Award in School Finance Resources from the Missouri School Board Association, or MSBA, three were from south county. Besides Mehlville, winners included the Affton Board of Education and the Hancock Place Board of Education. The winners were honored during the MSBA's annual Leadership Summit, which took place earlier this month.
The Mehlville board was also one of 24 teams statewide to win the Governance Team Award. Board members include President Samantha Stormer, Vice President Jean Pretto, Secretary Lisa Dorsey and members Larry Felton, Kevin Schartner, Jamey Murphy and Peggy Hassler. Former board member Venki Palamand stepped down in April.
Pretto and Felton also received individual awards.
Felton, the outgoing MSBA president, received the MSBA Distinguished Certification Award, while Pretto earned the MSBA Master Certification Award.
Felton was one of seven school board members to receive the Distinguished Certification Award.
This is the second year that Distinguished Certification Award has been presented. To achieve the Distinguished Certification Award, a school board member must continue professional development and participate in a combination of leadership, advocacy and presentation activities.
Requirements include:
• Earn Essential, Advanced and Master Certification.
• Earn 20 additional credits with at least six in one study strand.
• Attend two MSBA core meetings, including at least one in year of application.
• Read one book in the study strand related to an educational or board governance topic and complete reflection form.
• Observe a school board meeting in two other districts and submit an observation form and agenda for each.
• Verify completion of at least eight activities in at least two of categories of leadership, advocacy and presentation and provide verification. The activities must have occurred within the most recent three consecutive years of board service unless otherwise noted.
The Master Certification Award presented to Pretto recognizes that she continued her professional development beyond the advanced level.
To achieve the Master Certification Awar, a school board member must complete the following requirements:
• Earn Essential and Advanced Certification.
• Earn 12 additional credits with six in one study strand.
• Attend two MSBA core meetings, including at least one in year of application.
• Read two books related to educational or board governance topics from the MSBA approved list, both in the study strand.
• Write a brief, two- to three-page reflection paper discussing a topic from the study strand in the context of district and board service.
Of the awards the Mehlville school board received, Felton said at the board's June 8 meeting, "The one I'm proudest of is we got awarded the Outstanding School Board in Finance Award."
Regarding Affton's honor, Affton Board of Education President Tom Bellavia stated in a news release, "This is the third year in a row that we have received the Outstanding Board of Education Award from the MSBA, and the Affton Board of Education is truly honored. We take our responsibility for fiscal stewardship very seriously, and will continue to honor our community's investment through careful strategic planning and data-driven decisions."
For School Finance Resources, school districts were required to meet five criteria:
• A transparent budget process that includes staff and community participation.
• An annual budget that is aligned with the district's Comprehensive School Improvement Plan's goals and objectives.
• Monitoring the effectiveness of programs, initiatives and activities.
• Demonstrated accuracy of standard account practices, auditing procedures and financial reporting.
• Evidence of periodic review and evaluation of the effectiveness of practices that impact district revenue generation.
"We take pride in the seven individuals who volunteer countless hours to serve on the Affton Board of Education," Affton Superintendent Steve Brotherton stated in the release."We would be hard pressed to find anyone more dedicated to ensuring that we continue to have strong schools and a strong community. Their support is paramount to our success."
This award recognizes Affton Board of Education members including Bellavia, Patricia Zahn, vice-president, Susan Casaleggi, treasurer, and members Douglas Beck, Michelle Burford, Jordan Levinson and Michael McNeil. In 2016, the Board also received the MSBA Outstanding Board of Education Award in Climate, Culture and Organizational Efficacy, and in 2015, the MSBA Outstanding Board of Education Award in Teaching, Learning and Assessment.
Criteria for the Governance Team Award includes:
• The district is accredited.
• The district is a member of MSBA.
• All seven board members have completed Essential Certified Board Member Certification by MSBA or have been grandfathered from the requirement.
• At least two board members have achieved Advanced Board member Certification.
• At least one board member has attained the Master board member certification.
• At least a quorum of the board and the superintendent attended the most recent MSBA/MASA annual conference.
• At least three board members and superintendent or other central office administrator attended the most recent MSBA