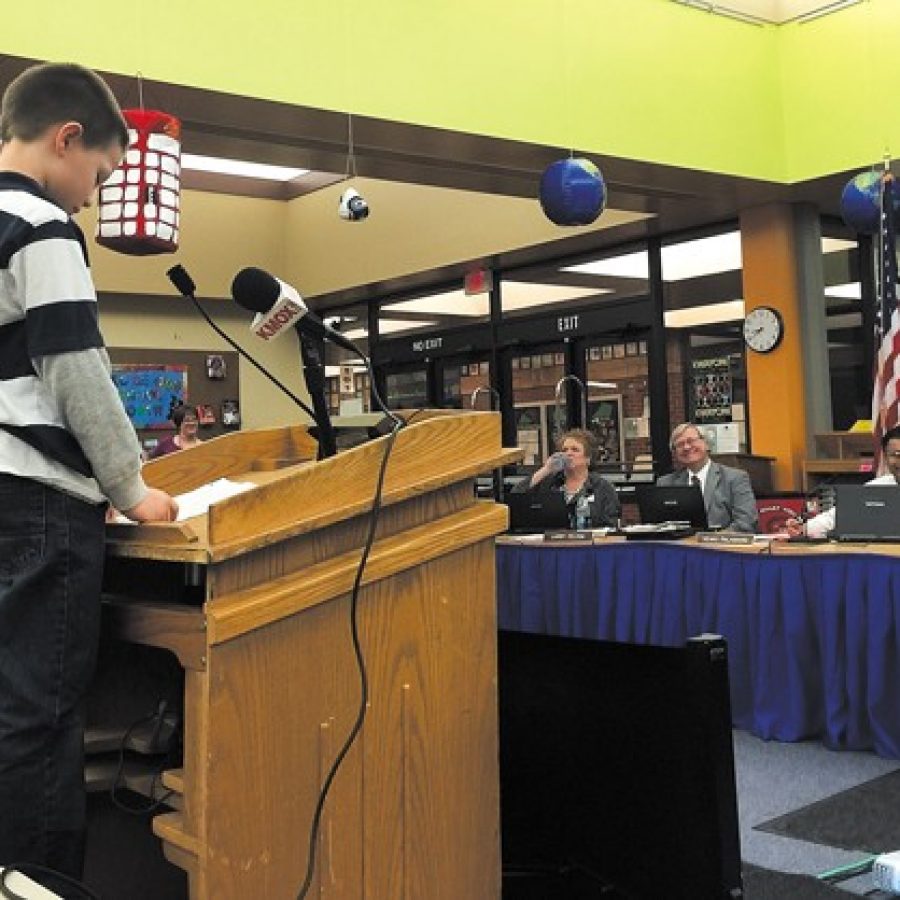 Mehlville School District officials and Board of Education members are trying to engage parents, students, teachers and the community to make a better decision on where to cut millions of dollars from the budget.
But suggestions that don't impact the classroom or key services like buses and clubs are few and far between.
Point Elementary second-grader Dylan Lohrke, 7, might have been the youngest public speaker ever to address the school board when he read March 25 from a letter that outlines how the cuts could affect him.
"I know you don't have enough money, but I will be aggravated by what you are doing to the school," Dylan said while standing on a chair to reach the podium. "If you get rid of the buses, people will have to walk to school. That would be unsafe because there are not sidewalks everywhere … If you get rid of (gifted program) STRETCH, I would be upset. I like STRETCH because I'm doing a science club. Maybe the STRETCH students could pay money that could go toward the school … Please keep all the custodians, they clean the classrooms — that helps people not get sick, we need all of them. Please keep all of our teachers. Mrs. (Janice) Baker is the best second-grade teacher. She lets us know how to write. Please don't take away any teachers, they are what makes school great."
At the same meeting, Mehlville Community Taxpayers Association, or MCTA, co-founder Ken Meyer took aim at Superintendent Norm Ridder, whom Meyer alleged led a "bullying event presented by the MNEA (Mehlville National Education Association) against the Mehlville taxpayers" at the March 11 board meeting. A sea of teachers, high school students and parents showed up wearing red in support of teachers, whose jobs could be axed in the budget cuts if not enough teachers retire for the slated teacher cuts to be handled through attrition.
"Are you really listening to the silent majority of Mehlville residents?" Meyer said. "It certainly appeared that Dr. Ridder was staging an event … I thought it was an organizational event for the MNEA, then later I thought, 'No, it's a bullying event presented by the MNEA against the Mehlville taxpayers' … I also understand there may have been some outside people involved … It would also appear the superintendent used his position and authority to motivate a large number of teachers to speak and give copies of their respective speeches to him personally. Additionally, using students, who are not taxpayers and have very little knowledge regarding tax issues, as pawns — especially the young man who was complaining about his teacher only making $76,000 versus her friend at Lindbergh who was making $86,000 a year.
"One word to you, sir — shameful. Dr. Ridder, this is not Springfield, Mo., this is Mehlville, Mo., and we don't appreciate being bullied in any way, shape or form, be it in a classroom or in a school board meeting — much less coming from you, our superintendent," Meyer added. "The Mehlville school board needs to take action immediately to stop this nonsense now. The superintendent needs to tell his staff, especially teachers, to stop sharing their horror stories and scaring our children …"
Meyer was near the end of the speaker list for the March 25 meeting, but his allegations prompted several teachers and a student to get up to speak in support of Ridder and say they are taxpayers who are not represented by the MCTA. Only one teacher spoke at the March 11 meeting, and several teachers at the March 25 meeting noted that Ridder had not told any teachers what to say.
"I'm sorry, Dr. Ridder, that you had to sit and listen to that ­— that's insane," Mehlville High School junior Lexie Clemons said. "… My mom's thinking of moving (because of budget cuts), and that's insane to me because this is home … People wanted to come to Mehlville just a few years ago because it's so amazing and now people are leaving. And I think you should strongly consider that and try to forget about what that guy (Meyer) said."
Mehlville High School student Devin Thomas said that although she is not yet a taxpayer, "I should be in the budget as a student of this district."
The proposed $4 million in cuts would be made up by adding $1.3 million through 200 more Voluntary Interdistrict Choice Corp., or VICC, students, along with $3.2 million in operating expense reductions, including cutting 23.5 teaching positions and buses within three miles of schools, along with technology and tutoring.
In a closed session that night, the board voted 7-0 not to renew the contracts of all 55 first-year teachers. Although it is expected that the 23.5 teaching cuts will likely be met by retiring teachers, so far 21 teachers have indicated they will retire or resign this year. If that does not cover the needed cuts to teaching jobs, the board could choose not to renew the contracts of some of its first-year teachers. But some of those teachers have said they will look for other jobs.
Ridder held forums on the budget cuts with his usual student and parent focus groups, and district strategic-plan consultant Marc Maness held a focus group of residents to discuss the cuts. The 23 participants in the three forums were comprised of parents of students, current and former employees, grandparents and residents with no children or grandchildren in school. Ridder held a separate event with teachers.
The majority of participants in the focus groups agreed they only recently learned about the district's dire financial situation, and they learned through their children's schools, the Call, word of mouth and information from the schools. They believe the budget numbers are reality, not a scare tactic. Maness said that since the first focus groups for the district's new strategic plan took place in September and now, "there has been a marked difference in awareness of financial issues facing the district."
The panels overwhelmingly agreed with the Finance Committee's recommendation that the district make $4 million in cuts this year, with $4 million on tap for next year if taxes are not increased. At parents' suggestion that more fees be added and increased to make up for some of the cuts, the district will look at raising athletic fees, Ridder said.
Of all the cuts, the focus group participants most strongly opposed those affecting teachers and transportation. Under the $4 million list, $500,000 could be saved by cutting busing more than three miles for district students, which would eliminate almost all elementary transportation.
The parent group's most preferred cuts include deferring $200,000 in maintenance on the pool and $500,000 for new school buses and cutting $100,000 in new library books, while parents' least preferred areas to cut include the $1.3 million in savings estimated from cutting 23.5 teachers, $100,000 for after-school tutoring, $65,000 for after-school club stipends and $1.3 million saved by eliminating nine nurses' assistants, five instructional technology assistants, one secretary per building and some custodians from each building.