Mehlville High students to present 'Macbeth'
Mehlville High School's Theatre Arts Department will present William Shakespeare's thrilling classic "Macbeth" next week.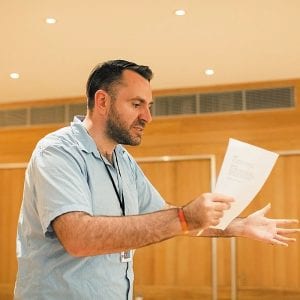 With a stellar cast of 24 Mehlville Senior High School students under the direction of Theatre Arts Director Alex Moore, "Macbeth" will electrify the Mehlville community from Wednesday, March 14, through Saturday, March 17, in William B. Nottelmann Auditorium, 3120 Lemay Ferry Road.
A matinee performance will be offered at 2:30 p.m. March 17. Performances will continue at 7 p.m. March 15 through March 17.
"Macbeth" features senior John Williams in the title role and senior Grace Robertson as Lady Macbeth.
The cast from the Mehlville Theatre Arts Department also includes Ashley Alexander as a witch; Austin Brown as Donalbain, second murderer and doctor; Shelby Bouren as the third witch; Tyler Gotsis  as Banquo; Cassidy Hayden as Lady Macduff; Derrick Henry as Ross; Jay Hulsey as Siward; and Serena Jolly as Fleance.
Other cast members are Will Keeling as Duncan; Molly Keeling as a gentlewoman; Kierra Kellum as the third murderer and Seyton; Brittany Koenig as a witch; Ashton Lively as Macduff; Alec McCurdy as a witch; Veronica McKelvie as a gentlewoman; Josh Neighbors as Malcolm; Morgan Potje as the first witch; Nichole Rhodes as the second witch; Kylie Smith as a witch; Robert Summers as Porter; and Chris Waelterman as a witch.
"I'm excited that 'Macbeth' is being offered to our students and the community and thrilled to collaborate and breathe new life into a 400-year-old play," Moore stated in a news release.
Moore received a TLab Scholars Grant from the English Speaking Union of St. Louis to travel to London last July and study with the Globe Theatre and Globe Education in Teaching Shakespeare Through Performance for three weeks.
"This opportunity transformed how I teach every class and has elevated my directing for 'Macbeth,'" Moore stated. "It's one of my very favorite Shakespeare plays and one of the Bard's most thrilling plays to watch: suspenseful, epic and beautiful all at the same time. Audiences have the chance to sit on stage and watch the action up close and personal."
Tickets can be purchased at (314) 467-6132 or at www.mhs-theatre.com.
Discounts are available for students, patrons 60 years old and up, military members and district alumni.
Question-and-answer sessions will follow each night, along with tours of the stage after each performance.