Mehlville High presents ''The Odd Couple''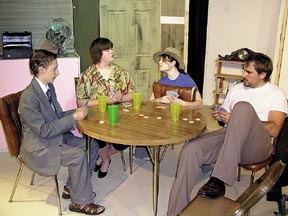 The Mehlville Drama Department, under the direction of Paula Heller, will present "The Odd Couple" at 7 p.m. today, July 31, and Friday, Aug. 1, at Mehlville Senior High School, 3200 Lemay Ferry Road.
Today's performance features a female cast, while Friday's performance features a male cast.
This well-known Neil Simon comedy focuses on the trials and tribulations of a pair of roommates as opposite as night and day. In the female version, the lead characters are Florence Unger and Olive Madison, while the male version features the traditional Felix Unger and Oscar Madison characters.
The Mehlville performances are being conducted as a rare summer fundraiser.
Proceeds from the two performances will be used to help Mehlville drama students attend a Shakespearean workshop next summer at the Globe Theatre in England.
Cast members for the female version of "The Odd Couple" are Emily Immer (Florence Unger), Hannah Seckington (Olive Madison), Jennifer Young (Sylvie), Lindsay Rapp (Mickey), Hillary Gokenbach (Renee), Shannon McClusky (Vera), John Urbanek (Manolo Costazuela) and Tim Stuart (Jesus Costazuela). Directing the female version will be Jason Woolem.
The male version of the play features Justin Legge (Felix Unger), Alex Moore (Oscar Madison), John Urbanek (Speed), Terry Balke (Murray), Kyle Allen (Roy), Tim Stuart (Vinnie), Hillary Gokenbach (Gwendolyn Pigeon), and Jennifer Young (Cecily Pigeon). Alex P. Keeton will direct the male version of the play.
Tickets cost $5 in advance or $6 at the door. For additional information, call 467-6132.