Mehlville High boys capture district soccer title
Panthers were slated to face Hazelwood Central Tuesday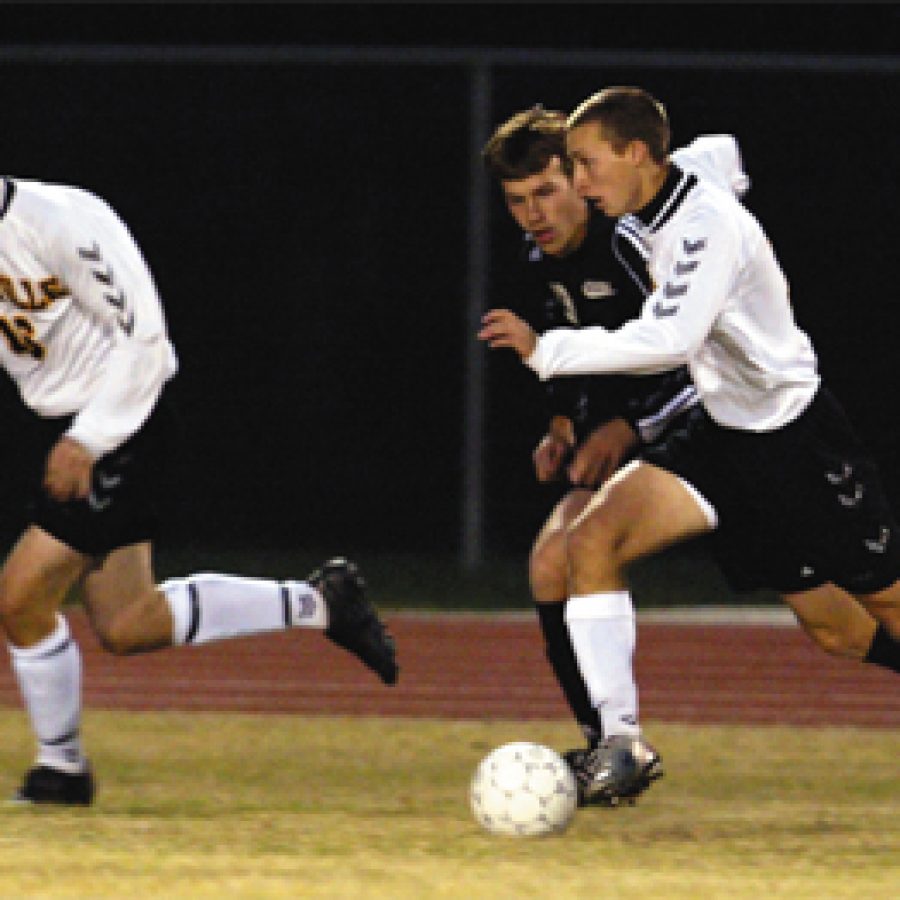 As the No. 3 seed in last week's Class 3, District 4 boys' soccer tournament, some might have considered the Mehlville Senior High Panthers a long shot to capture the district championship.
But the Panthers (14-10-2, 5-3 Suburban West) silenced all critics Oct. 31 with a 2-0 victory over Oakville (12-14, 6-2 Suburban West) to clinch their first district championship since 2003.
"To beat two teams with the tradition and caliber of a Lindbergh and an Oakville, it says a lot about our last two wins," Mehl-ville head coach Tom Harper told the Call. "It's exciting and amazing, but we were not surprised. This is the kind of team that we thought we had all year long."
The loss for Oakville marked the end to a roller-coaster season as the Tigers lost four of their last six games. Oakville finished the season under the .500 mark.
"The last game of the season that you lose is always going to be tough," Oakville head coach Dave Robben said. "To the boys' credit, they battled and left everything they had on the field. It was a pretty typical Oakville-versus-Mehlville game."
The Panthers jumped out to a 1-0 lead when midfielder Zac Kittrell scored on a cross shot from the wing as defender John Brinkmann recorded the assist.
"We had just started to get some flow at that point in the game and the ball was placed in the right spot," Harper said. "I don't know if there was much that their keeper could do about it."
Mehlville increased its lead to 2-0 in the second half on a goal by junior forward Samir Muratovic with senior forward Eldin Kandzetovic getting the assist.
"This was one of those balls where Eldin just wound up and hit one so hard that it sounded like a hockey puck hitting off of the post," Harper said. "Samir just happened to be there to finish off what Eldin had started."
The Panthers were scheduled to play Tues-day — after the Call went to press — against Hazelwood Central (17-10, 4-2 Suburban North), which clinched the Class 3, District 3 championship with a 3-0 win over Hazelwood West.
"We actually got to see them, and they're fast and really attack the ball, which can be a problem for us," Harper said. "We know that we'll want to be patient in the backfield and handle their pressure."