Mehlville High athletes recognized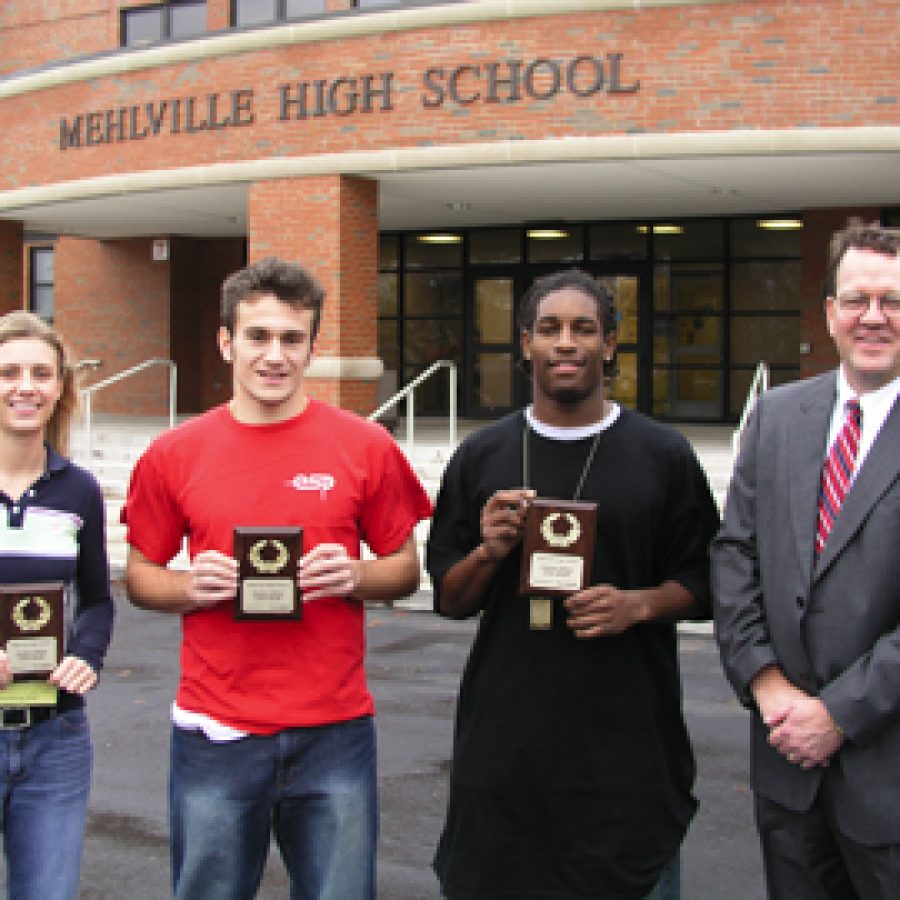 Athletes at Mehlville Senior High have one more reason to give their all.
Each month, the school will select an athlete of the month as part of a new recognition program. Three student athletes re-cently received honors for September, October and November.
Rachel Heet for September, Rodney Heard for October and Denaldin Hamzagic for November were selected by a committee of Mehlville coaches as the school's first recipients of the athlete of the month award for 2004-2005.
Ed Harris of Edward Jones Investments presented each athlete with a personalized plaque signifying their selection.
Heet, 17, was the shortstop on Mehlville's softball team. She batted .457 with six doubles, six triples and 13 runs batted in. She also posted a .972 fielding percentage, notching 53 putouts and 84 assists in 141 chances. Heet recently signed a letter of intent to continue her athletic career at St. Louis University. She is the daughter of Christine and James Heet.
Heard, 17, a member of the Mehlville District Champion football squad, scored seven touchdowns while rushing for 160 yards and caught 18 passes for 319 yards.
On defense, he made six interceptions, recovered three fumbles and made 28 solo tackles. His parents are Melissa and Rodney Heard.
Hamzagic, 18, was the top scorer on the Panther soccer team. He scored 15 goals and notched 15 assists for an amazing 45 points. He also tallied six game-winning goals during the season. His parents are Ajka and Fikret Hamzagic.
Following the winter sports season, Mehlville will select an athlete of the month for December, January and Feb-ruary.
Award winners for March, April and May will be chosen following the spring sports season.