Mehlville fire district resident honored for his heroic efforts during condo fire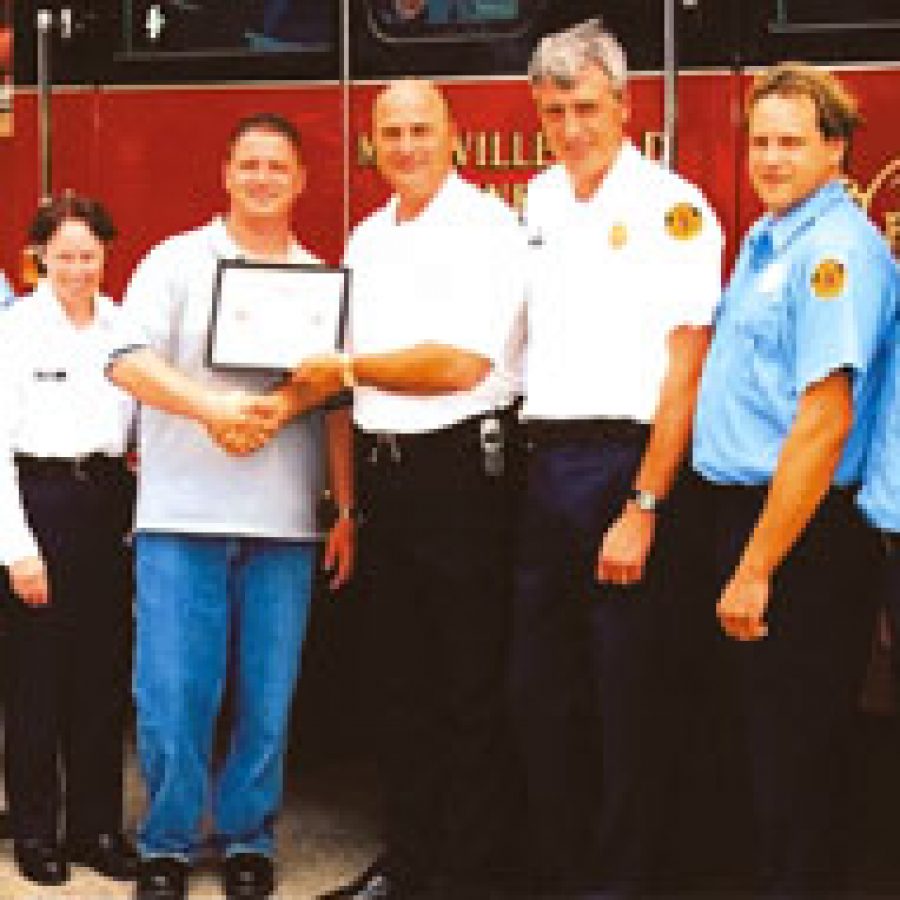 Mehlville Fire Protection District resident Kevin Driskell recently was awarded a Certificate of Appreciation by the fire district for his selfless and heroic efforts to evacuate residents during a fire at a condominium complex at 19 Berview Circle.
Mehlville Fire Protection District personnel responded to a fire at 3:08 a.m. June 6 in a condominium at 19 Berview Circle, according to a news release issued by the fire district. Firefighters en route to the scene were advised that people were trapped in the structure.
When Capt. Nick Fahs, responding from Engine Company 1, left the engine house, flames were visible in the early morning sky. Upon the arrival of the engine company, firefighters found heavy smoke and fire on the second floor of the structure.
The smoke and fire originally were discovered by Driskell, a resident of the condominium unit. After he evacuated the occupants from his unit, he immediately proceeded to the upper floor of the building to wake residents on that floor. Driskell was met by heavy smoke and heat conditions, according to the news release.
Driskell evacuated several units before he was forced out of the structure for air.
He then re-entered the unit several more times continuing to alert and evacuate occupants. He repeatedly tried to gain access to other units, unaware that some of the occupants had jumped from their second-story windows to safety.
Mehlville fire district officials later learned that the only reason occupants were made aware of the dangerous situation in the unit, destroyed by fire, was they were awakened by the pounding on their door by Driskell. The residents who jumped to safety were treated for smoke inhalation and minor injuries on the scene.
At the presentation ceremony, Driskell was joined at Mehlville Engine House No. 1 by Chief Ray Haddock, Deputy Chief Steve Mossotti, Fahs, Fire Crew 1710 and Ambulance Crew 1717. Other Mehlville employees who worked the incident and attended the presentation ceremony included Pvt. Mitch Fassler, Pvt. Craig Dexter, Lt. Joanne Evans and Pvt. Doug Weck.