Mehlville extends Beasley Elementary's universal free breakfast program for a year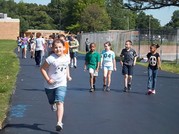 Students celebrated when the St. Louis Rams and CHARACTERplus named Beasley Elementary a Character Fitness Model School back in 2012.
By Emily Klein
Staff Reporter
The Mehlville School District is extending a program to provide free breakfast to every student in one school for another year after a successful pilot program this spring that officials believe showed improved learning experiences.
The Board of Education members agreed this summer to continue the universal breakfast program that provides free meals to every student at Beasley Elementary for the 2018–2019 school year. The program brings in federal money to provide healthy food for students at the beginning of the day.
The free breakfast program started last year on a trial basis, and the district sees it as extremely successful in getting more students to eat breakfast. Before the pilot, only 37 percent of students were eating school breakfast, but during the pilot 59 percent of students ate.
Students that paid in full for meals had a 36-percent participation increase, reduced breakfasts were up by 33 percent and free meals were up by 17 percent.
The program also added 1.75 staff hours to move the students through the cafeteria line since so many students participated in the program.
Beasley Elementary receives federal reimbursement for cafeteria meals, with the highest reimbursement rate coming from students who get free lunch at $2.09.
Director of School Food and Nutrition Services Katie Gegg said she tries to keep food costs low —about 90 cents a meal — while keeping the meals healthy and filling for students.
Because of the low meal costs, the department had leftover funds from the previous school year.
Having leftover funds means that meal rates for the district don't need to be raised for the 2018–2019 school year.
The school board asked Gegg at the June 28 meeting if the department is planning on expanding the universal breakfast program to other schools in the district.
She said she will continue to monitor the effectiveness of the program at Beasley.
But she didn't announce any plans to expand the program.
"As of right now, we spent a considerable amount of time at Beasley before coming to the board to ask if the pilot could be there," Gegg said.
The schools were also introduced to grab-and-go breakfasts located at school entrances that students could grab as easy to-go breakfasts on arrival to eat in class.
Board members had positive things to say about the district's food,  and students across the district also had the opportunity last year to sample new food options and give their feedback.
"I'm constantly impressed with it," said board member Jean Pretto. "I don't have any data from any other school to compare it with, but I'm sure that (Mehlville is) head and shoulders above any other school as far as food programs go."