Mehlville candidates clash over Prop P, leadership of school district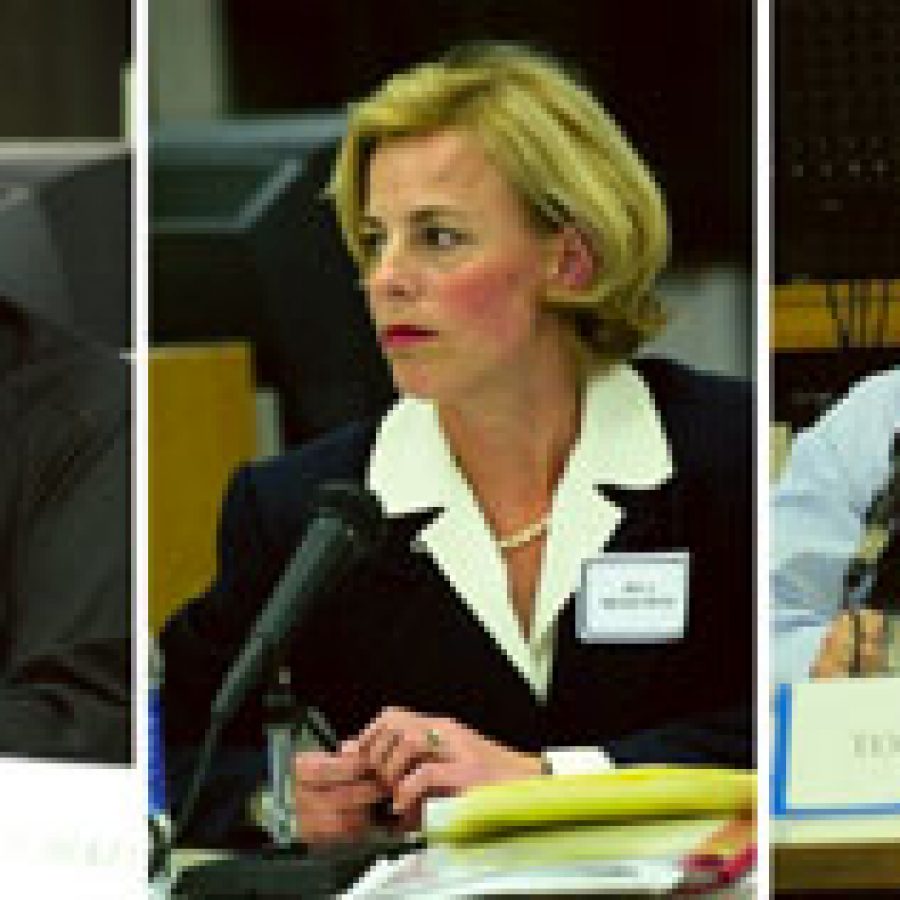 Conflicting views of current Mehlville School District leadership arose last week during a candidate forum.
Three Mehlville Board of Education candidates answered a range of questions during the March 9 forum that was sponsored by the district's Citizens' Advisory Committee and drew about 70 people.
Letting the public know where they stand, one incumbent and two challengers differed greatly on such issues as the Proposition P districtwide building improvement program, budget cuts and the competence of the leadership provided by the Board of Education and the district administration.
Tom Correnti, incumbent Rita Diekemper and Karl Frank Jr. are vying for two seats up for election on April 6. Incumbent Rich Huddleston did not file for a third, three-year term on the board.
Diekemper, who owns Gardens of Grace, said during her opening statement that her former accounting experience provides "much needed financial oversight" to the district, of which "citizens can be proud" for its dramatic improvements as a result of Proposition P.
Correnti, who has worked for the U.S. Postal Service for 29 years, spoke of his district involvement. He serves as the current vice chairman of the Proposition P Oversight Committee and announces at Mehlville Senior High School Football games.
Frank, who owns Emoticon Computers, said a top priority of his was "to engage the public." The single-most important issue of the race, he said, is the lack of oversight and weakness of the current Board of Education and administration.
All three candidates have children who currently attend district schools.
Candidates were asked "why you do not allow public comment and questions at board meetings."
Diekemper answered, "We allow for a public comment period, however the board is bound by the laws of the Sunshine Law of the state. It would be illegal for us to engage in a discussion with people about items that may not appear listed on the agenda. And when you realize the intent of the law, it is so that other people who may be interested in that conversation, if they knew that that conversation were to occur, could also be at the meeting and hear and participate in the conversation. If someone would like to make an agenda request, they can do so in writing, and items will be put on the agenda and then there can be a discussion back and forth. Also, anyone is permitted to call any of the board members. Our e-mails are listed on our Web site and all of us are listed in the phone book. And we welcome such discussions with people."
Correnti said, "I'm not on the school board. I understand the rules that are part of and attend the meetings and are there. I understand there's got to be a forum and a need is for requesting an opportunity. It's not so much that we make it, or they'll make it difficult for anybody to get their feelings expressed or heard or questions not answered. It's a matter of making sure we follow the rules set aside by the rules that come down from the Sunshine Law so that everybody will have a fair and equitable chance to be heard."
Frank said, "I was looking in the board manual and I don't see anything that specifically states that you cannot make comments. What I see in the board manual is that you cannot make any decisions in that particular meeting. While I understand you don't want to make any decision and you want to allow it to end up on the agenda eventually, there is no reason why you can't directly, maybe answer the question and make that person feel more familiar with what's going on. You know, I can't think of a better place than at the board meeting for someone to bring up something and for something to be accommodated. It could be brought up again in the agenda. You don't have to make any decisions. You give the impression to the public that you just are not going to talk to them. And that's not the right thing to do."
With recent budget cuts, the candidates also were asked how they would maintain quality education in their schools.
Diekemper said, "Our district currently operates on a very lean budget. We have the third-lowest per-pupil expenditure in St. Louis County — translating into about $2,200 less per child per year for annual spending of $26 million less in our budget than the average budget in St. Louis County. Yet our Distinction in Performance rating places us in a top category when it comes to student academic performance. We are achieving significant academic results with below average spending. Any future spending cuts would have to be made in such a way as to have the least impact on students in the classrooms. And I think that the reason we achieve what we achieve is because of the people that we have — the people that we have in the classroom, teachers, the people that we have, the parents sending their children to our schools and the community's support …"
Frank answered, "I agree with Rita on that. This school district does a phenomenal job educationally with the limited amount of money that they have …"
Like Diekemper, he attributed much of the district's academic success to parent involvement and quality teachers.
Correnti asked for the question to be reread before he answered the question.
"I'm glad you reread that because some of the answers I just heard didn't seem like they met the question," Correnti said. "I think the plan is to maintain what we already have established within the Mehlville School District."
He also noted that while the budget is small, the success of Mehlville students is a testament to the efforts of students, parents and teachers.
One question was directed specifically to Frank. He was asked if he had expressed his concerns of the district's fiscal irresponsibility to the board president, Superintendent Tim Ricker or Chief Financial Officer Randy Charles, and if he had, what was their response.
Frank said, "No I have not spoken with Dr. Ricker or Mr. Charles and it's probably a failure on my part to do so and I'm going to make sure I do so between now and then. However, I think the numbers speak for themselves. As far as I'm concerned, there's an open-ended contract with McCarthy and with DHA. There's overdesign. You know, Bernard Middle School cost 31 percent more than it was supposed to.
"The original projection was $12.1 million and the final was $17 (million), almost $18 million, you know, the final cost for the school district. Now, I can't imagine for the life of me what Dr. Ricker and Mr. Charles would have to say to excuse that. That's millions of dollars. And I can hardly comprehend what it would be like to have that much money. The public entrusted us with that money. And how was it that the board let the administration sign off on those contracts without ever reviewing it — ever. And that's what I want to find out."
Diekemper said, "I've been involved with the oversight of the Proposition P since the beginning and I've discussed those issues with those people extensively in terms of budget. The oversight of Proposition P has been a collaborative effort involving the administration, the oversight committee and the Board of Education. Mehlville is one of the first districts to so fully involve the public in an oversight committee. We have learned and improved along the way with reporting being revised and scrutinized from public input. All parties have taken their responsibility seriously to ensure that the Proposition P plan is being implemented as voters intended."
Correnti said, "… Being on the Oversight Committee and having the opportunity to be at board meetings, I have never seen anything that would constitute irresponsibility. We've all had projects built. We've all had things that were, we've asked for contracts and things … when we have things it may mean a thousand or $2,000 or $500 over. When we have a thing like the Proposition P $84 million project going on, the money gets escalated in an upwards scale of what we'll know as homeowners. And yes there has been cost overrides and over budgeted of items. Estimates come in under what they originally said. But there's things that have occurred in the entire time McCarthy was with us, the architect was with us, that just happened. And the board has intelligently dealt with it along with Mr. Charles and Dr. Ricker."
Another question directed to Frank, he was asked since it "sounds as though (he) does not have confidence in the current administration," if elected, would he make changes to the current administration.
"No, I'm not very confident in the administration," Frank said. "There are a lot of things that have happened. Ultimately, I think the responsibility is the board's because that's what their policy manual says on their charge and it's their responsibility. Things such as the Dickinson Hussman contract being signed and dated April 1, 2001, when the person that signed it didn't take over, Mr. Charles didn't take over until July of 2001 … If these kinds of things are happening and if they're that sloppy on dates, how else are you sloppy? How else are you missing financial information? How else are you missing it when McCarthy wants to charge you for things with open-ended contracts, and then know, as Richard Huddleston said, you know, what can you do about it? Basically nothing. It's already happened and it's completely legal and it's the board that's let this happen and it's the administrators that are doing it."
Correnti said he did not want to respond to the question directed to Frank, but he did say, "… I'm totally amazed at how much information Mr. Frank knows by only being to a couple of board meetings. And how much depth he gets, it stifles my imagination."
Diekemper responded, "Our administrators are not just reviewed by the board, our administrators in the administration of our district from the educational process to financial administration are reviewed by other entities as well. The following entities have given the Mehlville School District favorable reviews in these areas."
She noted that the Missouri Department of Elementary and Secondary Education has commended the district for its "strength of public engagement processes," and the district has received the Distinction in Performance Award for two consecutive years. She also said the district would not be able to achieve an AAA bond rating if it did not have "good financial management."
The three candidates were asked to describe the district's and board's relationship with the media and what they would do to improve it.
Diekemper said, "I think that the administration and the board have been available to the media any and all times possible. I believe that we've been forthcoming with the media in providing them documentation. They receive all the same reports on a monthly basis that I pointed out earlier including our financial statements. They're available at the board meetings. They also have a monthly, or a weekly meeting with the superintendent of our schools and the president of our school board on most Fridays. I wish that the relationship with our local newspaper was — more neutral."
Frank said, "In the policy manual … it says the board is responsible for providing adequate and direct means to keeping district patrons informed about the schools, keeping itself and the school staff informed about the needs and wishes of the public. This means everything — the good and the bad. And to not have the kind of questions postured because you are worried about what the Call will report is not, is just not proper, it's not how you ethically fulfill the positions of your job. You have to be open. You have to be public. You have to be forthcoming. You have to be honest. And if the press is going to pick up on that, then so be it. And if you've got something to hide, the press will pick up on it.
"That is what the United States is about — the freedom of the press and the ability to pry and figure out what really is going on here. What's the bottom line? Why was that seven cents not being used and why did the Oversight Committee not know it? There are a lot of things that go on here. And I thank God for organizations like the Call and the Post because without them, we would be clueless to what's going on. We would be lights out because we would be listening to everybody's PR and public relations," he said.
Correnti said, "I believe that there is the opportunity for media representation. I believe that Patrick Wallace (the district's school/community relations director) has done an excellent job of keeping the school district highly informed of everything that goes on, from a band concert to a student getting a good achievement. He utilizes the Mini Messenger. He does e-mails. I believe the school board answers every question that's out there. I believe it hides nothing. What we see in the paper is exactly what they see at the school board meetings. We get what they get and they see what we see. I find it very helpful to read anything Mr. Wallace presents us because he is basically the voice of the schools to us out here as parents."