Mehlville boys' 'spectacular run' ends with fourth-place soccer trophy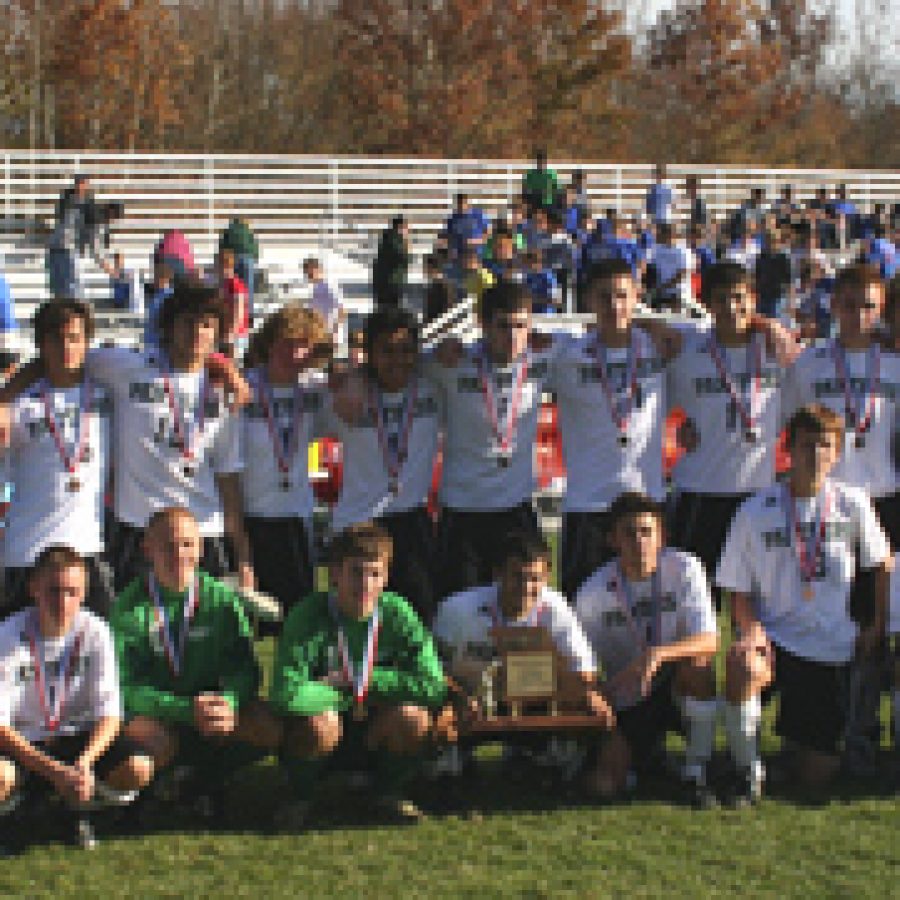 Though the Mehlville Senior High School boys' soccer team's season didn't end as members wished, the Panthers are one of the top four teams in the state for 2007.
Mehlville's amazing run toward a state championship came to an end Friday night with a 4-0 loss to St. Louis University High in the Class 3 state semifinal — the Panthers' first-ever foray into the final four.
"It's not the way we envisioned it, but nonetheless we made a spectacular run and the kids should be real proud of their efforts," Mehlville head coach Tom Harper said. "It was one of those things where we just didn't have it today."
Mehlville entered the game at 16-11-2 (5-3 Suburban West) and fell behind 1-0 just 6:40 into the event as SLUH's David Ziegler scored on an assist by Kevin Steitz.
Mehlville's defense held off the Junior Billikens for the next 16-plus minutes, but SLUH's Erik Carretero brought the score to 2-0 with Steitz recording his second assist of the night. Steitz struck again with a goal of his own at the 32:27 mark as Chris Haffner notched the assist.
SLUH's final score came at 36:21 with Jack Twellman getting the unassisted goal.
In the third-place game against Kickapoo Saturday afternoon, the Panthers' fortunes were not much better in a 5-0 loss to the Chiefs.
"We knew that it was going to be a tough challenge," Harper said. "They're big, they're strong, and obviously they know how to play. We thought we could come out and hold our own against them, and it's just one of those things where unfortunately we didn't have it today and we didn't have it last night in the first half."
Kickapoo took a 1-0 lead just 9:30 into the first half on a goal by Heath Melugin with Colton Sexton getting the assist. The Chiefs extended their lead to 2-0 at the 20:12 mark on an unassisted goal by Ryan Moses. Kickapoo's third goal came from Moses in the second half at 56:47 with Melugin recording the assist.
Mehlville's defense continued to struggle against a potent Chief offense as Melugin recorded his second goal at 58:06 in the second half. Kickapoo's fifth and final goal came from Melugin as he gave the Chiefs a 5-0 lead at 69:33 in the second half.
Despite the back-to-back losses in the final four, Harper was proud of what his team was able to accomplish this season.
"We're very proud of them and the efforts they made," the Mehlville coach said. "I can't say enough about this group of guys and their ethic. We're going to go back and we're going to celebrate this and be happy about the weekend and what we've got.
"I know that they're going to be disappointed, but they'll understand about how important this really was. I want this to be something special that they're going to look back in about 20 years and they'll be sitting in the stands hopefully watching their kids try and do the same thing," Harper added.