Mehlville board says farewell to Ridder, longtime employees
'You've made it cool to plan,' Felton tells departing superintendent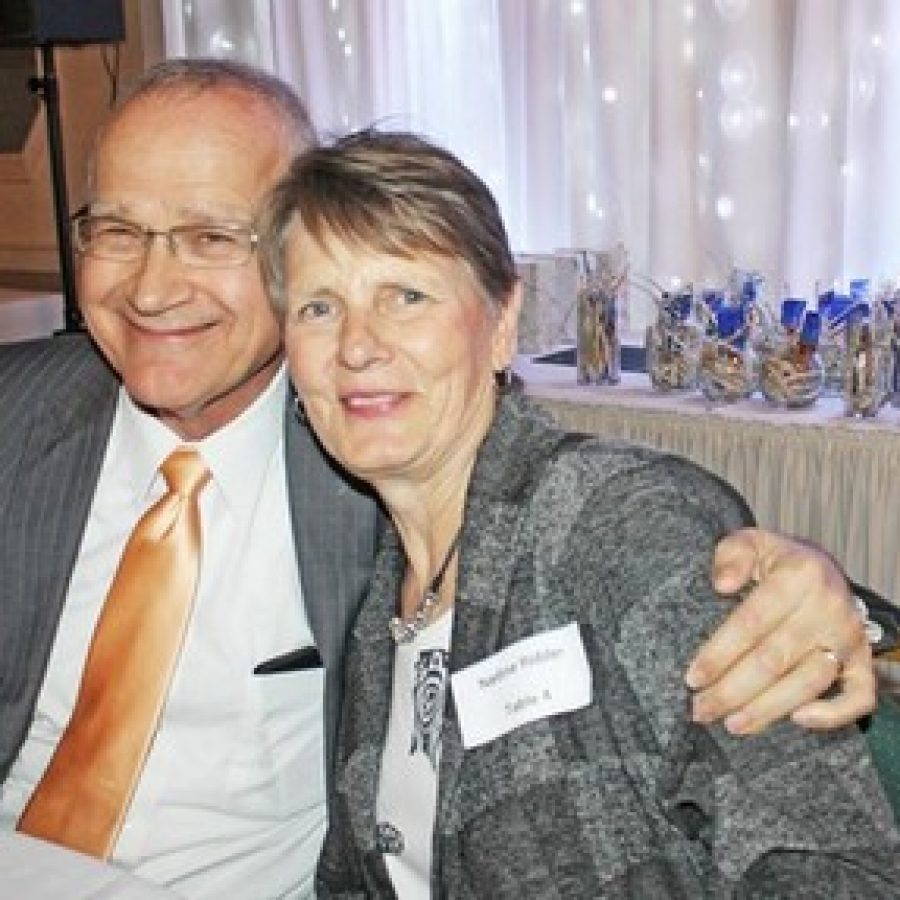 Any observer of the Mehlville Board of Education over the past year knows that the board rarely approves anything unanimously these days, but board members were in full agreement as they said farewell to outgoing Superintendent Norm Ridder at his last board meeting that the interim leader was an asset over the past year to a district in financial crisis.
Before new Superintendent Chris Gaines took over the district July 1, the board met for their last meeting with Ridder June 18, with Ridder's wife, Nadine, in attendance. Ridder took over as the board searched for a replacement for former Superintendent Eric Knost, who left a year ago to lead the Rockwood School District.
Although at the end of the meeting Ridder credited the parents, teachers and administrators who make up the heart of the district for making his time in Mehlville "very easy, to be honest with you," during the superintendent's report Ridder thanked what he called two assets to the Mehlville School District, the local newspaper and the district's students.
Kicking things off by mentioning the Call, Ridder thanked the newspaper's executive editor, Mike Anthony, and its reporter who covers Mehlville, Gloria Lloyd. During the surveys in the runup to the district's strategic plan spearheaded by Ridder over the last year, frequent voters said they receive most of their information on the district from the Mehlville Messenger, the district's newsletter, and the Call.
"First of all, I want to thank the Call for all the coverage that you've done in the year that I've been here, and I want to thank you for the articles that you've done as far as following up," Ridder said. "I really appreciate that, Gloria. By the way, if you ever get a chance to visit the Call — that's an experience. It's a Rothian type of experience. It takes about a week to get the paper residue out of your sinuses.
"But anyway, I really appreciate the conversations that we've had and really both of you, especially Mike, has a real good sense and understanding of Mehlville, and I think we need to respect that in every way possible, so I just wanted to mention that."
As far as Mehlville's students, Ridder said they are "second to none."
"When we sit down with students from Mehlville, the heart in these students is second to none," he said. "They really, really love this community, they love where they live and they love their school system. I think that's really what the core and the strength of Mehlville really is compared to other places I've been. I think your students are really solid, really rock solid."
As staff and board members later began their public goodbyes to Ridder, Director of Communications John Wolff noted both the differences and the biggest similarity shared by Ridder and his predecessor Knost, and referenced Ridder's first leadership position running his family's farm as he grew up in Nebraska.
"I just want to take a minute to thank Dr. Ridder for his dedication to the Mehlville School District," Wolff said. "He in essence took what was a temp job and did some amazing work. His strategic thinking, his strategic planning and his nonstop leadership made this district, its employees and its students much better because of those efforts. I'm thinking you learned that on the farm? I bet you did.
"I've worked for two superintendents here, Dr. Knost and Dr. Ridder — two very different men, two very different leaders, and yet they shared one very important trait. Each man cared passionately for the children of the district.
"Hopefully every administrator will steal the best of Norm, steal the best of Eric in order to become even better and more successful at what we do, and with my experience so far, we're going to be three for three with Dr. Chris Gaines."
Board member Jean Pretto was out of town for Ridder's last meeting, but the other board members all said goodbye to Ridder with the caveat that he will still be hearing from them as they frequently call him to ask for advice on Mehlville's future.
Along with former board President Ron Fedorchak, board Vice President Larry Felton knew Ridder before he came to Mehlville through their mutual attendance at conferences and events held by the Missouri School Boards' Association, or MSBA. Felton was elected president elect of MSBA in June. Board President Venki Palamand credited technical sales agent Fedorchak with convincing Ridder to come to Mehlville last year despite having other offers from larger districts.
Felton kicked off the board member comments by remembering that first meeting at MSBA.
"I think I first met you about four years ago when you came into the MSBA Board of Directors and did a readout on what was going on in Springfield. And then it seemed like every presentation I went to at conference, I either tripped over (former MSBA President and Springfield Board of Education member) Gerry Lee or I tripped over you. And I got a chance to watch the influence you had on Springfield, in their data analysis and in their programs and in their diversity and how — kind of off the wall — you made some changes in the school systems to adapt to your community.
"So when you came along and we had a chance to interview, I just sat back and enjoyed it because it was such a pleasure for this board to get to know you the way I'd gotten to know you.
"What you've done in a year is you've made it cool to plan, you've made it cool to think beyond the horizon and think about what we're going to do. And it's good that you were here because we had an interesting little financial problem and I think without the work that was done to get some data and the facts and get rid of the myths and get us into some concrete issues, I don't think we'd have solved it.
"So I want to thank you personally and on behalf of the board. I want to thank you for that."
Then the other board members went around the table to say goodbye, starting with new board member Lisa Dorsey, who was elected in April.
"I haven't been on the board for very long, but in the conversations that I had prior to being elected into the position and looking back at the work and the documents that we have, (Ridder) set the district up in a position to gather data and have the data inform our decisions.
"Having the appropriate context around agenda items and initiatives that are proposed is a very nice place to be, as I think the district and the board moves forward in some ways that are different from past operations, but in manners that are informed already. And I think that you did a lot of work over your past time, as did the cabinet and the others. And I know that we are going to continue to appreciate the opportunity to have that in place as we move forward with some difficult decisions and some opportunities to work in ways that perhaps we haven't in the past."
"I'm going to make a motion to not let Norm leave the district," board Secretary Samantha Stormer said, promptly seconded by Jamey Murphy and jokingly agreed to by the rest of the board.
"I just want to say thank you. It's amazing — I question myself a lot, as you guys all know in these meetings. Poor Venki has to listen to me talk out loud so I can maybe come up with a solution to my problems as I listen to myself talk. But any time I've ever talked to Dr. Ridder about anything, he has never told me what to do, he has always guided me and led me to finding that answer and that solution on my own, and that is the makings of an incredible leader.
"I swore I wasn't going to cry. Thank you."
"Dr. Ridder, your work ethic is second to none. I'm sure your staff is ready for a vacation, a little breath of fresh air. And what I want to thank you for, too, is your wisdom and your respect to all, no matter if they differ with opinions. You see this as a job, as a leader, to collaboratively flesh out different views and come out with the best system. I really appreciate that very much, and how you've always treated me with that respect.
"I think that John, you said it perfect, Dr. Knost was, 'The sky will never fall,' right? And Dr. Ridder's leadership has been much different. So Dr. Knost I would say is more culture-oriented versus data-orientated. I think we've seen a great example of two good models just needing to be brought together, culture with data, so I appreciate that very much. And I appreciate Nadine for her willingness to put up with us and the stress that this district has I'm sure caused you.
"So thank you for spending a year in giving us your time and your talents."
"We've all got to say goodbye…," Murphy said.
"No!" said Stormer.
"See you later, not goodbye? Is this what we're doing?
"Keep your cell phone close, we'll be calling you a lot for advice moving forward.
"The short time I've had the ability to get to know you — I think I won election and the next day you not only had me booked, you had me double-booked with meeting with the administrators, making me learn the district and really pushing to make sure that the direction I move with my decisions is one that is very informed.
"If there's one thing you brought, it's a culture of information, it's a culture of making sure that we're not basing decisions that are going to impact the direction of this district and the livelihood of our kids based on emotion and guts, we're basing it on fact, and you've really taught me and made sure that I have the ability to look at facts, analyze data and then make qualified decisions based on that, which really takes everybody to a whole different level when it comes to affecting our next generation and their abilities to succeed.
"So thank you for everything you've done."
Palamand finished up the board member comments by crediting his predecessor as board president, Fedorchak, for convincing Ridder to come to Mehlville. Dorsey and Murphy defeated Fedorchak in the April election.
"I'll repeat what I said to the Call earlier, which is I think you'll have a lasting impact on this district even when we're gone," Palamand said. "Thank you for your service. I also wanted to thank former board President Ron Fedorchak because I don't know what he told you, but he got you to come here."
"That was an interesting conversation," Ridder replied.
"From what I understand, Ron contacted you frequently, and he pushed hard and he made the sale. And so I wish he was here also… He played a role in getting you and talking you into coming here, when perhaps you had other options.
"I also want to echo some of what Lori said. You really had respect for individual board members — and I've worked with several superintendents now, the same ones that Larry's worked with, and I'm sure he would tell you that some didn't always have that. And your respect for individual board members even when they might be different from the views of the others is very much appreciated.
"And I think your calm demeanor in light of the budget crisis we faced was the kind of leadership we needed. Your effort to develop focus groups with students, with community members that have no stake in the district, I think that's all been well-received, and I hope that's something that Dr. Gaines continues as well.
"Hard-working? Certainly. You will certainly be missed, and it's been great working with you in the short time as board president, but it's been great having you here for the last year.
"And unless your number's going to change, I know how to get ahold of you."
"We all do," Trakas added.
When it was Ridder's turn to do the thanking, he echoed some of his earlier statements on the children of Mehlville.
"First of all, you're only as good as your core, and the core in Mehlville is the children, and the children in Mehlville are really very, very good. Very, very solid children, solid families. What I was able to do was very easy, to be honest with you, which was basically listening to them.
"One thing that really impressed me really early on was my cabinet: High talent, great energy. Yeah, they may be tired but I tell you what, they're relentless and there's good resilience. The future leadership of that group is really very solid.
"I do think we have a good mixture in the cabinet, some personalities that are very, very ultra-conservative and not willing to budge — and I think we know who that person is. But still understanding that it's all about the kids.
"I really think that I've learned an awful lot from Mehlville. It reminded me of what it means to be a family, what it means to be focused on children. And so I really think the future is bright, and so I wish you well.
"Maybe I will be able to help you in some way, but right now i think it's time for Dr. Gaines to step in, and I think he's going to do an awesome job, as John Wolff said.
"I want to thank the staff, I want to thank the teachers, I want to thank the families and children, especially you guys. It was wonderful working with you guys, working for you guys."
"Hard to believe it's over," Palamand said.
Leaving alongside Ridder are two administrative employees retiring after many years with the district and heavy involvement with the board and superintendent — the superintendent's Executive Assistant Sharon Peiffer and the board's secretary, Kathy Hardin. Another exiting longtime employee, Assistant Superintendent Lisa Counts, was not at the meeting. She took the same position at Rockwood July 1.
After first joining the district when former Superintendent Tim Ricker began in the district in 2003, Peiffer is retiring and will move south to be closer to family members. She worked with six superintendents during her 12-year tenure, during which she also administered the district's insurance program and the paperless meetings the board instituted last year on Eboards.
Ridder explained some of his behind-the-scenes working dynamic with Peiffer to the Call.
"I always have this with my secretaries, I empower them big time because they really know (what's going on)," he said. "I always ask them to be the devil's advocate, so she is very good at it. So she constantly brings up not just history but other thoughts that I need to consider before we move forward. And she's very good at editing thoughts as well… Sharon really understands and knows the history because she's been through six superintendents in 12 years, and she's seen that shifting over the years."
Hardin initially retired from the district four years ago after 33 years at Mehlville, but she continued the last four years as the board secretary sitting in on all closed and open sessions to transcribe and write the minutes of all board meetings. While Mehlville board meetings have gotten noticeably shorter this year, in the past she sometimes sat for up to six or seven hours transcribing long board meetings.
At Hardin's last meeting — which lasted less than two hours — the board presented her with flowers and a plaque for her years of service.
"Having to deal with all of us — that alone should be worth something," Palamand joked.
"It really has been my pleasure, you all are great," Hardin said.
"Kathy, I want to thank you for your time. I've learned an awful lot from you," Ridder said.
"Oh, you have not," Hardin replied.
"I have, too," Ridder said, and pointed out her flowers. "You'll notice there's three roses in there, and the rose is the most beautiful flower, but also it doesn't have a real design, and that's what beauty's all about. It's not about where you're coming from, it's who you are. And so I really want to thank you for all that you've done and the model that you've given us."
Both Peiffer and Hardin's positions will be replaced by Sue Roesch, who previously served as the secretary for Assistant Superintendents Counts and Brian Lane. As is the practice of other school districts, Roesch will serve as both the superintendent's executive assistant and the board secretary, attending all the board meetings.
"I think that's going to be really good because that's what I've done in much larger districts," Ridder said. "You have a continuum of understanding going from executive session to board meetings to the actual superintendent's day-to-day work. And so what I've always found — and I'm sure Dr. Gaines will find this with Sue — is that the conversation really becomes of one mind, which is good. And Sue, by the way, is just awesome, very, very humble, very organized, very intelligent, a very good writer — not saying Dr. Gaines needs all that, but I can tell you that's what her strength is."
Ridder also said he believes that Roesch and Gaines will make for a great team in the superintendent's office.
"Sue and Dr. Gaines, they're a good match," Ridder told the Call. "Sue's quiet, Dr. Gaines is quiet. Dr. Gaines is more into vision, Sue is a very good organizer behind the scenes but also very intelligent behind that, so I think that's going to be a good partnership."
A good sport to the end, Hardin said if needed she would serve as an emergency backup for school board meetings in the future.