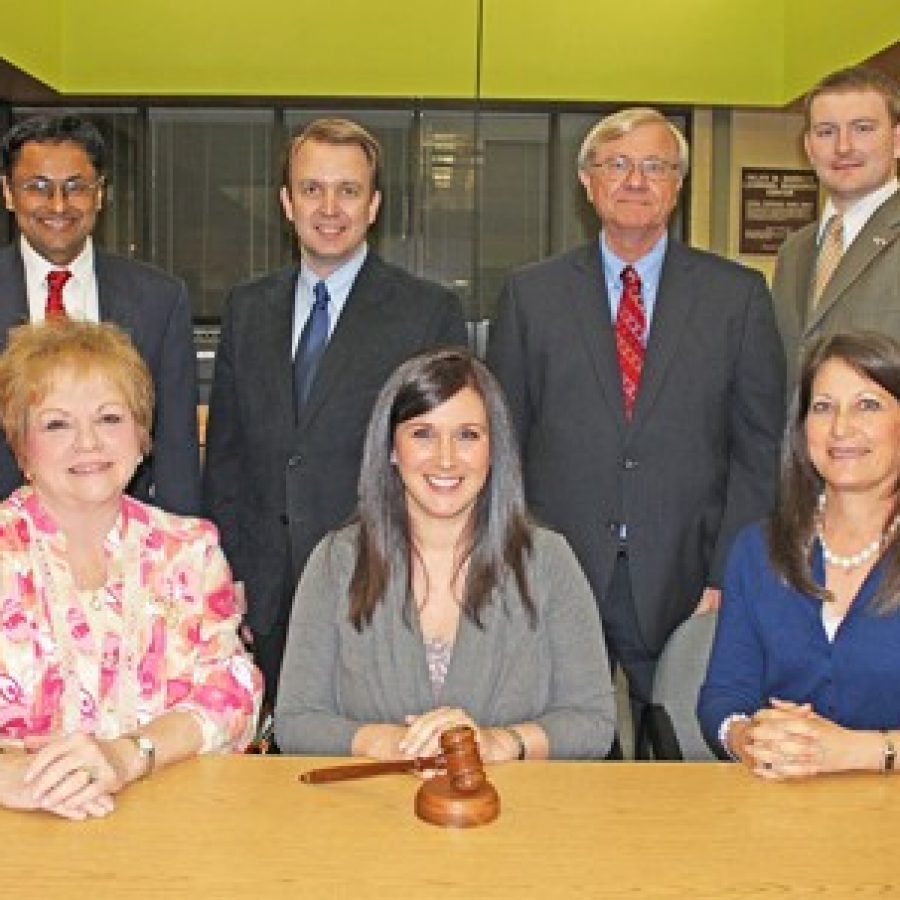 In what is likely a first, all the officers of the Mehlville Board of Education are women, led by new board President Samantha Stormer.
In the board's annual reorganization meeting last week, Stormer, new Vice President Jean Pretto and new Secretary Lisa Dorsey were elected by acclamation, with no other nominees. Stormer was nominated by outgoing board President Venki Palamand, who originally recruited her to run for the board when he was re-elected and she and Pretto were elected in 2014.
Stormer told the Call that the addition of new board member Kevin Schartner, who was sworn in at the April 14 meeting as former board member Lori Trakas left, brings the board one step closer to being high-performing and high-functioning.
"With everything that has gone on in the past with no strategic plan, it seems like decisions were just a little more random," she said. "Now there's a direction, and it's a good, positive direction, and the community has shown that they are supporting this direction that we're moving to. If there's a right time to be on the board, this is it."
Palamand has served as board president three of the last five years. Stormer noted that a switchup was necessary for the good of the district because the board is so young: Only Palamand and Larry Felton have served more than two years, and only Palamand has served as president. Before he is up for re-election next year, he can mentor the new leadership team.
"We still have Venki for a minimum of another year and we have Larry for three years, so we know we have got two good people to help train and mentor the rest of the board," Stormer told the Call. "So the women are taking over."
The new officers were elected at the same time another first came to an end — the first female majority in board history began with Stormer and Pretto's election but ended when Schartner replaced Trakas.
Besides those three, the female majority included Katy Eardley and Dorsey for a year each.
When former board President Dan Fowler pointed out at Pretto and Stormer's first meeting that it was the first time in history that the Mehlville board had been majority women, Pretto said, "Just watch what we'll do."
As for the all-female slate, Fowler said, "I believe that this is the first time that this has ever happened, a little history in the making."
Fowler concluded that an all-female slate has never existed after consulting with former Superintendent Bob Rogers, who graduated from the district shortly after it was consolidated in the 1950s and retired as superintendent nearly 20 years ago.
Before former board President Kathy Weber served several decades ago, very few women served on the Mehlville board, Fowler said. Rogers only recalls two female board members serving during the 1960s and 1970s, including former board President Helen Barrett, whom the Mehlville High School Library is named after.
Palamand announced at the end of Trakas' last meeting, before the board with Trakas adjourned, that he would be nominating "young lady" Stormer as the next board president.
"I could not be more proud of the board member she has become and how she has grown into the position," Palamand said. "She has my full support as she strives to lead the district to new heights, and continue the progress we have made."
Stormer said whenever she has a question or an issue, Palamand is always the person she looks to for advice.
"You're my first call and my first email," she said. "You have brought us through a year that is historic, and there's a lot of board presidents that sit here and don't ever get to say that. We've been through tough and trying times – but we got the community involved and it has been absolutely wonderful. We look forward to you helping us and mentoring us."
In her last words as a board member, Trakas also took time to thank her former grade school classmate.
"You're the long-term person on this board, and you, before any of us, got involved in our school district – you were there on the front lines," Trakas said. "From early on, you saw a need and saw a desire to serve in this school district."