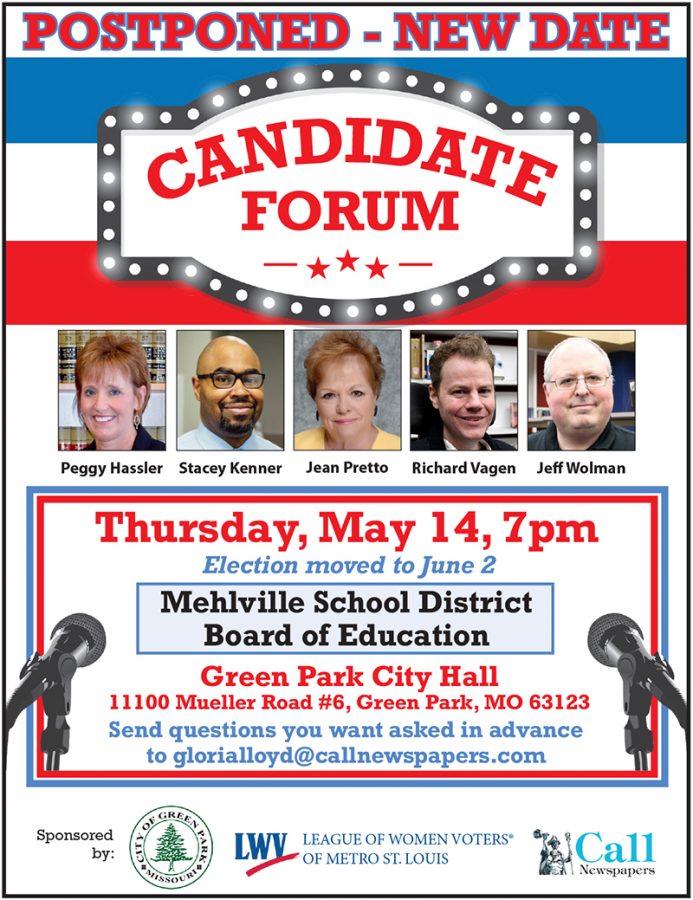 The Mehlville Board of Education candidate forum originally scheduled for this week has been postponed due to the coronavirus and the postponement of the elections originally set to be held April 7.
The candidate forum, co-sponsored by Call Newspapers, the League of Women Voters and the city of Green Park, has been rescheduled from Thursday, March 26, to Thursday, May 14, after Gov. Mike Parson rescheduled municipal elections.
The forum is now scheduled to take place at 7 p.m. Thursday, May 14, at Green Park City Hall, 11100 Mueller Road #6 in Green Park. It will be moderated by the League of Women Voters.
Questions can be emailed in advance to glorialloyd@callnewspapers.com. If current stay-at-home or social distancing orders are still needed at the time of the forum, it will be livestream-only, with the livestream on the League of Women Voters of Metro St. Louis Facebook page.
Missouri's municipal and school board elections originally slated for Tuesday, April 7 have been postponed to Tuesday, June 2, in response to the COVID-19 pandemic.
Parson issued an order to move the elections back last week.
Five candidates are running for the Mehlville Board of Education, with three seats up for grabs. Board members and incumbents Peggy Hassler and Jean Pretto are up for re-election, with challenges from newcomers Richard Vagen, Jeff Wolman and Stacey Kenner. Board member Samantha Stormer is not seeking re-election.