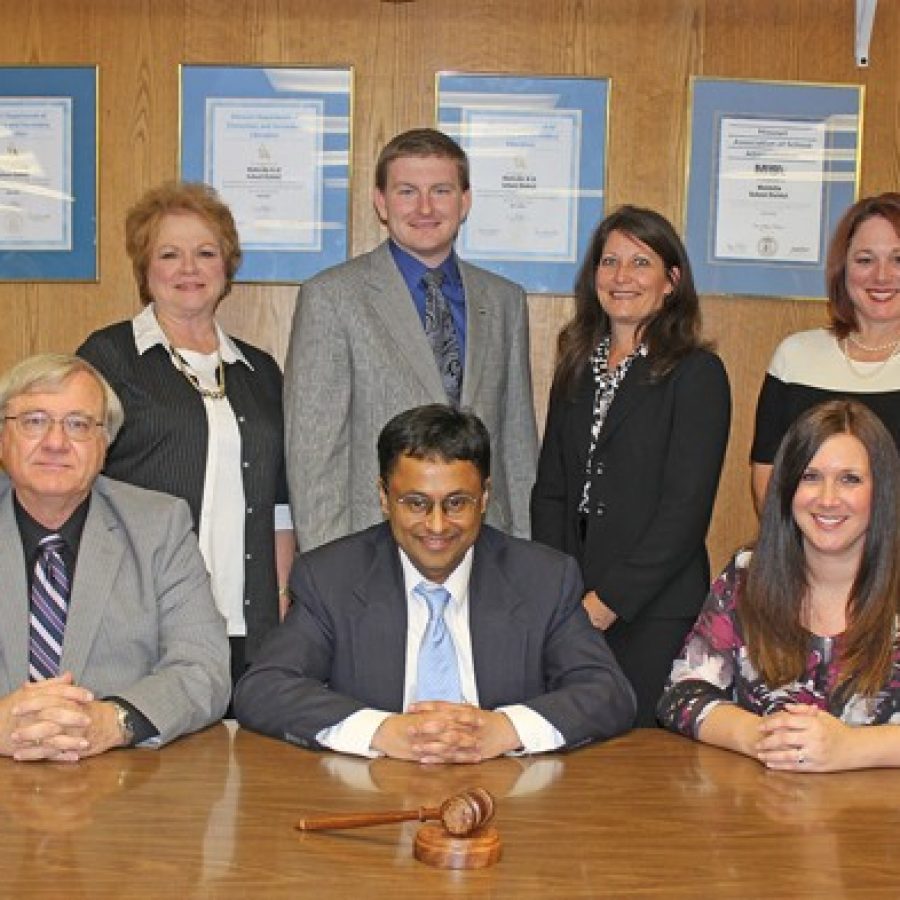 Since the
is now mostly comprised of board members with less than a year of experience, it's no surprise that the newcomers chose the only veterans to head up the board's leadership team last week.
Venki Palamand will serve as president this year and Larry Felton as vice president following officer elections at the board's annual reorganization meeting April 9. It will be the third time Palamand has served as president.
New board member Lisa Dorsey nominated Palamand, with a second from Lori Trakas. Jean Pretto nominated Felton, and new member Jamey Murphy seconded.
The board elected Palamand on a 5-2 vote, with Dorsey, Murphy, Trakas, Palamand and Samantha Stormer in favor and Felton and Pretto opposed.
Felton also currently serves as vice president on the Missouri School Boards' Association, or MSBA, board. Last month, the MSBA recommended that Felton be elected as president-elect in June as part of the official MSBA officer slate.
Yet Felton, who was
, has never served as president of the Mehlville board. Last week marked the third time in five years that Felton lost the contest for president, and the third time in five years that Palamand won it. In previous contests
and
, Felton was edged 4-3 by Palamand and outgoing President Ron Fedorchak, respectively.
Superintendent Norm Ridder presided over the elections and read a statement on how he expects members to follow the strategic plan to become a high-performing board. Before calling for nominations, he asked for someone who "will serve as a role model for all board members (and) who will encourage a climate of trust and candor among board members. Ethical principles must guide the president's work. This calls for a leader who will lead the school board to a high level of performance the community will trust and support."
In a 25-second statement, Palamand noted his experience already serving in the role alongside former Superintendent Eric Knost.
"We got a lot of good things accomplished during those two years, and I feel especially with our budget situation the way it is, with my experience in finance I will be a strong candidate to lead the board and talk about the things that matter the most — which is our money and what we're going to do to try to find more resources for the school district," Palamand said.
Felton began his five-minute speech by noting that he and Palamand have long worked together and want the same outcomes, but their leadership styles are vastly different. Felton felt he has what it takes to focus on the strategic plan with incoming Superintendent Chris Gaines, who was in attendance.
To become a high-performing board, Felton noted, board members must follow the common goal of the strategic plan, function as a team and trust each other, which means "individual ideas, but not individual agendas." He suggested that he is best suited to lead those efforts since he is a strategic planner and a "data junkie" who is "more collaborative" and "more process-oriented" than Palamand, whom he associated with the "behavior of the boards in the past years" that the community distrusts.
To illustrate Felton's point, he cited the
to hire Gaines as superintendent, in which all the board's officers, Fedorchak, Palamand and Trakas, dissented. Board members told the Call that they agreed ahead of time to vote only for their top choice among three finalists, but Felton said Gaines' "excellent selection" became a "somewhat flawed process" because the three wouldn't fall into line.
"Without giving away a whole lot about what we did in closed session, we did a lot of polling and a lot of discussion of where we thought strengths and weaknesses were, and we really came to a majority decision on a candidate," Felton said. "We had three people on the board — the leadership — that chose to vote individual opinions rather than to join the majority and provide a team decision.
"It doesn't make them bad, but it does mean there wasn't a team effort there."
Felton concluded his speech with a few of his favorite quotes.
"One of the first things I learned in Management 101 when I worked at the phone company was that 'past behavior is the best predictor of future behavior,'" he said. "So we can talk about the top-down issue-oriented management we've seen, and we can change it. My other favorite is 'insanity is the definition of doing the same thing over and over again and expecting different results.'"
With Palamand as president, Stormer and Felton nominated each other as vice president, but she convinced him to take it.
By acclamation, the board voted for Felton as vice president, Stormer as secretary and Chief Financial Officer Marshall Crutcher as treasurer.
Fedorchak told the Call that Felton might have gained more votes with a more positive message.
"I felt like if he had stopped at 'I'm a different leader, I can build consensus' — if he'd have left it at the first minute — he might have gotten more support," Fedorchak said.
Although Murphy seconded Felton's nomination and was the last board member to raise his hand for Palamand, he told the Call that he knew his vote going in.
Felton wanted a second so he could make his statement, and Murphy agreed.
Ridder told the Call that he looks forward to working with Palamand, who has the leadership qualities needed to bring up the performance of the board.
"I think he's going to be a better board member as president than if he wasn't president," Ridder said.