Mayers celebrate 40th wedding anniversary with a blessing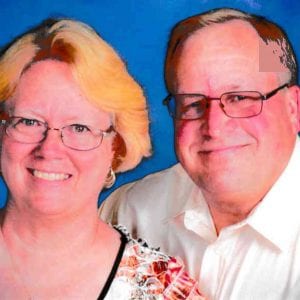 Stephanie and Matt Mayer Sr., of Arnold, recently celebrated their 40th anniversary. They were married at Immaculate Conception Church in Arnold on May 27, 1978, with Father Robert Menner officiating.
The couple celebrated with a special blessing at mass by Father Larry Huber at Immaculate Conception on May 27.
Then they were surprised by their children with a party at Ferd B. Lang Park with many friends and family.
They are the parents of five children and 11 grandchildren: Jennifer (Andy), Drew, Blake and Chase of St. Peters, Ben (and his girlfriend Anna), Lane, (Anna's children) Payton and Nash of Arnold, Matthew Jr. (Ashley), Matthew III, Eden and Juniper of Arnold, Andy (Sara), Alivia and Hadley of Imperial and Sarah of Arnold.
Matt is retired and Stephanie works at Fox High School in the kitchen.
They love camping, being with World Wide Marriage Encounter and being with their friends and family, especially their children and grandchildren.