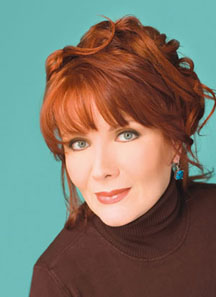 The Sheldon will present Maureen McGovern at 7:30 p.m. Saturday, March 17, in the perfect acoustics of the Sheldon Concert Hall.
A two-time Grammy-nominated vocalist, McGovern celebrates the music of the 1960s and '70s, performing the timeless songs of the Beatles, Carole King, Bob Dylan and more from her latest album, "A Long and Winding Road."  McGovern returns to our stage for Sheldon Gala 2012, a very special evening co-chaired by Myles and Elaine Kelly and Debbie Rub.
With more than 25 recordings, two Academy award-winning songs and a Drama Desk nomination to her credit, McGovern is a celebrated recording artist, theater and concert performer and one of pop music's most enduring stars.
Besides her Oscar-winning gold records, "The Morning After" and "We May Never Love Like This Again," McGovern's other pop classics include "Can You Read My Mind?" and her newest anthology album, "A Long and Winding Road."
"A Long and Winding Road" celebrates McGovern's love affair with the works of Jimmy Webb, Carole King, Bob Dylan, Randy Newman and such classic songs as "The Circle Game," "Will You Still Love Me Tomorrow?," "Imagine," "Fire and Rain" and many others.  "A Long and Winding Road" has been praised by the New York Times as "… a captivating musical scrapbook from the 1960s to the early '70s.  Ms. McGovern's vocal technique is second to none."
Single tickets for McGovern go on sale at 10 a.m. Saturday, Feb. 11, and cost $40 for orchestra seats and $35 for balcony seats.
Call MetroTix at (314) 534-1111 or visit www.TheSheldon.org.  Patron tickets for this very special evening are still available. Gala tickets start at $500 and include preconcert cocktails and hors d'oeuvres, an elegant dinner, dessert and dancing, preferred concert seating complimentary valet parking and a tax deduction.