Matchbox Twenty third album demonstrates growth of band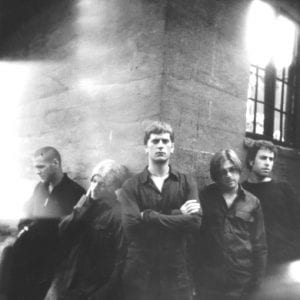 By Alan Sculley
For the Call
Guitarist Adam Gaynor realizes that his band, Matchbox Twenty, features one of music's most consistent writers of hit songs in singer Rob Thomas.
In addition to writing such Matchbox Twenty hits as "Bent," "If You're Gone," "Push" and "3 a.m." Thomas also wrote and sang the smash hit "Smooth." that propelled Carlos Santana's CD "Supernatural," toward stratospheric sales, and penned three more songs for Santana's current CD, "Shaman," and four songs on Willie Nelson's two recent CDs, "The Great Divide" and "Stars & Guitars."
But ask him to describe Thomas' growth over the course of Matchbox Twenty's three albums and songwriting is not the first thing that comes to Gaynor's mind.
"His development as a singer is just phenomenal,' Gaynor said. "You've got to listen to the twang in his voice when he's singing songs off the first album, like Shame,' it (sounds like) 'Shime.' It's like he's got that whole South Carolina twang thing going. And then you hear him in 'Mad Season' where his voice starts to get more mature. And now you hear him as this like balls-out rock singer that's just very structured in tone."
Of course, Gaynor isn't dismissing Thomas' improvement as a tunesmith either. And he pinpointed one fast-developing skill that has helped Thomas write better material.
"When Rob first started in this band, he knew like three chords," Gaynor said. "I'm not even being a wiseass. He knew like four chords on the guitar, and it showed on our first album because there are like three or four chords in every song. Then he started playing more and more guitar, but he started playing a lot more piano (too), and he was writing a lot of stuff on piano as well.
The growth in Thomas' songwriting is readily apparent on "More Than You Think You Are." Anchored by first-rate pop-rock tunes such as "Disease" (which Thomas co-wrote with Rolling Stones singer Mick Jagger), the rocking "Feel," the piano-centered ballad "Bright Lights" and the winsome mid-tempo track "All I Need," "More Than You Think You Are" is the band's most consistently strong CD.
"More Than You Think You Are," which has started to climb the charts again behind the hit single "Unwell" (currently top 10 on adult top 40), has become the third straight platinum CD for the group, which came together in Orlando, Florida in the mid 1990s after Thomas, drummer Paul Doucette and bassist Brian Yale quit their former band, Tabitha's Secret, and recruited Gaynor and guitarist Kyle Cook to form Matchbox Twenty.
And while there's no getting around Thomas' leading role in Matchbox Twenty, it's also apparent that the group grew more collaborative on "More Than You Think You Are."
The most tangible evidence is in the songs themselves. Doucette and Cook receive co-writing credits with Thomas on two songs – "Feel" and "Soul" – while a Doucette original, "Could I Be You," also made the cut for "More Than You Think You Are." By contrast, "Mad Season" featured just one co-write, with Thomas and Doucette teaming up on the song "Stop."
But perhaps the biggest indication that Matchbox Twenty isn't just Thomas' show is in the give and take that occurs when the group makes a CD.
Gaynor described Matchbox Twenty as five creative people who have very strong – and sometimes differing – opinions about the music the band makes. He noted that close friends Thomas and Doucette, in particular, tend to butt heads creatively.
"With everybody having their own opinion and influences and persuasions, it's not always going to be on the same page," Gaynor explained. "So that is the beauty and the essence of what we do, that's what Matchbox is."
Matchbox Twenty plays April 27 at Savvis Center. Tickets for the 7:30 p.m. show, which also features Sugar Ray and Maroon 5, are $3 and $33.