Man dead after chase, shootout with south county officers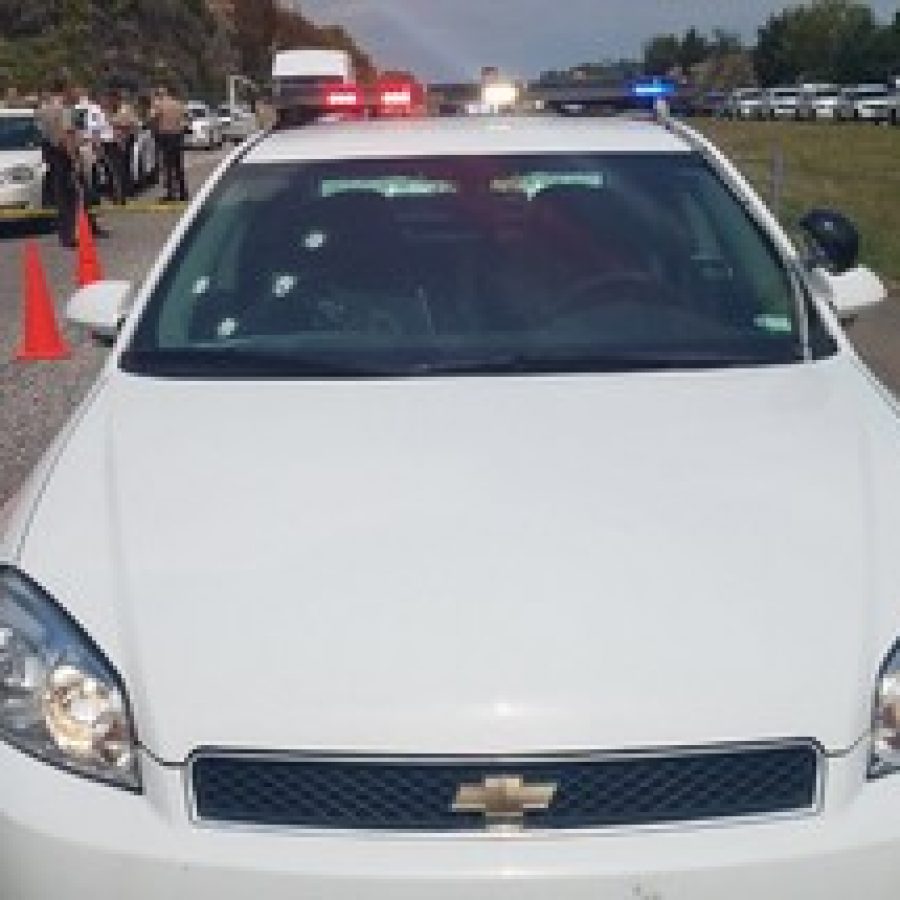 A man is dead after a shootout Monday with officers from the St. Louis County Police Department in Jefferson County, following a crash and kidnappings in south county and a police chase to Festus.
The Jefferson County Sheriff's Department identified the man as Jarrod Kershaw, 31, of the 1500 block of Bertha Lane in Pacific, as the suspect who led police on a 23-minute chase that ended in a gunfight between Kershaw and officers of the 3rd and 4th precincts in south county.
The chase and shooting closed all lanes of southbound Interstate 55 at Highway 61 for nearly 24 hours as police investigated the scene of the shooting. No police officers were injured in the shootout.
Kershaw wore a bulletproof vest, was armed and had made threats to family members and at work. His mother called 911 to report that he was on his way to De Soto to kill someone and then kill himself.
That led Jefferson County Sheriff David Marshak to speculate in a press conference Monday afternoon that Kershaw might have wanted to commit "suicide by cop," and it is unclear whether he was killed by the police shooting at him or killed himself.
"I think he was heading to this path, and I think it was his intent to finish off his day this way," Marshak said. "It's a great likelihood that he intended to end his life this day. He had donned a ballistic-type vest, we know he was armed, so by all indications it would suggest he wanted to commit suicide by cop."
As the Pacific Police Department and the Jefferson County Sheriff's Department took a succession of calls around 9 a.m. Monday morning from Kershaw's mother along with reports from his workplace in Pacific that he had threatened others and was a danger to himself, the St. Louis County Police Department got word that a car was driving erratically on Interstate 270 in Concord and Lemay.
The car crashed on the ramp from Interstate 270/255 to Interstate 55 to Jefferson County, and two Good Samaritans stopped to help the car's occupant.
Instead, however, Kershaw held a gun to the first Good Samaritan and demanded his car. That man said he would have to get his family out first.
When Kershaw got into the man's car, he couldn't drive it because it was a manual transmission.
He demanded that the family go with him to the other car owned by the second Good Samaritan who stopped.
Police were unclear how or why Kershaw did not take the family and his carjacking victims with him, but he took off in the second car and headed to Jefferson County.
Holding the family against their will even for a short time was a kidnapping, St. Louis County police Chief Jon Belmar said.
The commotion stopped traffic on Interstate 55, but no bystanders seemed to have been hurt, Belmar said.
He was followed by officers from the Affton Southwest and South County precincts and the St. Louis County K-9 Unit, who were quickly joined across the county line by deputies from the Jefferson County Sheriff's Department.
Sheriff's deputies put down two sets of spike strips in Kershaw's path, which stopped him at Festus.
"The suspect exited his vehicle armed and engaged in a gunfight, shooting at several police officers," Marshak said.
The officers pursuing Kershaw — all from St. Louis County — returned fire, and Kershaw was killed, Marshak said. A medical examiner will conduct an autopsy to determine the exact cause.
"These officers get out and they're immediately in the middle of a gunfight," Belmar said.
It is unknown how many rounds the officers fired at Kershaw, but it was a large number, Marshak said.
"We know the police officers fired many rounds as a result of their engagement; which is expected to protect themselves," he said. "This individual forced these police officers to make a decision of which they had no other choice, no other alternative than to return fire."
With Kershaw down at the scene but not confirmed dead, both the St. Louis County Tactical team and the Jefferson County SWAT team came to the scene to make sure Kershaw was no longer a threat.
Once Kershaw was identified, his family was notified.
All the officers involved in the gunfight were placed on administrative leave pending the official investigation, which will be conducted by the Jefferson County Sheriff's Department, and an internal investigation in St. Louis County. The Festus and Pacific police departments and the Missouri State Highway Patrol also assisted at the scene and with the initial investigation.
The officers involved in the shootout will be given resources to deal with any trauma from the shooting and were personally thanked by Belmar, who posted photos of their bullet-riddled St. Louis County police cars to Twitter.
"I cannot tell you how proud I am of my police officers," Belmar said. "I was a police officer a long time ago. These men and women are my heroes."
"These are tragic events," Belmar said. "It's tragic obviously for the family who've lost a loved one, and it's tragic for the police officers involved. I think it underscores what these police officers do every day. They run toward the danger. They race toward the danger. They're not hesitant to confront that danger when it happens."
It is unknown what Kershaw was doing in St. Louis County, Belmar said. It was also unclear at the time of the press conference what the relationship was between the person Kershaw told his mother he was heading to kill and Kershaw.
But the man had made "several different threats to several different people," Marshak said.