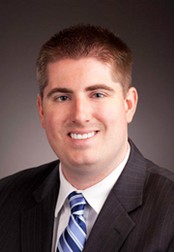 The race for a new Crestwood mayor is ramping up as Ward 3 Alderman Grant Mabie became the first candidate to throw his hat in the ring to run.
In a Facebook post last week, Mabie wrote that he decided to announce his candidacy after consulting with former Crestwood Mayor Gregg Roby, acting Mayor Tony Kennedy, multiple aldermen and family.
Roby resigned on June 8 to concentrate on his health and family, resulting in Ward 4 Alderman Tony Kennedy taking office as acting mayor since he serves as board president. The special election to elect the new Crestwood mayor is set for Tuesday, Nov. 6.
Mabie was re-elected to the board in April in one of the largest margins of victory for an alderman in more than 20 years. He was first elected unopposed in 2015 after previously losing a race for alderman in 2013. He served as board president from 2016 to 2017.
In his Facebook post announcing his run for mayor, Mabie wrote, "I want to continue to build on the positive progress the city has made the last few years. … Thank you in advance for your support!"