Lutheran South names new football coach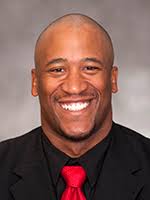 Lutheran South will get a new head football coach this year with the hiring of Coach Derrick Colquitt.
Colquitt led the Lancer offense last year to a state Final Four appearance. He is a graduate of University City High School and Lindenwood University, where he played football for three years.
The new coach has the "experience and grit to move LHSS forward," the school said in a news release.
"I am so elated to return to Lutheran High School South for my second year. South welcomed my family and myself with open arms," said Colquitt. "The last two years has shown what hard work, great student-athletes and motivated coaches can accomplish on and off the field."
Prior to joining Lutheran South, Colquitt held various assistant coaching positions at Normandy High School, McCluer North, Chaminade, Washington University, and most recently University City High School.
Colquitt said he plans on emphasizing more conditioning with the team this year and building a brotherhood.
With quarterback Vito Orlando leading the team, he believes the Lancers have a chance at making another state appearance this year. 
"Collectively, as a team we have enough to make another big run," he said. "We have talented guys returning who will be leaders."