Lutheran High School South honors Kuhlmann family at chapel service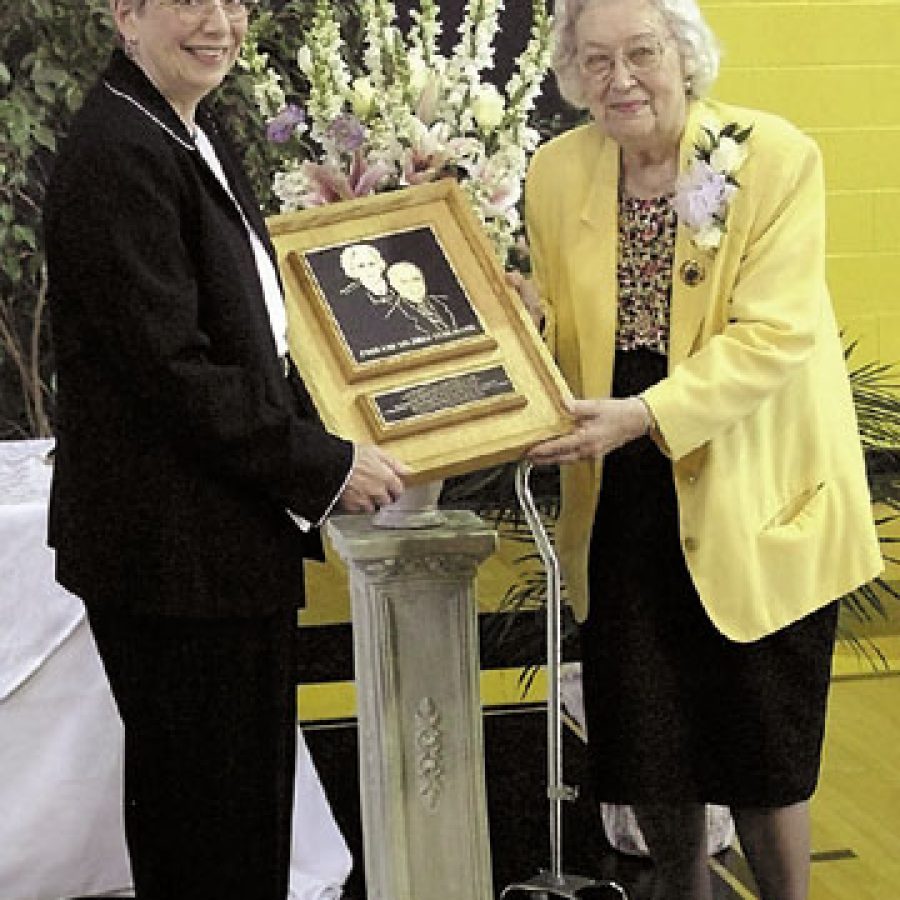 Fred and Mildred Kuhlmann and their family recently were honored for their lifelong commitment to Christian education, their significant contributions to Lutheran High School South and their most recent contribution of $1 million which was matched with an additional $1 million by the Lutheran Foundation of St. Louis.
During a chapel service last month, Judith Meyer, president of the Lutheran High School Association, thanked Mr. and Mrs. Kuhlmann and their children Marilyn Kuhlmann Brickler and F. Mark Kuhlmann for their support of Lutheran schools.
After the chapel service a reception was conducted in the newly-named Kuhlmann Center at Lutheran High School South where a recognition plaque was hung.
Speaking for the Kuhlmanns, Mrs. Kuhlmann told the student body that she was grateful for the opportunities that had been provided for her children and grandchildren at the high school. She reminded the students of the sacrifices that their parents make to provide the same opportunities for them.
Fred Kuhlmann was a partner in the law firm Stolar, Kuhlmann, Heitzmann & Elder until 1967 and, among other clients, represented the Lutheran Church-Missouri Sy-nod and various Lutheran church agencies.
In 1967, he moved to Anheuser-Busch as its general counsel and later was executive vice president and vice chairman of the Board of Directors.
He became president of the St. Louis Baseball Cardinals, and, under his leadership in the 1980s, the Cardinals won three National League pennants and one World Series.
Mr. Kuhlmann served on the boards of the Lutheran Charities Association, the Aid Association for Lutherans, and Con-cordia Publishing House for many years.
Mrs. Kuhlmann graduated from Harris Teachers College and devoted her life to the raising of her children and support of her husband's business career. She has been active in various church organizations including the Lutheran Senior Ser-vices Auxiliary and Ladies Aid groups.
Mr. and Mrs. Kuhlmann are members of Village Lutheran Church in Ladue. The Kuhlmanns' children and all seven of their grandchildren attended Lutheran High School South.