Local thespians earn international honors
Mehlville High students earn prestigious drama awards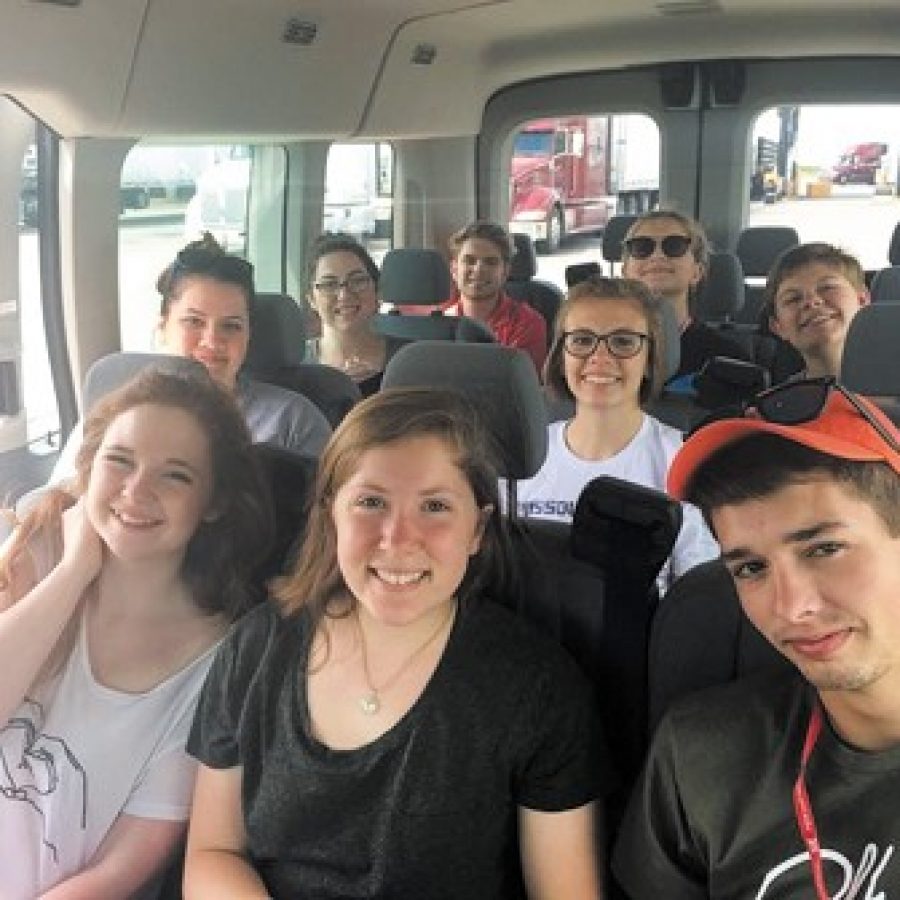 Drama students from Mehlville High School came away from the recent International Thespian Festival with top honors.
Mehlville students comprised half of the Missouri contingent at the annual conference, which celebrates student achievement in the performing arts.
The students carpooled with drama director Alex Moore to the event in Lincoln, Neb. More than 4,000 students and teachers attended the festival.
Many of the 11 students who attended the conference from Mehlville graduated from MHS in June, including Catherine Adams, Sydney Scott, Rhiannon Creighton, Abby Carr and Luke Sailor.
"(I'm) proud of this program," Board of Education member Larry Felton posted on Facebook.
At the conference, Catherine, 17, qualified as a finalist for one of only five technical theatre Thespian Scholarships awarded nationwide by the Educational Theatre Association and earned a $2,500 scholarship for her portfolio interview in front of a panel of judges.
She also earned a Superior Ranking in Lighting Design at the International level.
To earn the scholarship, Catherine was interviewed at the conference and presented her theatre portfolio in front of a panel of judges at the International Showcase.
Her portfolio was comprised of research, light plot and production photos from MHS plays and musicals.
"We could not be prouder of you for your work," Moore wrote on Facebook about Catherine's achievements.
To kick off the conference, Catherine represented Missouri as one of only 28 students across the United States and Canada to perform or work behind-the-scenes in the International Opening Show alongside Broadway and Disney technicians and designers.
She served as spot operator in "We Tell the Story: a Celebration of the Works of Ahrens & Flaherty," which conference Artistic Director J. Jason Daunter described as joining "some of the nation's most talented thespians (on- and offstage) together with dedicated working professionals onstage to kick off this amazing week of theatre."
The performance honored Tony Award-winning songwriters Lynn Ahrens and Stephen Flaherty, who are behind musicals like "Ragtime" and "Seussical." Playbill wrote about the play.
Catherine is the first Mehlville student to earn those top honors and the first MHS student to even be nominated for the scholarship, Moore said.
She plans to attend Webster University in the fall to study lighting design.
Mehlville students attended intensive workshops from theatre professionals, and senior Cassidy Hayden auditioned for the top performing-arts colleges and universities across the country.
Sydney received an "Excellent" ranking on her design of the MHS spring adaptation of the Agatha Christie play "And Then There Were None," which qualified her to attend the festival.
At the state level, Sydney earned the Superior Rating in Scenic Design for her design. She also interviewed at the conference with her research, a color sketch of the show, a model and a showcase of the soldering technique she used to provide lighting to her model.
Moore gave credit for some of Mehlville High School's international accomplishments to a dedicated volunteer for the Mehlville theater program, St. Louis University High Technical Director Scott Schoonover.
He put in many hours after his own rehearsals and productions to help students at Mehlville, who do not have a technical director of their own, Moore said.
"His training and expertise has helped our students to not only receive accolades at the state level but also at the international level," Moore wrote on Facebook.
Moore headed to London directly from the conference to study at the Globe Theatre for several weeks.