Local girl gets 'Make a Wish' dream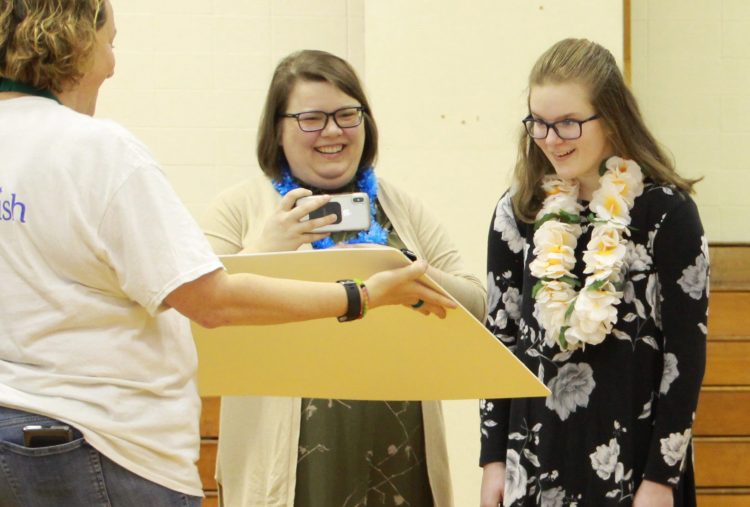 Truman Middle School students have been working hard all year to make a wish come true for Crystal City's Makenna Jones. On April 5, they gathered the entire student body to surprise her with the trip of a lifetime: a vacation to Hawaii.
The band played "Hawaii 5-0", the choir sang "Moana," and students shouted cheers and waved colorful posters as Make-a-Wish recipient Makenna entered the Truman gymnasium and was presented with a check worth more than $5,700 for Make-A-Wish. In February 2018 at age 11, Makenna went into cardiac arrest during a basketball game. After 54 days in the hospital with severe brain inflammation and cardiac issues, Makenna made a drastic recovery. She continues her therapy and hopes to get back on the basketball court again someday.
This is Truman's third year sponsoring a local child through Make-a-Wish's Wish Kid program. As a "Kids for Wish Kids" school, Truman organized several fundraisers this year to make Makenna's dream come true. Students and staff raised more than $5,700 through fundraisers including staff dress down days, hot chocolate week, events at local restaurants and hat days at school.
"The opportunity that Make-A-Wish is offering her cannot easily be put into words," said Makenna's mom, Lindsey Jones. "Giving Makenna a wish allows her the opportunity to not think about what milestones are left to be tackled, or even what skills may never return. This allows her to just be Makenna. There is no way to measure the value of that moment for Makenna and our family."
Truman's Make-A-Wish's Kids for Wish Kids program teaches students about community service, philanthropy, leadership service and the importance of helping others.