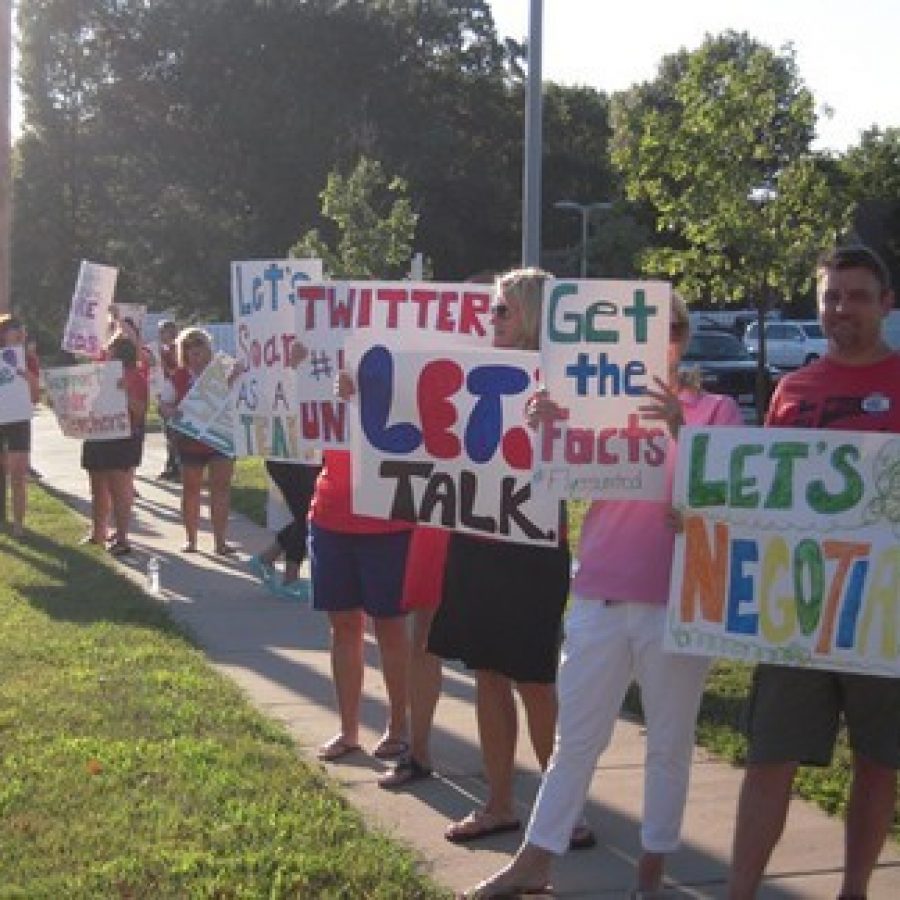 "A culture of fear" exists in Lindbergh Schools, the president of the Lindbergh National Education Association told the Board of Education last week.
Lindbergh National Education Association, or LNEA, President Kim Scronce urged board members Sept. 8 to open negotiations for the 2016-2017 school year immediately.
Teachers speaking on behalf of the LNEA first accused district officials and board members of not bargaining in good faith in July.
At the August and September board meetings, teachers and their supporters have urged administrators and board members to reopen negotiations.
But Lindbergh officials remain firm that negotiations will not be reopened until Feb. 1, as mandated by board policy.
Scronce, who teaches at Long Elementary School, said, "I have a list of over 200 signatures from teachers in the Lindbergh district who feel that in light of what has occurred, the district needs to come to the table now and begin negotiating for next year, as it is going to take some time to work through issues that have developed.
"Sadly, we have many teachers that also feel this way, but chose not to sign because they were afraid of repercussions. Teachers expressed that they agreed with the actions of LNEA leadership, but feared they may be targeted for retaliation. This was heard from non-tenured teachers, as well as tenured. There is a culture of fear in this district, and that is not healthy. It does not create an atmosphere of collaboration and certainly should not exist in a district of character like Lindbergh. It is in the best interests to open negotiations for the 2016-2017 school year now, to address some of these issues, as well as begin our journey back to a healthy relationship …"
Asked about Scronce's remark regarding "a culture of fear," Superintendent Jim Simpson told the Call that it was "disappointing" and "untrue."
"… That hurt all our feelings because we all know how untrue that is. As an example of that, at the cabinet we strongly believe there is zero evidence of that — zero," he said. "There's not one single employee or a situation of an employee in this district that has had any kind of retribution or any kinds of actions taken upon them.
"And I would say in terms of culture of fear, there seems to be absolutely no fear for the LNEA to make any accusations openly and publicly against the school district and because they realize nothing happens — they know that nothing happens, that the board and administration in no way would ever, ever — and has never — done anything under the idea of culture of fear. That's such a painful, and like I said, a disappointing statement because we all know how untrue it is."
Jennifer Swift, who teaches at Lindbergh High School, told the board it needs to hold up its end of the bargain and fairly compensate district teachers.
"… I came to Lindbergh High School, I guess, 17 years ago, after I had four years of experience in other districts," she said. "I came here because they were one of the highest-paid districts, and they were known to take care of their teachers. I know that, and so therefore I take everything I could to Lindbergh.
"I held up my end of the bargain by doing everything I could to make sure the education for my students was fabulous, and I just want you to hold up your end of the bargain and take care of the teachers."
Over the past two years, district teachers have received, on average, raises totaling 8.5 percent — 5.3 percent last year and 3.2 percent this year, according to Simpson.
For the current school year, Lindbergh teacher salaries range from $38,750 to $86,750. Potential stipends available to teachers include an additional $2,500 per year for earning National Board Certification and an additional $3,000 per year for earning a doctorate degree.
Teachers receive board-paid insurance — medical, dental, vision and life — totaling $8,250.84. Insurance costs are expected to increase by roughly $92 per employee in January.
In addition, teachers receive a board-paid retirement contribution of 14.5 percent of their salary — which includes the cost of medical, dental and vision insurance.
For a teacher with a starting salary of $38,750, the 14.5-percent contribution totals $6,810.25. For a teacher with a top salary of $86,750, the 14.5-percent contribution totals $13,770.25. Teachers also pay 14.5 percent of their salary toward retirement.
Furthermore, the board pays a Medicare tax totaling 1.45 percent of a teacher's salary.
For a starting teacher who is paid $38,750, the total compensation — insurance, retirement contribution and Medicare tax — is $54,372.97. For a teacher at the top of the pay schedule who earns $86,750 — without potential stipends — the total compensation is $110,028.97.