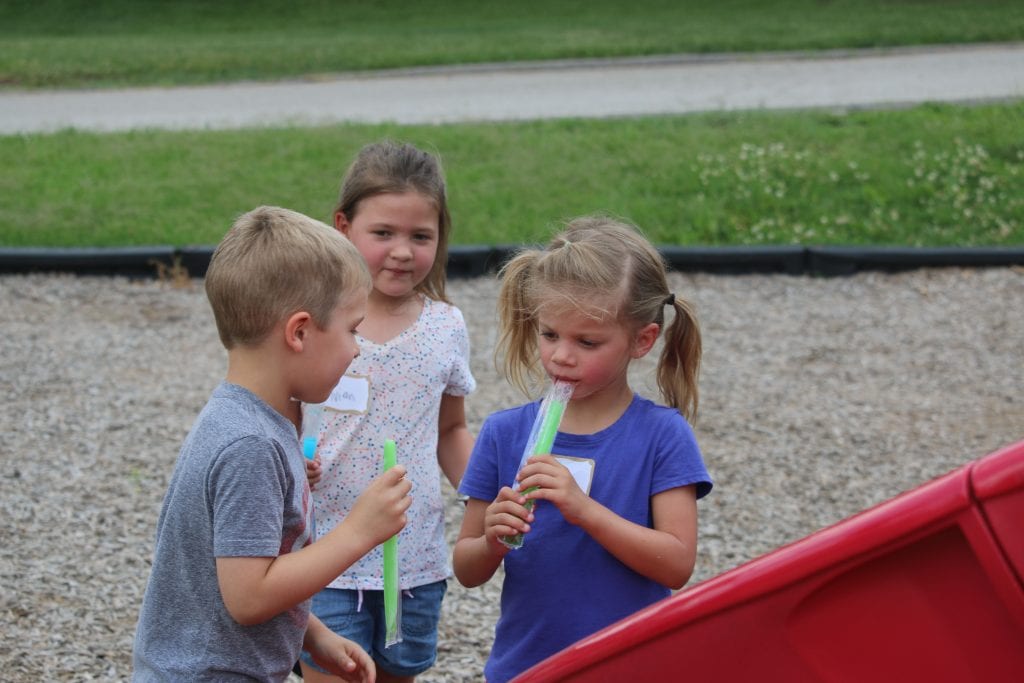 By Gloria Lloyd
News Editor
glorialloyd@callnewspapers.com
Lindbergh Schools will begin offering tuition-free full-day kindergarten starting in January, a turnabout from last year when the district wasn't sure if it was possible.
The district is the last in the state to hop on board with full-day kindergarten at no cost to parents. The Board of Education unanimously voted at a workshop last week to start up the program immediately.
"We feel it's best for our kids and our families, and why would we wait?" Superintendent Tony Lake said. "I'm not about easy, I'm about what's right for kids."
Current tuition-paying parents will be refunded money prepaid for the second semester, and further tuition payments will be halted immediately.
After not taking the leap for years due to space and staffing concerns, a four-month study by a committee this fall found that the district would only need one more teacher and two more classrooms to make full-day kindergarten work.
"It's very exciting, it's a great thing for our families and for kids from the academic point of view," Lake said. "As we started to look at it, we're like, 'We can do this now.' Our teachers have been awesome, flexible, our administrators — it's been a great collaborative process to say let's get something great for our kids."
The program will be "revenue positive" for the district, since kindergarteners' increased attendance hours will bring in more state money and also increase every other Lindbergh student's attendance payment from the state. That money will bring in more funding than the $1.3 million the district now takes in tuition payments.
"By not tipping on it, you really would be turning down money that you wouldn't otherwise have access to and charging parents," Lake said.
For years, Lindbergh was preoccupied with the "chess moves" that had to be done to address surging enrollment as the district became the top-ranked district in the state by test scores. But this spring, kindergarten parents seemed to rebel against having to pay tuition, led by Steven Crawford of Crestwood, who was paying tuition for twins to attend the full-day program. He wrote letters to the Call and started threads online about the lack of tuition-free full-day kindergarten.
That led to the board viewing the program as a key priority. With Superintendent Jim Simpson retiring after a decade in the district, he said that Lake should set up a committee to examine whether it was possible.
"Lindbergh has always said we'd love to have full-day kindergarten," Simpson said this summer. "We're in harmony with anyone who says, 'Why don't you have full-day kindergarten?' We're definitely thinking in those terms ourselves. The question is how do we do that when we don't have a single classroom open?"
After Lake took the helm of the district July 1, he commissioned a committee of staff and parents to look into finances, space and logistics, with a target start date of August 2019. The district also hired Hanover Research to conduct a study and internal survey. Director of Professional Learning Craig Hamby visited every school and principal to see how the change would affect the "boots on the ground."
Meeting over four months, the committee found that 70 percent of the current 464 kindergarteners were paying tuition of $3,500 a year. Since full-day and half-day students are taught separately, half-day class sizes were small, with only 12 or 13 students. That meant the district had 90 open spots in kindergarten classes while still keeping class sizes at Lindbergh's preferred size of 22 students and under.
Increasing teachers and students from half day to full day with current numbers will only take one or two more teachers overall and two more classrooms. The only schools that will have to get creative with space are Dressel and Long.
And kindergarten teachers got behind the idea in a big way. In the survey, 89 percent of teachers said it was a good idea. There was "some small opposition" due to concerns over whether the district has the space, said Chief Financial Officer Joël Cracchiolo, who served on the committee.
The overwhelming reason teachers gave for supporting the change was educational equity, said Assistant Superintendent for Curriculum and Instruction Tara Sparks.
"We're providing that educational experience across the board no matter what the socioeconomic status of the family," she said. "We want all of our kids to go into first grade prepared for the level of instructional support that they're going to need…. In terms of what's best for kids, full day is the focus."
Looking at the district's screening data, students who need extra support were more heavily represented among the half-day students, especially students diagnosed as at risk for dyslexia.
"So ultimately what ends up happening is when we have students attending half day, those students ultimately need more support down the line," Sparks said. And with a full day, "because they have a longer time, they're able to delve more deeply into academic concepts."
Lindbergh has always said that the same information was taught to half-day students as opposed to full-day, just on a different schedule. Next semester, the day will continue to be programmed for half days. But starting in August, teachers will teach as if every student is attending full days. Parents can still pull their children out early if they want, but the students will miss key instruction.
Why now?
One by one, Lindbergh had been the sole holdout as other districts figured out state funding mechanisms that made the numbers work for their bottom lines.
With surging enrollment and overcrowded schools that were only alleviated by the opening of Dressel Elementary last year, the funding didn't swing Lindbergh's way until the district fully tipped onto the state funding formula last year.
Previously, Lindbergh had been a "hold harmless" district that received mostly local funding and little state funding. But as enrollment grew, the district hovered on the edge of being a formula district the last two years. Enrollment has now increased enough that officials don't believe it will fall below the limits necessary to stay on the formula.
To be confident that it could be offered every year moving forward, the district also had to finish a demographic study that was done this summer as part of the new strategic plan, Chief Communications Officer Beth Johnston noted.
With demographic data in hand that showed the district would have enough space for kindergarteners for the next decade and retain enough students to stay on the formula, the district made its move.