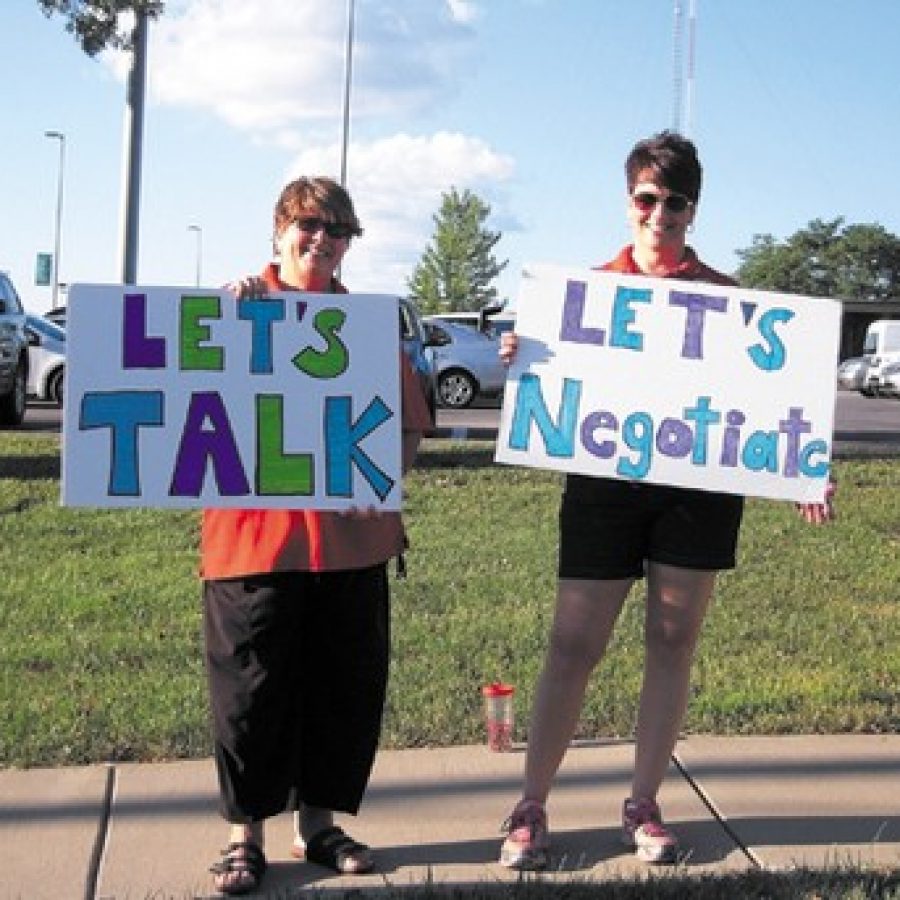 In a scene reminiscent of the discord between Lindbergh Schools teachers and district officials roughly six years ago, teachers lined South Lindbergh Boulevard last week with signs urging the Board of Education to reopen negotiations.
After picketing along South Lindbergh Boulevard, a sea of teachers and their supporters wearing red packed the Aug. 11 Board of Education meeting.
District officials limited attendance in the boardroom to the number of chairs available — 106 — and the overflow crowd spilled out into the lobby of the Early Childhood Education building.
Teachers speaking on behalf of the Lindbergh National Education Association, or LNEA, last month accused district officials and board members of not bargaining in good faith, and said they are prepared to take legal action if negotiations are not reopened.
But Lindbergh officials are adamant that negotiations will not be reopened.
Last week, a former student, two teachers and eight parents urged the board to reopen negotiations, reiterating concerns that bargaining was not conducted in good faith.
Speakers also contended teachers are not being treated with respect because they are not being paid what they deserve.
LNEA members voted 182-23 May 20 to reject the district's offer of an average 3.2-percent salary increase and a salary schedule crafted by their own leadership. Teachers sought a 3.5-percent salary increase — an additional $29,000 — which unless other items were cut would have resulted in a deficit budget for 2015-2016.
In June, the school board adopted an operating budget with a surplus of $449 that provided an average raise of 3.2 percent for all district employees. After teachers rejected the salary schedule, Chief Financial Officer Charles Triplett used the amount of money approved by the board to craft a salary schedule in which every returning teacher received a raise, 53 percent of teachers received a raise of more than 3.2 percent and almost two-thirds of the steps on the schedule increased in value.
Teachers and district officials last were at odds in 2009, when the LNEA unsuccessfully sought to expand the scope of negotiations to include topics that were considered matters of district policy, governed by the board. In November 2009, the board approved a three-year agreement with the LNEA in which the teachers' salary schedule, insurance and tuition reimbursement would be negotiated annually. That pact, with some minor revisions, was renewed for two years in 2013, and expired June 30.
Jacob Anderson-Little, who graduated from Lindbergh High School this year, said he supported the district's teachers and asked that negotiations be reopened.
"If this is how Lindbergh does business, will our teachers feel the same passion for Lindbergh that they did when I was a student? Will potential hires think twice before coming here? With issues of trust, it's not about the outcome, but about the process. That's why Lindbergh students show their work in math class. And if we were in the classroom now and we turned in this deal, it would be returned, graded incomplete …," he said.
Juliet Scherer, a district parent and St. Louis Community College professor, said teachers "deserve better than the treatment they've received during the recent contract negotiations. Board members know it. Administrators know it. The Lindbergh community and unfortunately the greater St. Louis community now knows it …"
She also urged the board to reopen negotiations, adding, "Don't send these teachers back into our children's classrooms under this cloud of disrespect …"
Matt Alonzo, a Lindbergh parent and Parkway School District teacher, told the board that he was "shocked" to learn that a Lindbergh teacher with more years of experience and education earns less than he does.
"… This should not happen in one of the top districts in the state. The sad thing is, is that your teachers, when they go back to school next week, they will do everything they can to teach our children and they will do everything they can to make this the best school district and keep on making it the best school district, regardless of what their contract is," he said. "And the sad part about that is, is that they deserve better. I know they deserve better. I am a teacher. I understand their pain. I understand what they're going through, and I just wanted to support them tonight by coming out and urging you to go back to the negotiation table with them and give them what they deserve …"
Parent Martha Duchild asked the LNEA and board to resolve their issues without going to court, noting "the district is facing a very real threat to its financial stability … Taking away valuable resources by suing the district over a one-year contract will have a negative impact on any effort the district must undertake to protect itself from the larger crisis facing the district, which is the proposed residential TIF in Crestwood."
The use of TIF, or tax-increment financing, for the redevelopment of the former Crestwood Plaza could impact the district for up to 23 years, she said, adding, "Our school community cannot sustain an internal battle between the administration and LNEA, along with the external TIF battle …"
Gretchen Moser, a teacher and LNEA Crisis Committee co-chair, addressed Duchild's remarks, saying, "… The Lindbergh teachers do not want district funds spent on a lawsuit. What the Lindbergh teachers want is to come back to the table. That's what we want. There will be no lawsuit if we come back to the table. That's what we want. What we want is what was denied us in the first place and that was to negotiate. Yes, there were negotiations held until May 13, and at that point, negotiations stopped.
"Teachers voted no on May 20, but a no vote didn't mean stop talking. It just means keep talking, and what we wanted was to finish our negotiations. And the fact that a different (salary) schedule was created and then given to teachers with no input, with no negotiations and no vote from the teachers, that is where there has been no good-faith bargaining. And that's what we want. So we don't want a lawsuit, but we want our rights … I urge you to come back to the table. Teachers want to compromise.
"That's what we want …," Moser added.
But Superintendent Jim Simpson told the Call that under state law, teachers' salaries cannot be changed at this point.
"In terms of reopening negotiations, first off, you have to understand the legal situation that's now upon us. State law requires that upon teachers' contracts being active, that no change in salaries can occur …," he said, noting contracts became active Monday.
"… The good news is in just a short period of time, it's February and negotiations can resume — legitimately resume and go for months," he said, adding that most school districts awarded little or no raises for the current school year.
The 3.2-percent salary increase "shows a desire by the Board of Education to make sure that our teacher salaries stay competitive," Simpson said, noting that over the past two years teacher salaries have increased by a total of 8.5 percent, which "represents additional moneys placed into the teachers' salary schedule and so that's new revenue. The vast majority of the Gravois Bluffs TIF went to teacher salaries … We delivered. We took the biggest commercial property in our district and placed that revenue forever into teacher salaries, reoccurring costs. This year, we scraped every penny for the 3.2 (percent)."