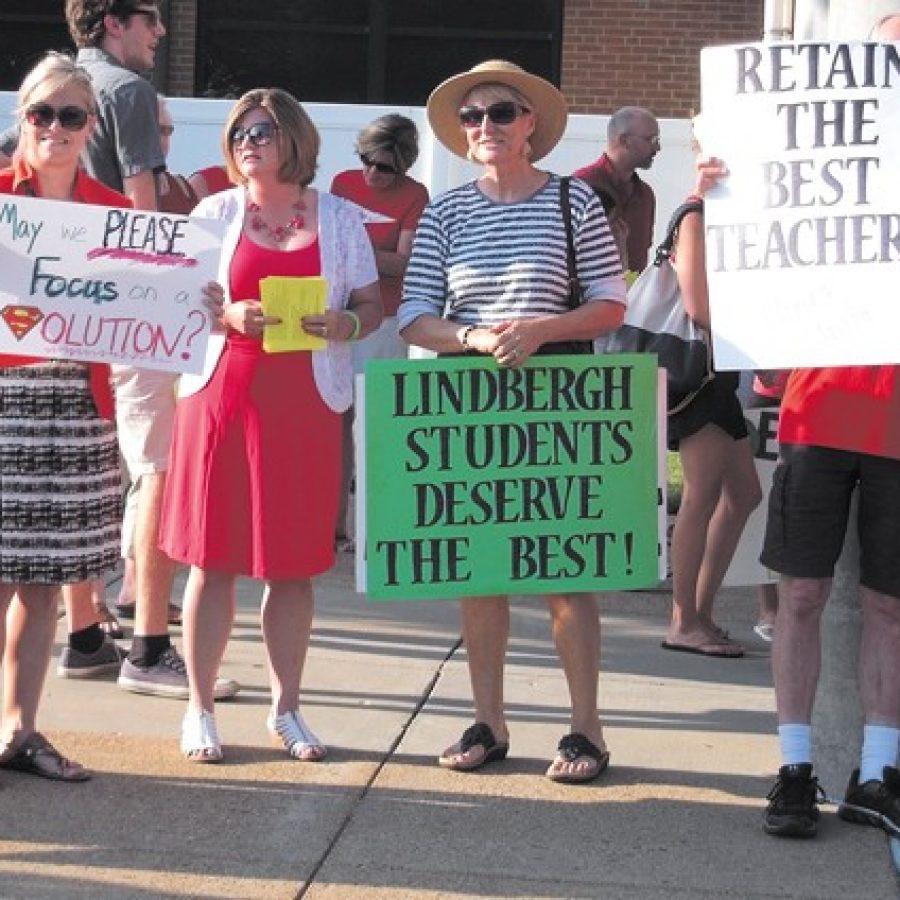 Lindbergh Schools teachers dissatisfied with their pay rallied with their supporters before and during last week's Board of Education meeting.
Teachers and their supporters, including students, alumni and residents, gathered June 14 in front of the Lindbergh High School Auditorium before the board meeting, which drew roughly 400 people.
A number of teachers and their supporters also lined South Lindbergh Boulevard, holding signs that stated: "Teachers Deserve Respect" and "All our children deserve the BEST teachers with the BEST PAY!"
Teachers say they are dissatisfied with the average 1.25-percent pay raise offered by the Board of Education. Administrators and board members respond they have freed up every available penny to go to employee pay, citing the district's 2016-2017 budget that projects equal revenues and expenditures with no surplus.
Teachers also say they're unhappy because they will not advance a step on the pay schedule for having another year of experience. To provide for step increases, an average 3-percent pay raise is needed to fund the pay schedule.
Administrators and board members cite the district's aggressive enrollment growth as a major factor why more money is not available for teachers' raises. For the coming school year, nine new teacher positions have been budgeted to accommodate an anticipated 312 new students.
In the past two years, 34 additional teachers have been hired to handle the enrollment growth and to keep class sizes small.
The annual cost — salaries and benefits — of the 43 new teachers to accommodate the enrollment growth will be $2.5 million.
For the past school year, teacher salaries ranged from $38,750 to $86,750. Potential stipends available to teachers included an additional $2,500 per year for earning National Board Certification and an additional $3,000 per year for earning a doctorate degree. For a starting teacher who was paid $38,750, the total compensation — insurance, retirement contribution and Medicare tax — was $54,372.97. For a teacher at the top of the pay schedule who earned $86,750 — without potential stipends — the total compensation was $110,028.97.
The board did not approve a salary schedule for teachers last week, but voted to have teachers distribute the 1.25-percent increase throughout the schedule as they see fit and return it to the board before 5 p.m. June 30.
Teachers and their supporters say Lindbergh's teacher pay is lagging compared to surrounding districts. They contend that the lack of competitiveness will result in Lindbergh teachers leaving for districts that pay educators more.
Superintendent Jim Simpson told the Call, "The number of teachers who have left for salary increases is three, at this point."
Lindbergh teachers say money is not the only issue, stating in a handout, "The district was supposed to negotiate protocols for future negotiations, but refused to make changes. We find ourselves at odds again with no solutions."
Teachers asked for guaranteed plan time to be included in their agreement with the Board of Education, "but were denied. Plan time is the part of a teacher's day where they do such things as make lesson plans, grade papers, gather supplies, contact parents, etc."
However, the membership of the Lindbergh National Education Association, or LNEA, approved a three-year agreement that was signed by the association's leadership and the administration.
The Board of Education voted unanimously June 14 to approve the three-year agreement, which will run from July 1, 2016, through June 30, 2019.
The agreement covers such topics as teacher transfers, teacher vacancies, leave policies and the teaching day.
"The parties have not agreed to a 2016-'17 salary schedule … Any salary schedule will be negotiated annually for the length of this agreement," the pact states.
"… No matter how you cut it, the issue at hand Tuesday night (June 14) was money," Simpson told the Call.
Twenty-eight speakers addressed the board during an hourlong period for public comment. Board President Kathy Kienstra asked that speakers keep their comments to three minutes, but speakers routinely ignored Kienstra's request. Speakers' comments often were punctuated with cheers and shouts from many of those present.
Speakers contended board members did not care about teachers and were openly critical of Simpson and his 2015-2016 salary of $267,514. Simpson announced earlier this year that he will retire in 2018.
Resident Kimberly Cassidy told the board that she believes Lindbergh teachers deserve better pay.
"… When I first considered speaking with you this evening, each of you, I wanted to explain to you why the teachers deserve better pay. I wanted to somehow ask the perfect question that made each of you rethink your stance … But then I realized, you know this. You know better than anyone else in this room. But the difference is you don't care …"
Cassidy also said, "… We are disgusted by your unwillingness to fairly compensate our teachers. You say that the community will not stand for another tax increase. These are your words — not ours. Your community is speaking. You are just refusing to listen. Allow us, allow the community to support our teachers. Allow us to vote on the tax increase you so adamantly insist we will vote down …
"And to the superintendent, pardon my bluntness, you are retiring once you leave Lindbergh," Cassidy said, as she was interrupted by cheers. "… Imagine how difficult it would be to continue your very lucrative career once we finally rid you of our district. The St. Louis area is much too connected for your reputation not to proceed you. Sadly, each of you will be known for your poor decisions and leadership. You will be known for driving our top talent from one of the best school districts in the nation. You will leave behind the legacy of failure …"
Eric Lewis, a 2014 Lindbergh graduate through the Program for Exceptionally Gifted Students, criticized Simpson's leadership skills both at Lindbergh and at Joplin, where he previously served as superintendent.
"… Two different times in the last seven years you have initiated pay freezes (in Lindbergh), wherein teachers are denied promised steps meant to reflect this gain in experience obtained over a year of teaching," he said. "What you're doing when you're refusing to pay teachers this promised sum is not just reneging on that promise, when a teacher works for a year and asks for a pay increase to reflect that gained experience and you deny them that, what you're saying essentially is that experience is worthless to me. I'm not going to buy that experience from you. That year doesn't count …
"That shows a systematic level of disrespect that I think we here find pretty much unacceptable. Teachers, in particular, are planning on leaving en masse at the end of this school year. You don't seem that concerned. You can hire new ones … Imagine a district of entirely new teachers," he said, adding that veteran teachers are needed to mentor new teachers.
"When you have a district of new teachers, it will fall apart," Lewis said. "Everything you have created here will crumble. Are you prepared to deal with that?"
Simpson told the Call that he considered the meeting to have been scripted by the LNEA and its supporters.
"What was in play Tuesday night was a production of the opposition. In this case, it was the teachers' union," he said. "They gave the scripts. It was a very scripted event. They chose the speakers — or certainly a majority of them — and this was their production … It was a very mean-spirited production …"