Lindbergh students cheer on winter teams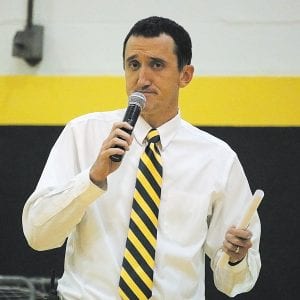 Lindbergh High School students cheered on the Flyers' girls' basketball, boys' basketball and wrestling teams during the annual Green and Gold event for winter sports. Above, varsity cheerleaders are pictured after their entrance.
Front row, from left, are: Skylar Milner, Emma Voellinger and Meredith Kennedy. Back row, from left, are: Aly Rezek, varsity cheer captain, and Katie Meyer.
LHS Principal Eric Cochran addresses the crowd in the photograph to the right.