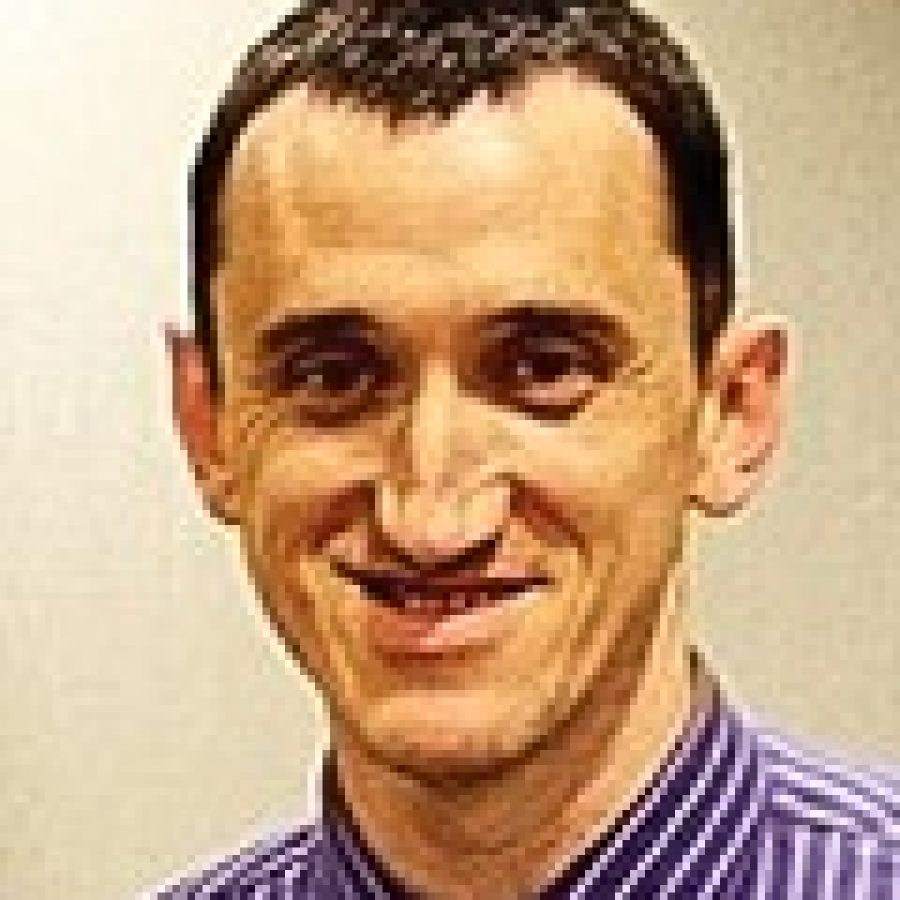 A year after Lindbergh Schools finished installing locking doors on all its classrooms, officials continue to try to strike a balance between education and security.
Just like school districts across the country, Lindbergh implemented costly security measures in the wake of the December 2012 massacre at Sandy Hook Elementary in Newtown, Conn., spending roughly $161,000 for classroom locks at Lindbergh High School and Sperreng Middle School, the two schools in the district that did not yet have locked classrooms.
"It was extremely expensive," said Director of Curriculum and Student Programs Eric Cochran, the administrator in charge of Lindbergh's security efforts. "But after what happened at Sandy Hook, there was a strong feeling that the time was now."
A survey of school districts by Campus Security Magazine found that 88 percent of districts were making either small or large security changes in response to the Sandy Hook massacre. Previous school shootings had mostly happened in high schools, rather than an elementary school.
Although the locking doors were a direct reaction to Sandy Hook, Lindbergh has also taken additional security precautions after other incidents. After the 1999 school shooting at Columbine High School in Littleton, Colo., the district added police officers at Lindbergh High School for the first time and closed off parking lot entrances so that any visitors during the school day have to enter through a single entrance with a guard booth.
Today, the district has School Resource Officers, or SROs, at the high school and at its middle schools, Sperreng and Truman.
The SROs, who are active officers with the St. Louis County Police Department, also patrol the district's elementary schools, as do officers from the Crestwood Police Department, who oversee Crestwood and Long elementary schools and visit the schools daily on their regular routes.
Although parent questions related to Lindbergh's security plans have died down over the past year, Cochran has spoken to parent groups to assure them that Lindbergh actively works on its security plans and studies past events to see what the district can do to improve security, while recognizing that no security system is going to be perfect.
Cochran said he believes the district has dual missions: education and keeping the students receiving that education safe during the school day. Lindbergh is now in its fourth year as the state's top-performing academic district, and Cochran said he is also trying to keep the district at the forefront in security, adding annual training by the Crestwood Police Department during professional development days for teachers and substitute teachers on defensive tactics and what to do if they are confronted by an active shooter.
"We're all trying to stay ahead of the game and make sure we have all our plans in place. At the same time, our primary goal here is to give kids an education," he said. "We don't want our schools to become fortresses … But all the research will tell you that if a kid doesn't feel safe, then learning doesn't take place.
"I really do think our buildings are safe, but at the same time I'm not naïve enough to think that we're untouchable. These types of events could happen anywhere, and we'll do everything we can to prevent them."
In January, an undercover KSDK reporter tried to enter five schools in the St. Louis region, in what the television station said was a test of the schools' security. Four of the five schools had buzzer systems at their entrances and did not allow the reporter in, but he entered Kirkwood High School, which has no locking exterior doors or buzzer system.
After the reporter went to the office and then disappeared, school officials said they called KSDK, but the station would not confirm that he was a reporter, and the school went on lockdown.
Lindbergh High School is the only school in the district that does not have outside locking doors or a buzzer system since it has a California-style open campus with multiple buildings, and students walk from building to building between classes.
In a perfect world with unlimited funds, the school could be reconstructed to make it more of a closed campus, Cochran said, but the district is taking realistic measures to try to work with the realities it faces in the high school's layout.
Officials are working on a plan for high school teachers to monitor outside doors and the parking lot during passing periods, potentially lock some of the outside doors during the day and improve signs directing visitors to immediately visit the school's office. Lindbergh High School has an advantage over Kirkwood from a security standpoint in that it has the single entrance with the guard booth, Cochran said.
The Connecticut State Police released its final report in December on the Sandy Hook massacre, confirming that it found no motive on the part of the killer and that he shot the glass out of the window next to the front door of the school, which was locked and had a buzzer system. Classrooms in the school were equipped with locking doors, and the classes that were attacked did not have their doors locked.
Since Lindbergh High teachers have had locks installed on their classrooms, many of them have been preemptively locking their classroom doors during the school day.
To comply with Americans with Disabilities Act standards and fire codes, even when locked, the doors can be pushed open from the inside without unlocking them first, Cochran said.
"You take the resources you have, and you do the best you can with those resources," he said. "We've got this much money; do we put it toward a security officer when there may or may not ever be an event in that building, or do we put it toward early childhood, when we know the benefit that has for students who learn? It's really tough."
At the same time, the district is continuing to teach kids about the harmful effects of bullying and the positive effects of recognizing the value of every fellow student.
The district has a "zero-tolerance" anti-bullying policy.
"Just raising kids to be tolerant of each other can be a prevention," said Director of Communications Beth Johnston, noting the district's character education efforts and initiatives begun by some of the students themselves.
Johnston said the biggest question she hears from parents is how they will get information in the event of a security threat to their student's school. If anything happens, the district will first update its website with the news, then spread the information through its Facebook and Twitter accounts.
Principals also have a texting system they can use to send messages to parents.