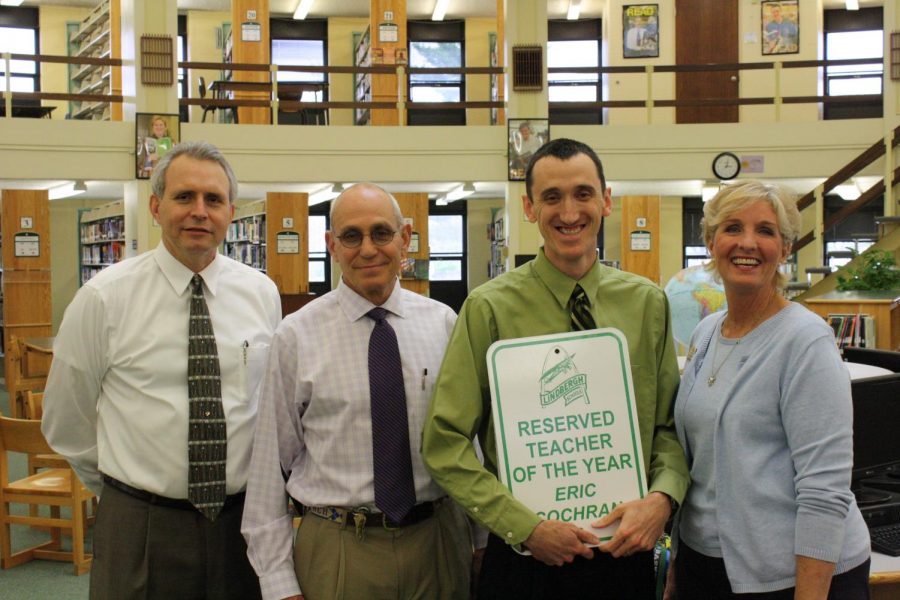 For their longstanding commitment to Lindbergh and their dedication to supporting student excellence, Lindbergh Schools has named Eric Cochran and Tammy Gottschalk the 2011-12 teacher and support staff person of the year, respectively.
• Eric Cochran – Lindbergh High School Social Studies Department chair, teacher
Eric Cochran has served as the LHS Social Studies Department Chair for the past five years, in addition to teaching high school social studies for 12 years. He has received six National Merit Inspirational Teacher awards and has been named Lindbergh National Honor Society Teacher of the Year, Assistant Coach of the Year and the Gilder Lehrman American History Teacher of the Year.
"Eric is always prepared and takes pride in doing his best to impart knowledge to each of his students," LHS Principal Ron Helms wrote in Cochran's nomination. "You would be hard pressed to find someone capable of matching his professional attitude and work ethic."
Cochran has also dedicated his time to Lindbergh outside of the classroom as boys' basketball and baseball coach and by serving on the district's budget reduction, performance-based teacher evaluations, demographics and character education committees.
Eric received his Bachelor of Arts in Political Science degree from Washington University in 1998 and his Master of Arts in History from the University of Missouri- St. Louis in 2004.
• Tammy Gottschalk – printer assistant, Lindbergh Schools Copy Center
Tammy Gottschalk has been an employee with Lindbergh Schools since 1992. She is a member of the St. Louis County Association of Educational Office Professionals, volunteers annually at the Spirit Festival and donates her time to help several outside groups as well.
Tammy's desire to help both humanity and animals is evident by her untold hours of volunteering with the following organizations: Alzheimer's Association, Angels' Arms, Bethesda Nursing Home, Operation Clean Stream, Salvation Army, Starship Hope, Home for Life Cat Sanctuary and St. Louis Area Animal Protective Association, according to a district news release.
She sets an example for others through her healthy lifestyle, assistance for neighbors and family and professional conduct, the release stated.