Lindbergh junior, an aspiring architect

Print, Create a PDF, or Email This Article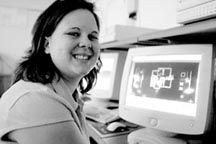 By BILL MILLIGAN
For the Call
A junior at Lindbergh High School may be on the leading edge of a wave of youths who will reshape the American Dream in this century.
During the last century, every American dreamed of owning a home in which to raise a family. But thanks to the computer-assisted drafting skills that Amanda Mc-Vey and students like her are learning, the dream home of the future very well could be designed and built differently than anything currently envisioned.
"I took a CAD (computer-assisted drafting) class with Mr. (David) Blackwood and we drew a house," said 17-year-old McVey. "I was very interested in it. I loved it."
Now she wants to become an architect.
"I would like to have my own firm some-day," she said. "I don't want anybody else telling me what to do."
She wants to design and build houses, not skyscrapers. And while she would design whatever decor her customers fancy, she loves wood.
"I'd have lots of wood; hardwood floors," McVey said. "My dad builds really good ones."
The daughter of Tom and Barb McVey of Crestwood, McVey is active in marching and symphonic band and a member of the school robotics team. She is a school librarian and is already employed as a drafter at Lawn Systems in Fenton.
"She's very motivated," said Blackwood, her teacher. "She's one of the top three in the class. She's always willing to find the answer herself."
But she had never drawn plans without using a computer and the Fenton firm still was drawing plans on paper.
"If I'm an architect, I'm going to have to talk with service professionals anyway,"McVey said. "So, I thought it would be really good. I was looking for a job anyway, so it was perfect timing."
McVey said a trip to Germany and visits to castles there had some influence on her decision to pursue a career in architecture.
Her favorite St. Louis building is the Cathedral downtown and she believes an old-style ball park for the St. Louis Cardinals would provide baseball fans with a link to the past.
Next year, she plans on studying architecture and drafting during an independent study she and Blackwood have arranged.
"We're getting a program called Architectural Desktop, which is a 3-D architectural program you can define the height of the walls, the openings in the walls and finish with a plan view of the house that they can rotate and see," Blackwood said. She'll do an independent study on that."
McVey believes that will help her get in the school of her choice.
"Architecture schools are very selective," McVey said. "At Lindbergh, I can get all the classes I need to get in. When I graduate, I'll know how to use the CAD program really well. That will help me in college and when I get out into the field. With my job I'm getting used to drawing because there isn't a drafting class here."
She plans on attending either Drury College, the University of Missouri at Kansas City, Kansas State or Southern Illinois University at Carbondale.