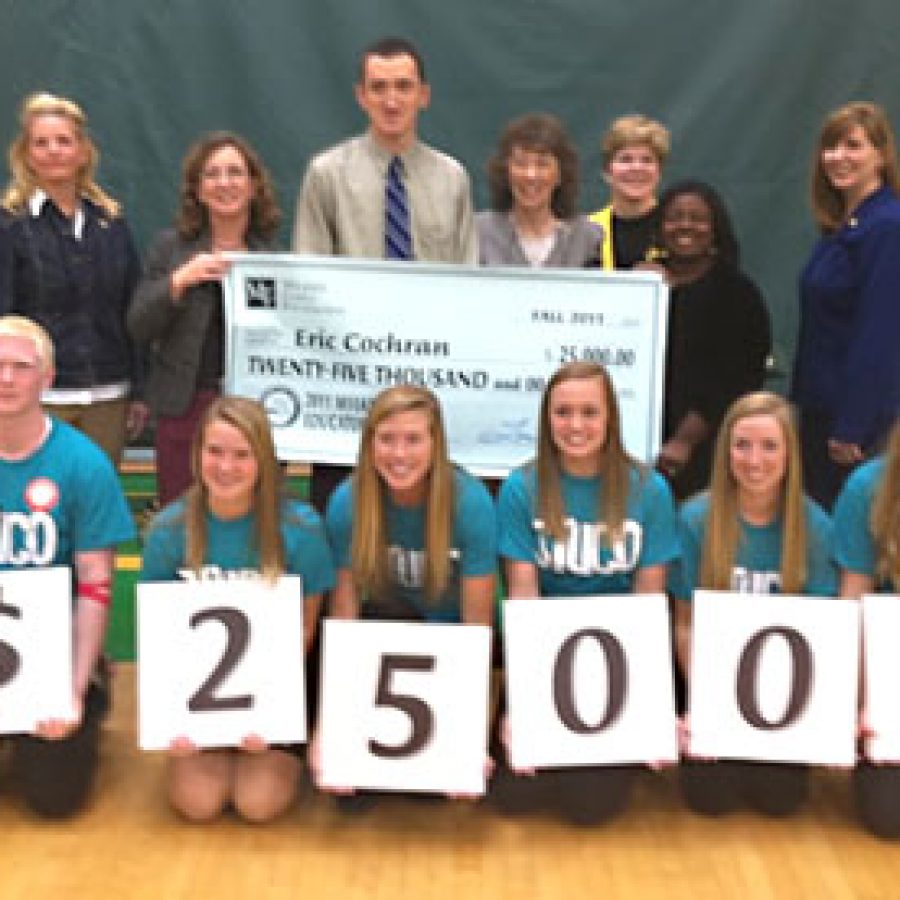 Eric Cochran, a social studies teacher at Lindbergh High School, was surprised at an all-school assembly Wednesday with a Milken Family Foundation National Educator Award — and an unrestricted cash price of $25,000. 
The award was presented by Jane Foley, senior vice president of the Milken Family Foundation. Missouri Commissioner of Education Chris L. Nicastro attended the assembly to take part in the surprise announcement.
Lindbergh Superintendent Jim Simpson, Principal Ronald Helms, other school and state dignitaries, and family members also were on hand for the event. Cochran is Missouri's only recipient of the prestigious award this year, according to a Department of Elementary and Secondary Education news release.
Cochran has taught high school social studies for 14 years. He serves as department chair at Lindbergh High School and teaches Advanced Placement U.S. History. He received a bachelor's degree in political science from Washington University in 1998.
Colleagues describe Cochran as a leader who has successfully inspired students to achieve at levels they did not think possible, the release stated. He has an uncanny ability to connect with students along the spectrum of their abilities and help them achieve success and a sense of accomplishment.
He nurtures and builds their confidence to succeed in doing college-level work. Nearly 90 percent of his students pass the rigorous AP test at the end of the year.
Cochran has been named as "Most Inspirational Teacher" six times by National Merit Finalists at Lindbergh High School. 
This year, the Milken Family Foundation marks its 25th anniversary recognizing and rewarding top teachers. Hailed by Teacher Magazine as the "Oscars of Teaching," the Milken National Educator Awards provide public recognition to teachers, principals and other specialists who are furthering excellence in education. The award alternates each year between elementary and secondary educators.
Missouri has participated in the Milken National Educator Awards program since 1996. A total of 43 Missouri educators in public schools have received the award since that time.
New award recipients are invited to join the Milken Educator Network, a group of distinguished educators whose expertise serves as a valuable resource to fellow educators, policymakers and others shaping the future of education.
For more information about the foundation and the Milken National Educator Awards, visit mff.org/mea.