Lindbergh Girl Scouts who met president debut their product for sale today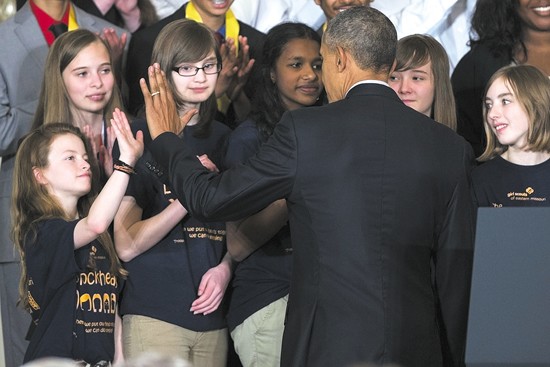 The Blockheads, a group of Lindbergh High School girls ages 14 and 15 who developed a unique, environmental, patent-pending innovation called EcoGlOo, will conduct a plastic foam recycling event from 4 to 6 p.m. at the Sunset Hills Community Center, 3915 S. Lindbergh Blvd.
The event will provide support to the Blockheads, who will unveil their new EcoGlOo product that is perfect for those looking for a plastic foam recycling solution that will really stick. Besides collecting plastic foam, the Blockheads will demonstrate how they make their gooey, earth-friendly adhesive, EcoGlOo. EcoGlOo will be available for sale at $3.50 per 2-ounce bottle.
The Blockheads were honored at the last White House Science Fair in 2016 for their invention. They also met President Barack Obama at the event.