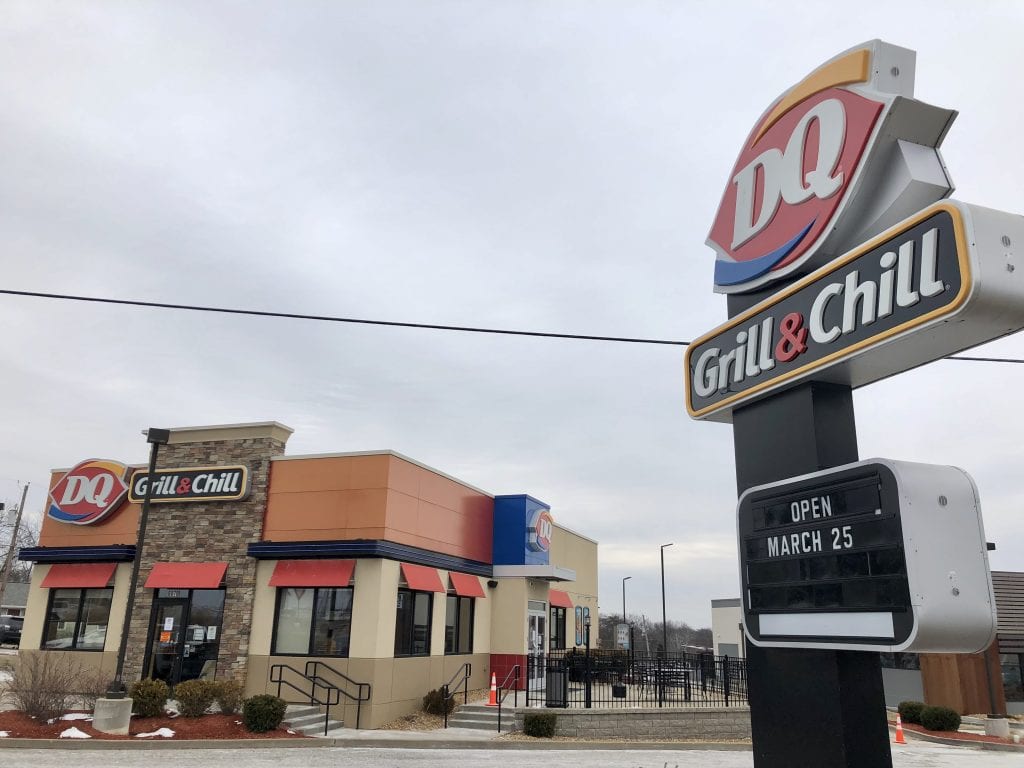 The Dairy Queen on South Lindbergh has been getting a makeover and will reopen March 25 under new ownership after mysteriously closing in November.
The Dairy Queen at 6070 S. Lindbergh Blvd. opened in 2011 but abruptly closed in November 2018 with no hints as to why, other than that it had gone out of business and back to the bank.
Brian Brown, whose corporation StephChris LLC owned the Green Park Dairy Queen, declined to comment on why his business closed.
For a time, the fast food restaurant's display sign advised Dairy Queen seekers to visit the Webster Groves location. But eventually the recommendation was removed and earlier this year, the display sign announced the new opening date.
In December, Concord resident Ron Rammaha purchased the franchise and Lindbergh land it sits on under the corporation FoodMart LLC. He closed on the property in January through his business OneWorld USA LLC and began the process of renovating the restaurant and hiring new employees.
"I'm more into it for the community," said Rammaha. "We want to basically look for employees around this area, south county, and we did. We did hire a lot of high-school students from Oakville, Mehlville and Lindbergh."
Rammaha also said that that they had hired some college students as well as professionals. The store will have three managers, all of whom are undergoing eight-week training that ends next week, as well as 35 to 40 part-time and full-time employees, that the store is still in the process of hiring and training.
Rammaha said he wants to find ways to give back to the surrounding community, such as through fundraisers for Cardinal Glennon Children's Hospital, through Children's Miracle Network, or providing free treats for kids who visit the store in their sports uniform.
"We want to make something special here out of our store," he said, "We want to find ways to help those in need…It's all about feeling like a family in the store and being involved in the community.
Rammaha is no stranger to service. He is involved in multiple organizations in south county, including the South County Police Business Association, South County Chamber of Commerce and the South County Kiwanis Club.
Once it re-opens, visitors may notice that the store has been remodeled and updated with newer equipment, such as digital menus and more efficient registers. The Green Park Dairy Queen is the only location Rammaha owns, for now. He wants to use the store as an investment and possibly open up five more franchises sometime in the future.
"Everybody wants good service and quality food and that's what our focus is going to be," said Rammaha.
The store will have a grand re-opening event on March 25 with doorbusters and other prizes for the first one hundred customers.
Green Park city officials are also glad to see the store re-opening as well. City Administrator James Mello said that residents will probably be happy that the Dairy Queen will be operational once more.
"When it first closed we were getting two to three calls a week from residents asking why it closed," said Mello. "It seems to be a favorite of the community."
While Mello said he was happy to have one less business vacancy in the city and one less vacant building, whether the Dairy Queen was open or not did not have a significant impact on Green Park's revenue, since the city generates more sales tax than it can keep.