Lindbergh Class of 2011 graduates head toward successful futures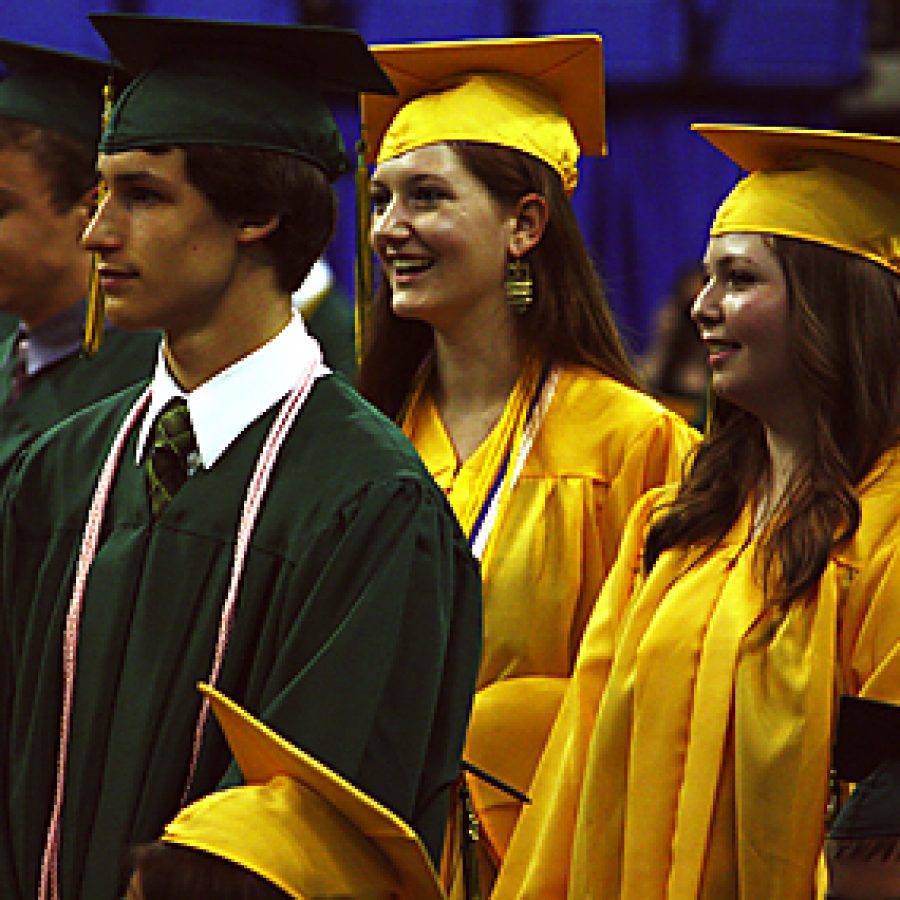 Students in the Lindbergh High School Class of 2011 were awarded almost $12 million in scholarships, and 90 percent plan to attend college this fall, Superintendent Dr. Jim Simpson said during the school's graduation ceremony May 26.
For the first time in many years, girls wore yellow caps and gowns, while boys donned the traditional green.
LHS seniors – 468 in all – walked across the stage and received their diplomas during an evening ceremony at Chaifetz Arena. The proud Flyers will now soar on to promising plans that will further their lives, educations and careers. Ninety percent of them will attend 57 different colleges, while 3 percent will enroll in schools of advanced training, 3 percent will serve in the military and 4 percent will enter the workforce.
LHS has consistently been ranked among America's best high schools by both Newsweek and U.S. News and World Report, and with good reason, according to a district news release. In this year's class, 266 students were awarded 680 scholarships with a total value of $11,927,088, including 45 Missouri Bright Flight Scholarships, 156 A+ Scholarship candidates, 26 athletic scholarship recipients, and eight for music, theater and art. The high school was also named a National School of Character in 2011.
The Class of 2011 also includes six National Merit Finalists, seven National Merit Semifinalists, seven National Merit Commended Students, 47 George Washington Carver Award winners, 110 Charles A. Lindbergh Scholars and 12 International Baccalaureate candidates.
"This year's seniors have had four magical years at Lindbergh, with consistent dedication toward academic pursuits, and I wish them nothing but success as they begin the next chapter of their lives," stated Pam Mason, senior class principal. "The students' exceptional performance is also very much a credit to their instructors and parents, and would not be possible without that support."