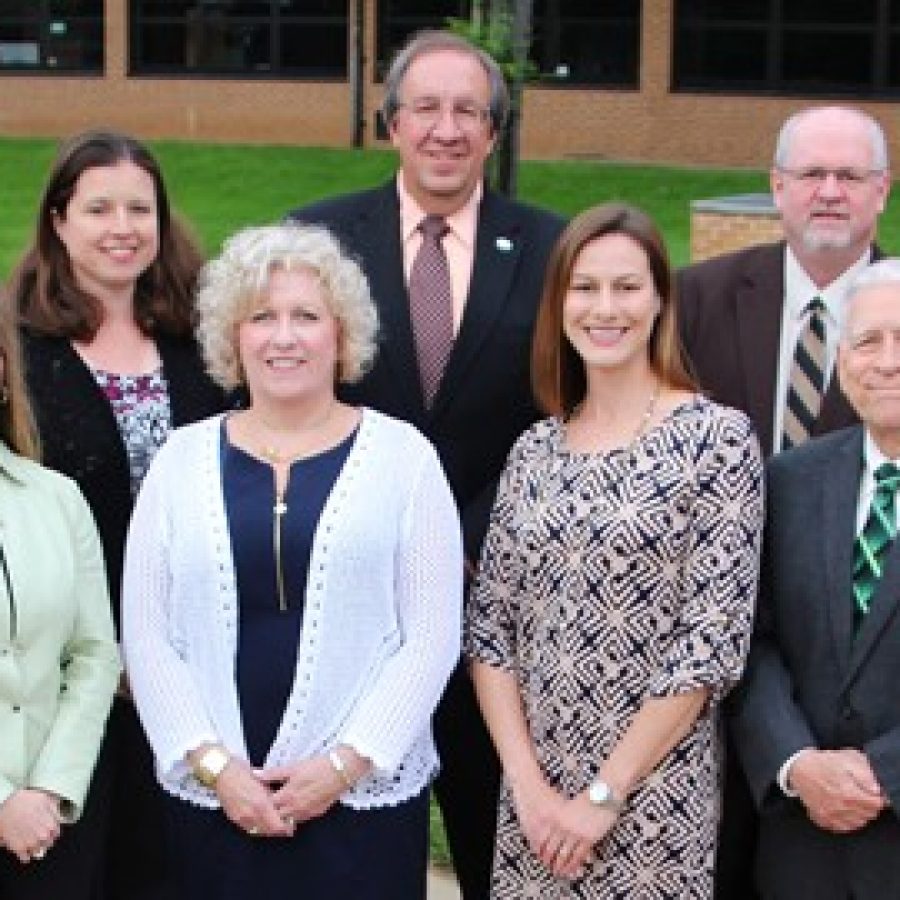 The Lindbergh Board of Education is set to consider approval of a salary schedule that provides an average raise of 1.25 percent for teachers for the 2016-2017 school year when it meets today — Thursday, June 30.
The board will meet at 5 p.m. in the boardroom at Lindbergh Early Childhood Education, 4814 S. Lindbergh Blvd.
Roughly 400 people attended the June 14 Board of Education meeting to show their support for Lindbergh teachers, who are dissatisfied with the average 1.25-percent salary increase.
Teachers also say they're unhappy because they will not advance a step on the salary schedule for having another year of experience. To provide for step increases, an average 3-percent pay raise is needed to fund the pay schedule.
The school board did not approve a salary schedule for teachers June 14, but instead voted to have teachers distribute the average 1.25-percent increase throughout the schedule as they see fit and return it to the board before 5 p.m. June 30. However, in a Facebook post, Lindbergh National Education Association President Kim Scronce wrote that the teachers' union notified district officials last week that it would not submit another salary proposal.
"After further consideration, the LNEA negotiation team has decided to decline the district's offer to make any further adjustments to the proposed salary schedule for the 2016-'17 school year. This decision should not be construed as approval of this schedule by either the negotiation team or LNEA membership at large," she wrote. "The district has not properly funded teacher's salaries in this proposal, so LNEA has chosen not to modify a salary schedule that is fundamentally flawed. We believe this exercise would not provide any value to our membership at this time. We appreciate the board's gesture of additional time."
Teachers and their supporters say Lindbergh's teacher pay is lagging compared to nearby districts and contend that the lack of competitiveness will result in Lindbergh teachers leaving for districts that pay educators more. At this point, Superintendent Jim Simpson is aware of three teachers who have left Lindbergh for more money.
For the past school year, teacher salaries ranged from $38,750 to $86,750. Potential stipends available to teachers included an additional $2,500 per year for earning National Board Certification and an additional $3,000 per year for earning a doctorate degree.
For a starting teacher who was paid $38,750, the total compensation — insurance, retirement contribution and Medicare tax — was $54,372.97. For a teacher at the top of the pay schedule who earned $86,750 — without stipends — the total compensation was $110,028.97.
As proposed, teacher salaries for the coming school year would range from $39,234 to $87,834. Potential stipends include an additional $2,500 per year for earning National Board Certification and an additional $3,000 per year for earning a doctorate degree.
Administrators and board members say they have freed up every available penny to go to employee pay, citing the district's 2016-2017 budget that projects equal revenues and expenditures with no surplus. While they would like to pay teachers more money, the funds are not available. Administrators and board members cite the district's aggressive enrollment growth as a major factor why more money is not available for teachers' raises. For the coming school year, nine new teacher positions have been budgeted to accommodate an anticipated 312 new students.
In the past two years, 34 additional teachers have been hired to handle the enrollment growth and to keep class sizes small. The annual cost — salaries and benefits — of the 43 new teachers to accommodate the enrollment growth will be $2.5 million.
Roughly 400 people attended the June 14 meeting, including 28 speakers who addressed the board during an hourlong period for public comment. Many speakers contended board members do not care about teachers and were openly critical of Simpson and his 2015-2016 salary of $267,514. Simpson announced earlier this year that he will retire in 2018.
After the public-comment period, board Treasurer Vicki Englund said she took great offense at speakers who contended board members did not care about teachers.
Noting that she agreed with many of the speakers who addressed the board, she said, "There are very few notes here on my notepad of things that I disagree with. I think first and foremost, what I disagree with most is that the board members — and I'm only speaking for myself. So again, what I feel is what my statement is.
"I take great offense when I'm told I don't care, OK? I'm a proud 1992 graduate of Lindbergh High School. I achieved an IB (International Baccalaureate) diploma, which was due to the teachers of the district …," Englund said, adding that she credits Lindbergh teachers with her success in college.
"I have two children in the district. It wasn't until very recently that I found out exactly how much our teachers care about one of my kids who is really struggling this year," she continued. "So I take great offense when someone says I don't care, because I do. I assure you I do."
Board member Gary Ujka said he is concerned about the long-term outlook for the district's finances.
"Well, when I start looking one year down the road or two years down the road, I don't see a light at the end of the tunnel when it comes to our budget or our finances, and that's one of my concerns," he said. "I think this board's going to have to make some decisions quickly concerning that, because obviously our salary schedule — as a lady had asked, what's the most important expenditure, and our teachers are. That's our most important resource and we have to keep them.
"My concern is, as I look at our salary schedules for our teachers and I look at our benchmark districts, the gap is getting wider, and like I said, I don't see a light at the end of the tunnel. So I'm very concerned about that."
Some speakers on June 14 urged the board to place a tax-rate increase on the ballot to fund teacher salaries. Regarding a tax-rate increase, board members and administrators note that voters have approved two ballot measures in the past six years — a 65-cent tax-rate increase in November 2010 and a 21-cent tax-rate increase in April 2014 to fund a $34 million bond issue.
District officials acknowledge that a tax-rate increase will be needed at some point in the future, but are skeptical voters would approve a ballot measure at this time.
Board President Kathy Kienstra said at some point, the board will have to ask voters for a tax-rate increase.
"… I do think we've had many discussions about what to do in the future. There is no doubt with the growth that we're experiencing and the salary disparity, that we will have to go forward with a tax increase — there's no doubt," she said. "The other thing that we know that we will probably have to do is come to the taxpayers again for a bond issue to help with building — with fixing Lindbergh High School to accommodate the students coming in. So those are all things that we have in mind that we're looking at and really do discuss on a regular basis …"
Board member Jennifer Miller said work is needed to repair broken relationships and to restore trust and respect.
"… We need to take steps towards repairing broken relationships, low morale and feelings of lack of trust and respect. We cannot continue to move forward in the manner we have been. We must work together to relieve the tension that has become apparent, and we must acknowledge that our teachers and all Lindbergh staff work hard to make our district what it is," she said.