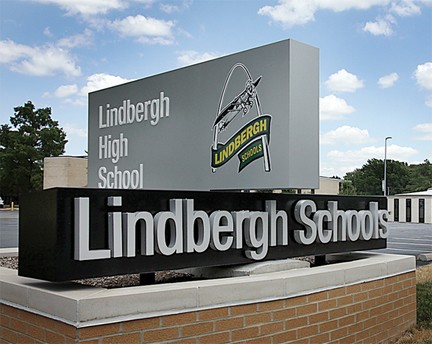 By Gloria Lloyd
News Editor
glorialloyd@callnewspapers.com 
Lindbergh High School would be almost completely rebuilt with a $105 million bond issue under a plan that the Lindbergh Board of Education advanced last week.
The no-tax-increase bond issue would be refinanced from the district's current bond debt and could appear on the ballot as soon as the April 2 election. The board would have to decide by Jan. 22 whether to move forward this year or wait until April or November 2020 to go to voters for the plan, which will also tackle safety and security at the district's other schools.
The board took no formal votes at the Dec. 11 workshop, in which board members also gave approval to moving forward in January with Superintendent Tony Lake's plan to offer tuition-free full-day kindergarten.
April 2019 and April 2020 would be the earliest target dates for the bond issue due to a quirk of state law that requires a two-thirds majority during November odd-year elections but only four-sevenths majorities in April of odd years and in April, August and November even-year elections.
But no matter when it happens, all the board members seemed to be in favor of asking voters to help reconstruct Lindbergh High. Lake said the decision of when to go is totally up to the board.
Most school buildings of LHS date from the 1950s and 1960s and consist of multiple buildings in an open California-style campus.
Several of those buildings are nearing the end of their life span in the next five years, and the 53-year-old piping system running in tunnels underneath the school will soon have to be replaced at a cost of millions of dollars, Executive Director of Planning and Development Karl Guyer said. Any major piping work would require adding fire sprinklers to the ceiling to bring the school up to date with fire codes, which would add to the tab just to keep the old buildings standing with no improvements at all to functionality or education.
Another key issue is safety. Although officials are building a fence this year linking many of the buildings to create an inside courtyard separated from the public, the high school has dozens of doors open during passing periods so students can move from building to building.
A committee has been meeting for months to explore what a new, modern high school with spaces for more innovative learning could look like, with the help of Chicago-based architects Perkins + Will.
If the plan is approved by voters, it would be one of the first new high schools in St. Louis County in decades. Since there is little open land in the district, the school would be built on the current campus, with some buildings demolished and some kept as is and completely gutted and remodeled.
The architects are developing plans for how to complete construction while instruction continues and students are on campus.
"No. 1, the kids'll be safe," Lake said.
When Chief Financial Officer Joël Cracchiolo began to present on how the district could fund the new high school after a break in the workshop, a teacher kept talking in the audience.
When she realized the meeting was continuing, she said, "I'm just so excited about this."
Cracchiolo responded, "Now we're getting to the financial part, you may not be as excited."
She outlined a plan for general obligation bonds up to the district's debt capacity, which is set by the state at 15 percent of assessed valuation.
With $89 million in debt already outstanding from building Dressel Elementary School and other initiatives, the district can bond for $207 million total, Cracchiolo noted.
The district could add just over $126 million total in levies, an adviser noted, "but just because you can legally vote that amount doesn't necessarily mean that you can pay it back."
But through refinancing current debt or other maneuvers, the district can keep the debt levy at 89 cents and bond out up to $105 million, which could be issued over three different series of bonds.
"We know with absolute certainty that it won't be more than $105 million," she said.
Later, board Vice President Jennifer Miller said, "What I heard was without raising taxes we have access to $105 million?"
Cracchiolo noted that she looked at 10 years of the district's past assessed valuation and used conservative numbers for her calculations so that she could be sure the district could afford the bond issue.
The district's last two reassessments saw a 4-percent and a 9-percent increase in assessed valuation, but she's calculating based on a zero-percent and 3-percent increase.
"We are being conservative, we are thinking out to the future, a sustainable model," she said.
"I don't have any questions, you just send me the money when you've got money," board member Christy Watz said. "I'm not a financial person, sorry guys."
Board members didn't ask too many questions or talk much about the plan at the workshop, but Lake pointed out that three of the board members sit on the committee examining what a new high school would look like. Since he has been keeping board members apprised of what has been going on, nothing presented at the meeting was new to them.
Board President Karen Schuster sent out a letter to the Lindbergh community Dec. 14 to start seeking opinions in a districtwide "Safe and Secure Facilities" survey on what should be part of a bond issue.
Lake said that he would also like to see the bond issue focus on safety for some of the district's other schools.
Three elementary schools currently have "safety vestibules" in which visitors off the street can step inside but not be fully let in to the school until they are vetted. But the other three elementary schools — Long, Crestwood and Kennerly — and the two middle schools don't have that space, which Lake sees as key to the safety and security of students.
"You have to be buzzed in, but when you're buzzed in you have immediate access to the student population," he noted.
In expanding the high school, the district will also have to move three districtwide facilities operations shops off the campus to an as-yet-undetermined location that would have to be part of the same bond issue.
Another $3 million to $5 million could potentially be added through performance contracting, in which companies analyze ways to upgrade outdated infrastructure and replace it at a guaranteed savings that pays for the upgrades.